Delinquency rates are declining, but they are still double their historic norms. Foreclosure rates are temporarily declining, but they are still eight times their historic norms. Mortgage distress is very high.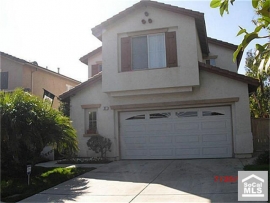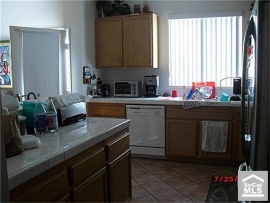 Irvine Home Address … 27 GEORGIA Irvine, CA 92606
Resale Home Price …… $659,000
The party's over

It's time to call it a day

They've burst your pretty balloon

And taken the moon away

It's time to wind up the masquerade

Just make your mind up the piper must be paid

Nat King Cole — The Party's Over
The housing bust has entered a new phase; inventory liquidation. Lenders have been accummulating REO and delinquent loans for several years, but with fewer and fewer new delinquencies being added to the inventory, lenders are turning their focus on clearing out the debris. It's going to take a while.
During the housing bubble, borrowers were given loans that were much too large and with terms which doomed them. When people began succumbing to the toxic debts they were given, delinquency rates began to rise. As delinquency rates went up, lenders realized they made a huge mistake, so they stopped underwriting stupid loans. Without Ponzi loans to bail out the overextended, delinquency rates rose to levels never before seen. Couple the mortgage distress that was built into the system with recession unemployment, and the delinquency rate peaked at 10.97% in January of 2010.
In the 18 months that followed, delinquency rates have declined as new delinquencies have slowed and foreclosures have begun clearing out the shadow inventory. At the current rate of decline, it will be at least another 18 months before the delinquency rate falls to 5.5% and re-enters its historic range. That assumes the double dip and strategic default doesn't cause fresh delinquencies and recent slowdowns in foreclosures doesn't slow the decline in the delinquency rate.
New delinquencies are still being added to the system at a lower but still alarming rate. Lingering unemployment and strategic default from the house price double dip are largely responsible for the high rate. Lax underwriting is no longer the driving force behind delinquencies.
Back in late 2008, the amend-extend-pretend dance caused the correlation between delinquency and foreclosure to break down. The result is a large backlog of foreclosures known as shadow inventory. Lenders have been metering out their REO as the highest rate they can which does not crash the market. The slower they sell their REO, the longer the problems will linger. The faster they sell their REO, the more prices will drop and more borrowers will opt to strategically default. It's a difficult balancing act.
Shadow inventory is full of delinquent mortgage squatters. Millions of people are occupying homes they are not paying for. The high end has more shadow inventory than the low end as lenders have been foreclosing on smaller loans while leaving larger loan balance borrowers alone.
Lenders are foreclosing on fresh delinquencies while allowing older delinquencies to remain in shadow inventory. However, they are making more headway on reducing shadow inventory as the percentage of foreclosures on old delinquencies is steadily rising.
The big problem for lenders is clearing out the backlog. As the chart above notes, the foreclosure starts relative to their delinquent inventory is still low. That number needs to rise from 10% to 100% before shadow inventory is clear.
The chart above is very revealing. In the summer of 2010, lenders reduced their foreclosures dramatically. The chart below reveals this slowdown is a result of problems in judicial foreclosure states.
California is a non-judicial state, so Robo-signer and other procedural delays have not impacted the foreclosure rate. In judicial foreclosure states like Florida or New York, many more borrowers are being given extra squatting time.
The above charts are a different way of looking at the same procedural delay problem in judicial foreclosure states.
It will take time to clear the inventory overhang
The important fact to take away from this post is that it will take a long time before the market is not burdened by homes that need to be sold. Let's take a look at some of the inventory overhang in Irvine.
Foreclosure Date — Amount — Address
Dec 16, 2008 — $856,029 — 78 Dovecrest Irvine, CA 92620
Jul 23, 2010 — $1,719,455 — 51 Summer House Irvine, CA 92603
Jul 21, 2009 — $711,000 — 85 Legacy Way Irvine, CA 92602
Nov 02, 2009 — $445,000 — 3131 Michelson Dr Unit 907 Irvine, CA 92612
Aug 11, 2008 — $742,500 — 5155 Scholarship, Irvine, CA 92612
Dec 16, 2008 — $458,739 — 19 Meadowsweet Way, Irvine, CA 92612
The above list is a small sample. Most of these were mortgages over $1,000,000, and many of them have been owned by lenders since 2008.
When are these properties coming to the market? If lenders are waiting for peak prices, they may own some of those properties for decades. Locally lenders have not capitiulated yet. At some point, these properties will be sold. The current supply is being temporarily constricted, and people are not being allowed to have the beneficial use of these properties. Most are sitting empty as if they didn't exist. However, they do exist, and at some point they will need to be sold.
I'm not the only one who has noticed this problem locally.
By JEFF COLLINS / THE ORANGE COUNTY REGISTER — August 5, 2011
Jon Cook is president and CEO of the Prudential California Realty chain owned by HomeServices of America Inc., a Berkshire Hathaway affiliate. …

Us: What's the outlook for the Orange County housing market down the road?

Jon: I'm optimistic that we have seen the toughest part of the distressed sales market. NOD's/ Notices of Default are decreasing; however, I'm not saying we're out of the woods yet. You still have trailing inventory that the banks are holding that hasn't come to market yet.

We probably still have a couple of years to work through the distressed sales and they make up almost 50% of all sales in the county. It could be as long as an additional 5+ years to work through the distressed property inventory. …
Ponzis since 2001
Some people figured out Ponzi borrowing from their house earlier than others. The owners of today's featured property began with a small down payment in 1999, and parlayed that into several hundred thousand dollars of mortgage equity withdrawal and a few years of squatting. To them, housing is not a cost, it is a reliable source of income supplementation.
This property was purchased on 3/26/1999 for $290,000. The owners used a $275,450 down payment and a $14,550 down payment.
On 10/1/2001 they obtained a stand-alone second mortgage for $60,000 and obtained their first cash infusion.
On 5/30/2003 they refinanced with a $354,900 first mortgage.
On 9/18/2003 they got a $100,000 HELOC.
On 4/2/2004 they opened a $250,000 HELOC.
On 5/23/2006 they refinanced with a $650,000 first mortgage.
Total mortgage equity withdrawal is $374,550.
Total squatting time is over 30 months.
Foreclosure Record
Recording Date: 05/24/2011
Document Type: Notice of Default
Foreclosure Record
Recording Date: 07/23/2010
Document Type: Notice of Rescission
Foreclosure Record
Recording Date: 05/19/2010
Document Type: Notice of Sale
Foreclosure Record
Recording Date: 02/16/2010
Document Type: Notice of Rescission
Foreclosure Record
Recording Date: 02/16/2010
Document Type: Notice of Default
Foreclosure Record
Recording Date: 04/22/2009
Document Type: Notice of Default
These are the kinds of homeowners the system could do without. These people have gamed the system for maximum advantage. They will endure a serious fall from entitlement after their sale or foreclosure because for the first time in more than a decade, they will actually have to pay for housing rather than having their housing pay for them.
——————————————————————————————————————————————-
This property is available for sale via the MLS.
Please contact Shevy Akason, #01836707
949.769.1599
sales@idealhomebrokers.com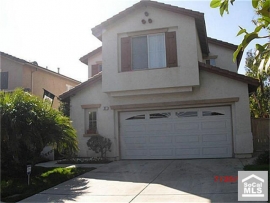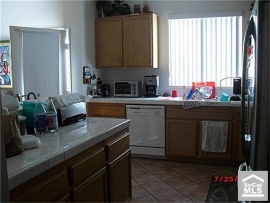 Irvine House Address … 27 GEORGIA Irvine, CA 92606
Resale House Price …… $659,000
Beds: 5
Baths: 3
Sq. Ft.: 2200
$300/SF
Property Type: Residential, Single Family
Style: Two Level, Modern
Year Built: 1999
Community: Walnut
County: Orange
MLS#: P791518
Source: SoCalMLS
Status: Active
On Redfin: 2 days
——————————————————————————
This gorgeous gated community home offers 5 bedrooms 3 full baths, downstairs bedroom is currently used as an office with accessible full bath, large family room with fireplace, downstairs ceramic tile flooring, tile kitchen counter tops with breakfast nook, upstairs laminated flooring, upstairs laundry room, vertical blinds throughout the home, oversized two car garage with extra storage space, security system, professionally landscaped front and back, low maintenance large back patio, largest floor plan. Association amenities include large swimming pool, basketball court, sand volleyball court, kid s playground, barbeque area, open green park. Minutes to great Irvine Schools and Shopping Centers and easy freeway access. Buyers must see this property !!!
——————————————————————————————————————————————-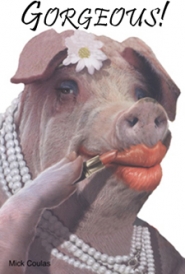 Proprietary IHB commentary and analysis
Resale Home Price …… $659,000
House Purchase Price … $290,000
House Purchase Date …. 3/26/1999
Net Gain (Loss) ………. $329,460
Percent Change ………. 113.6%
Annual Appreciation … 6.6%
Cost of Home Ownership
————————————————-
$659,000 ………. Asking Price
$131,800 ………. 20% Down Conventional
4.31% …………… Mortgage Interest Rate
$527,200 ………. 30-Year Mortgage
$141,645 ………. Income Requirement
$2,612 ………. Monthly Mortgage Payment
$571 ………. Property Tax (@1.04%)
$217 ………. Special Taxes and Levies (Mello Roos)
$137 ………. Homeowners Insurance (@ 0.25%)
$0 ………. Private Mortgage Insurance
$122 ………. Homeowners Association Fees
============================================
$3,659 ………. Monthly Cash Outlays
-$616 ………. Tax Savings (% of Interest and Property Tax)
-$719 ………. Equity Hidden in Payment (Amortization)
$206 ………. Lost Income to Down Payment (net of taxes)
$102 ………. Maintenance and Replacement Reserves
============================================
$2,633 ………. Monthly Cost of Ownership
Cash Acquisition Demands
——————————————————————————
$6,590 ………. Furnishing and Move In @1%
$6,590 ………. Closing Costs @1%
$5,272 ………… Interest Points @1% of Loan
$131,800 ………. Down Payment
============================================
$150,252 ………. Total Cash Costs
$40,300 ………… Emergency Cash Reserves
============================================
$190,552 ………. Total Savings Needed
——————————————————————————————————————————————————-