After many years of waiting, Orchard Hills finally debuted 12 new sets of models this weekend. The neighborhood is split into two parts Orchard Hills and a gated community known as The Groves at Orchard Hills. This week, I will present an overview of the non-gated side, located within the Culver Drive/Orchard Hills Drive loop. Over the coming weeks, I will present the five sets of models within this neighborhood, as well as an overview of The Groves and the seven sets of models on that side.
There are five collections on the non-gated side of Orchard Hills. The smallest, Entrata, is a combination of townhomes and flats. The next smallest, Vista Scena, are all townhomes. The remaining three collections – Corte Bella, Terrazza, and Strada – are all single family residences. All five collections were built by Irvine Pacific. Each collection has three basic floorplans, though some have one or two additional variations on one of the plans. Every home in these five collections has a two car garage. Here is a quick rundown of the collections, from smallest to biggest:
| | | | | | |
| --- | --- | --- | --- | --- | --- |
| Collection | Sq Ft | Beds | Baths | Base Price | School District |
| Entrata | 1,494 – 1,809 | 2 – 3 | 2 – 2.5 | Upper $700,000s | Irvine |
| Vista Scena | 1,586 – 1,914 | 3 | 2.5 | $700,000s | Irvine |
| Corte Bella | 1,833 – 2,325 | 3 – 4 | 2.5 – 3.5 | Upper $700,000s | Irvine |
| Terrazza | 1,981 – 2,408 | 4 | 3 – 4 | $800,000s | Tustin |
| Strada | 2,195 – 2,747 | 4 | 3 – 4.5 | $900,000s | Irvine & Tustin |
Entrata, Vista Scena and Corte Bella are all part of the Irvine Unified School District. Students will attend Canyon View Elementary School, Sierra Vista Middle School, and Northwood High School. Terrazza homes are all in the Tustin Unified School District. Currently, students will attend Hicks Canyon Elementary School from kindergarten through fourth grade, Orchard Hills School for fifth through eighth grade, and Beckman High School. However, Orchard Hills School is officially designated as a K-8 school, so as the population of the neighborhood grows, students will likely attend Orchard Hills beginning in kindergarten and will not be slated for Hicks Canyon.
The Strada neighborhood is split between the two districts, so buyers should make sure to discuss the schools with the sales office when purchasing a home. Buyers should consider talking directly to the school district offices to ensure that they receive correct information regarding school designations.
All of the homes in these collections are two stories, though some models in Entrata have only the garage downstairs with all living areas upstairs. In the Entrata collection, one model has a downstairs bedroom. None of the models in Vista Scena have a downstairs bedroom. In Corte Bella, Residence One has all bedrooms upstairs, Residence Two has the master downstairs and the other two bedrooms upstairs, and Residence Three has a downstairs bedroom with the master and two additional rooms on the second floor. Both Terrazza and Strada have a downstairs bedroom in every model.
This side of Orchard Hills is home to three parks. The smallest one, Bella Garden Park, isn't built yet and will be located near the Corte Bella homes. This park will only have shade structures, picnic tables, and barbecues. The other two parks are already built and I think they will be very appealing to residents. Though they are designated as being exclusively for the use of residents in these five collections, the playgrounds aren't gated. In addition to the parks, these homes surround the existing avocado trees and many will have nice views of the orchards. Some homes will even have views that stretch to the ocean on clear days.
Orchard Vista Park sits at the front of the Strada neighborhood. It has a tot lot and half basketball court. The playground is very cute and is designed to embrace the area, featuring climbing structures that resemble farm crates and trees, as well as a pretend produce stand. Most of the area has a rubber play surface, though there is a small sandbox. Inside the gated area, there is a large lap pool surrounded by a spacious patio area. The spa is tucked into a corner behind the pool. The patio has shade structures, community barbecues and picnic tables. I didn't notice any barbecues outside of the pool area.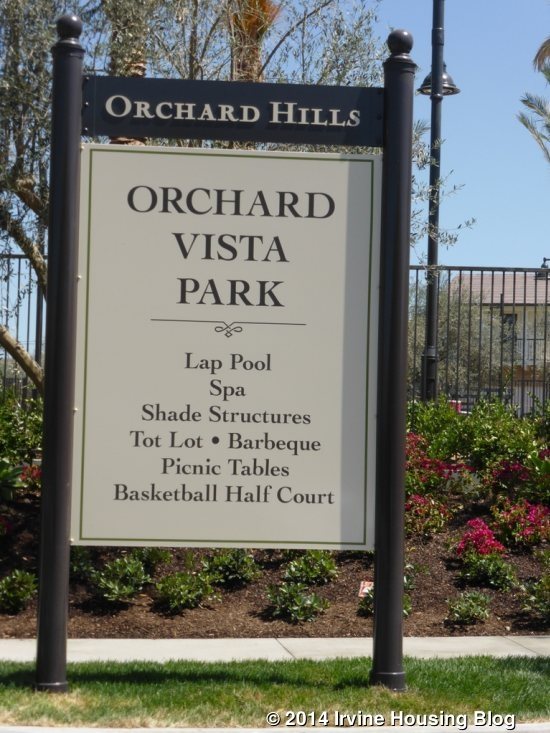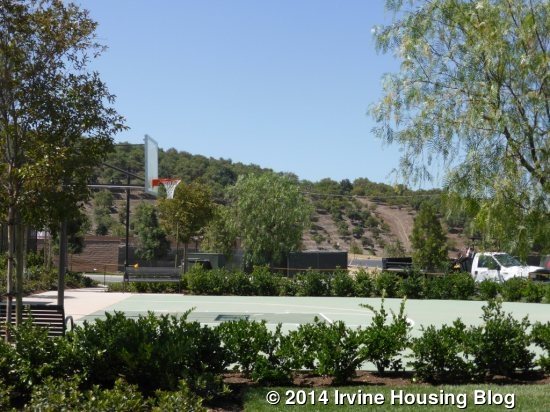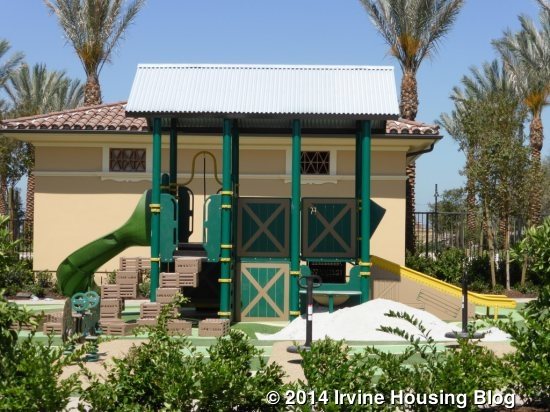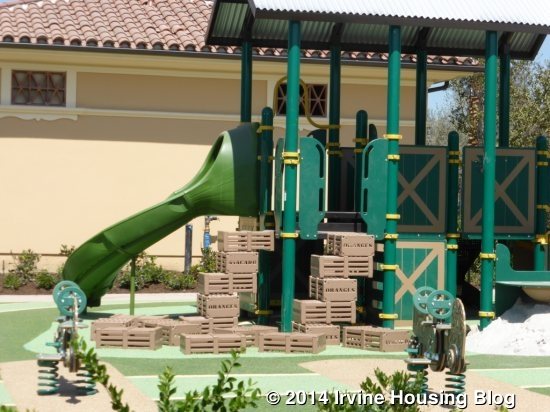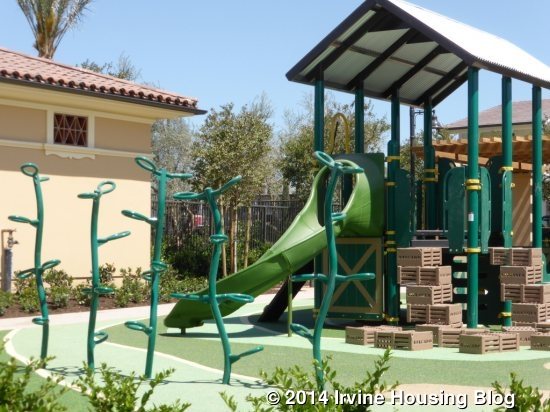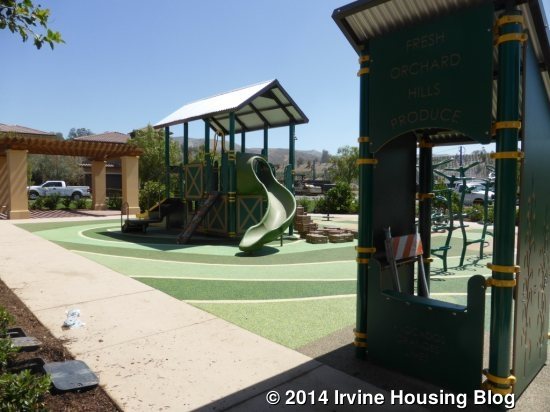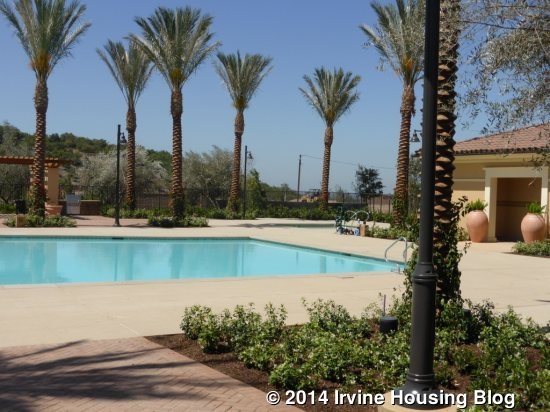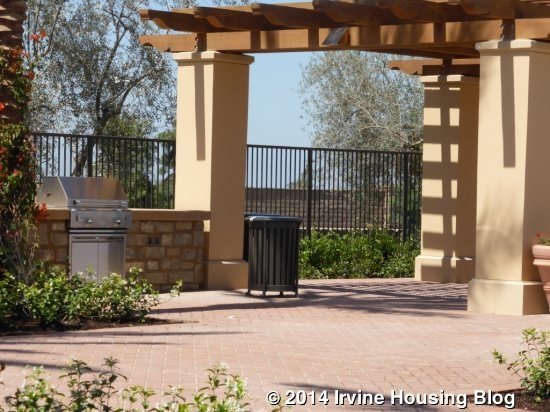 Orchard Terrace Park is a little farther up the hill, in front of the Entrata homes. This larger community area features a tot lot with barbecues, shade structures, picnic tables and a large, grassy lawn around it. Children who love to climb will be in heaven at this park, where the avocado-colored play structures include large, web-like climbing structures. The colors of the structure, the painted butterflies on the ground and the bug-like appearance of some of the climbing zones really tie the park into the natural environment. Like Orchard Vista, this park has a mostly rubber play surface with some sand. Inside the gates, there is a Junior Olympic-sized pool, a wading pool, and a spa, along with additional tables and shade structures. There are separate bathrooms for the playground and pool areas. Orchard Terrace Park is also home to a nice multi-purpose room for community use.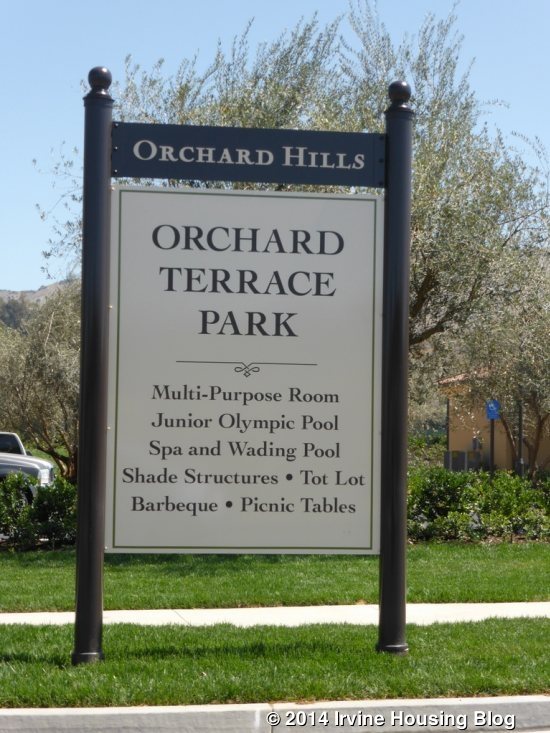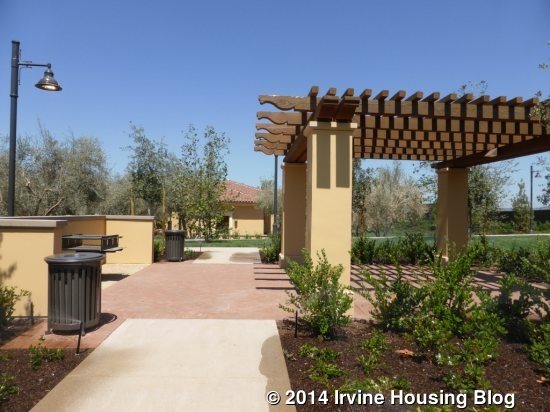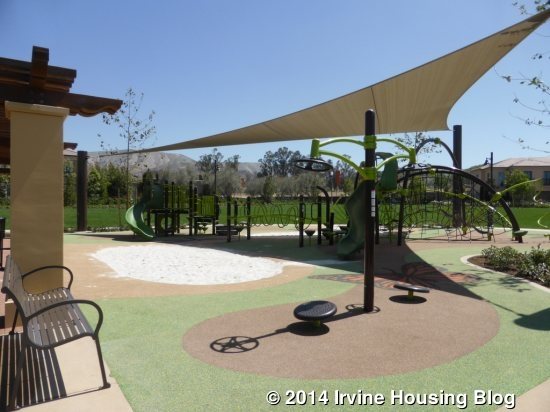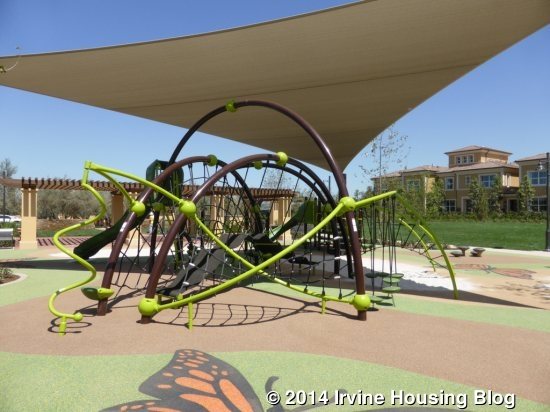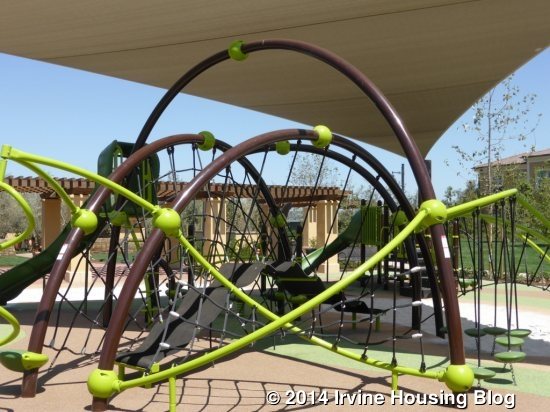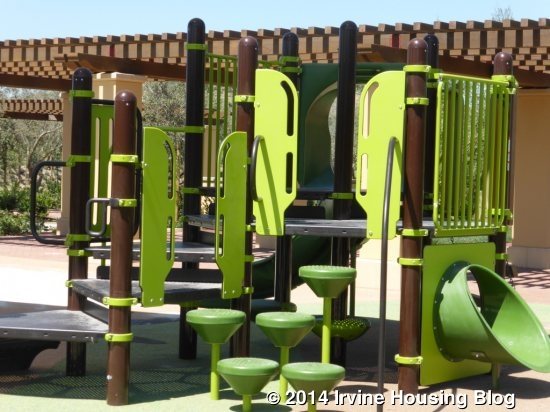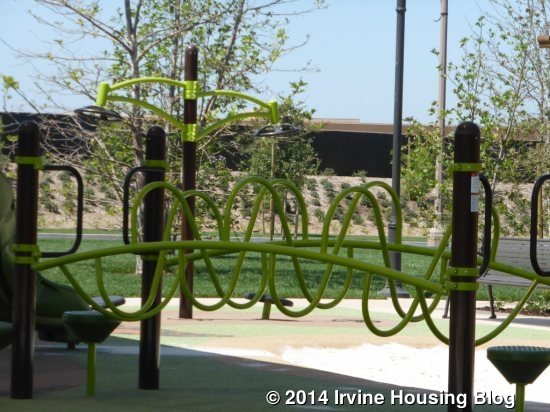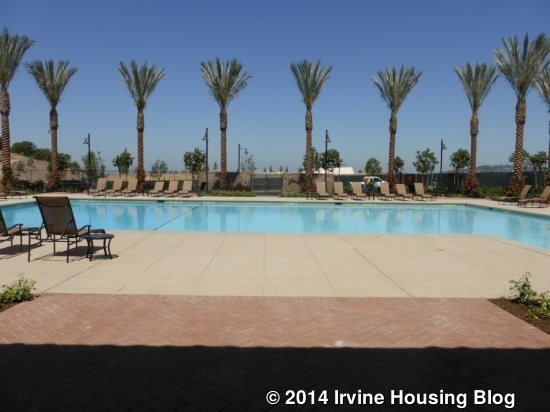 Because parts of Orchard Hills opened several years ago, the area already has an established shopping center located at the corner of Culver and Portola. The Orchard Hills Village Center houses a Pavilions and CVS, several restaurants (including Zov's and La Sirena Grill), plus a bank, salon, yoga studio, and much more. Residents can also enjoy Settler's Park, which opened several years ago. In addition to the playground, the park has picnic tables and barbecues, basketball courts, a sand volleyball court, and soccer fields. Settler's Park is located just outside the gates to the Groves and just below Orchard Hills School.
For those looking to experience nature, Orchard Hills boasts paths that weave along the avocado groves and trails that lead to open space around Loma Ridge. The trail is only open during scheduled, docent-led activities. Its double loop offers a 1.2 mile lower loop trail for beginners and 3.1 mile upper loop for more advanced hikers. On the trail, hikers can discover wildflowers, native birds, Eucalyptus trees, and enjoy panoramic views (including the ocean and Catalina on clear days). The elevation starts at 400 feet and ends at 815 feet if you take the upper loop. Docent-led activities include a sunset hike, full moon hike, morning nature hike and a cardio hike.
I am looking forward to touring the different home collections and reporting back in the coming weeks. I will also go inside the gates of the Groves to tour their resort area and provide a community overview.
Discuss on Talk Irvine: http://www.talkirvine.com/index.php/topic,11813.0.html