Distressed borrowers scan news reports for false hopes of a cure for their financial illness. For this news cycle, the savior is an irregularity on the Notice of Default.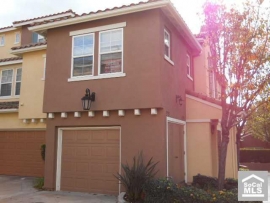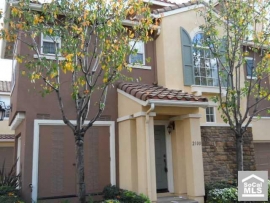 Irvine Home Address … 2100 TIMBERWOOD Irvine, CA 92620
Resale Home Price …… $339,900
Breaking the law, breaking the law

Breaking the law, breaking the law

So much for the golden future, I can't even start

I've had every promise broken, there's anger in my heart

you don't know what it's like, you don't have a clue

if you did you'd find yourselves doing the same thing too

Breaking the law, breaking the law

Breaking the law, breaking the law

Judas Priest — Breaking The Law
Last month I wrote about How attorneys enable squatters to game the system. The American Banker has picked up on the issue because it directly impacts banks.
American Banker — Friday, January 21, 2011 — By Kate Berry
Last year's robo-signing scandals delayed tens of thousands of foreclosures in the 23 states where the process is handled in court. A new controversy could complicate foreclosures in the other 27 states.

At issue is the notice of default, the first letter that a mortgage lender or servicer sends to a homeowner who has fallen behind on payments. The notice typically starts the formal foreclosure process in nonjudicial states such as California, Arizona and Nevada.

Every notice of default has a signature on it. But just like the infamously rubber-stamped affidavits in the robo-signing cases, default notices, in at least some instances, have been signed by employees who did not verify the information in them, court papers show. In several lawsuits filed in nonjudicial states, borrower attorneys are arguing that this is grounds to stop a foreclosure.
In the case I documented last month, the former owners got an attorney to threaten a lawsuit because the Notice of Default in the county records did not have the address printed on it. Part of the process is that the house must be physically served papers, usually they are taped conspicuously to the door. The person serving the house certainly knew the address. And so did the person who served the Notice of Trustee Sale.
If the copy entered into the public record didn't have the address written on it, should we give the former owner a free house?
Anyone who claims they didn't know the house was in foreclosure is not being truthful — and many holdover occupants, both renters and former owners, feign ignorance if it's to their advantage.
"Whoever signs the NOD needs to have knowledge that there is in fact a default," said Christopher Peterson, an associate dean and law professor at the University of Utah.

The suits also argue that the default notices are invalid because the employees who signed them worked for companies that did not have standing to foreclose.

In a lawsuit against Wells Fargo & Co. in Nevada, an employee for a title company who signed default notices admitted in a deposition this month that he did not review any documents or know who had the right to foreclose.

"They are starting foreclosures on behalf of companies with no authority to foreclose," said Robert Hager, an attorney with the Reno, Nev., law firm Hager & Hearne, representing the borrower in the case. "The policy of these companies is to just have a signer execute a notice of default starting foreclosure without any documentation to determine whether they are starting an illegal foreclosure."
Although not a part of a recent Recon Trust and Bank of America lawsuit (Nevada court blocks Bank of America trust foreclosure), these suits occasionally find a legal wrinkle where a few plaintiffs gain some benefit, and a few law firms make a fortune.
The Recon Trust lawsuit in Nevada did cause a huge number of last-minute auction postponements yesterday. The list in Las Vegas was nearly 1,000 properties. Even with over 900 of those being postponed or cancelled each day, it usually takes four or five hours to call the whole list. Yesterday it was finished in about an hour. Or course, the other trustees are expected to pick up Recon Trust's slack just as they did during the brief moratorium last fall during robo-signer.
The Nevada nonjudicial foreclosure statute requires that the company signing a notice of default have the authority to foreclose, Hager said.

In a deposition on Jan. 4, Stanley Silva, a title officer at Ticor Title of Nevada Inc., said he "technically signed" default notices for clients, which were often acting as agents of other parties, which in turn worked for others.

"The person at the bottom of the chain, by executing the document, has taken an action on behalf of all of them through their various agency agreements," Silva said. In one case, for example, he said he had signed "on behalf of Ticor Title of Nevada, who is agent for LPS Title, who is agent for National Default Servicing."

"Who is agent for Fidelity National?" Hager asked. "Apparently, yes," Silva replied.

"Which is a servicer for Wilshire?"

"Apparently."
The attorney has exposed the inner workings of MERS, and it's ugly, but does it violate some standard of law? How much knowledge of events does a signer need to have? What is the signer attesting to? Could a trained monkey sign the papers? Could a barely legally responsible adult with minimal education and experience be given the responsibility of signing foreclosure documents? Why not?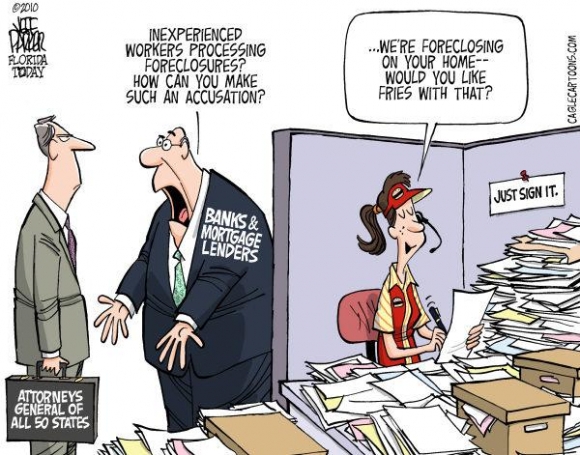 Silva said under oath that he never reviewed any documents or knew what company was the holder of the original note at the time he signed the notice of default. He said he signed about 200 default notices over a four-year period.

When asked by Hager if he signed notices of default "without verifying the accuracy of the information," Silva replied: "Correct."
What level of verification is required of the signer? How are they to verify? What are the penalties for failure to verify properly? Does the response imply that the signers were doing things knowingly inaccurate? Wouldn't whoever was signing look to others to properly prepare the paperwork? Shouldn't they be able to rely on the bank's internal system of checks and balances to know the paperwork they are signing is correct?
For as much as I malign banks, they do know how to accurately keep track of who they loaned money to and how much they are owed. If a loan holder is not paying them, they know it, and they know where that borrower lives. The idea that somewhere in that system banks get lost and start randomly foreclosing on people for no reason is silly.
Representatives for Wells Fargo did not return calls seeking comment. The intermediaries that Silva mentioned in his testimony either did not return calls or declined to comment.

Walter Hackett, a lawyer with Inland Counties Legal Services, in San Bernardino, Calif., and a former banker with Bank of America Corp. and Union Bank, has filed several cases contesting notices of default, on the grounds that the employees signing such notices were working for companies that are not the noteholders — or even their appointed agents.

"A huge percentage of notices of default and notices of trustee sales are legally questionable and probably void," Hackett said. "Nobody with the authority to trigger the nonjudicial foreclosure process is triggering it — only third parties who claim they have the right to do so are triggering it."
This is the MERS defense. The third party claim to ownership of the note is being called into question. Its wrong.
After a notice of default is sent to the borrower and filed at the county recorder's office, a notice of sale is typically published in the local newspaper and the sale of the property often takes place without the borrower even knowing the home has been sold to another party.
That is ridiculous. Most of the homes I have purchased at action still had the notices taped to the front door. The colorful masking tape and bright white paper stand out at street level. Someone living in a neighborhood where one of these is posted will notice the next time they drive buy. These notices are that conspicuous.
O. Max Gardner 3rd, a consumer bankruptcy attorney at Gardner & Gardner PLLC in Shelby, N.C., said the default notice is "the key legal document that is sent to the borrower" before a notice of sale.

Thousands of judicial-state foreclosures were halted last year after several banks including Ally Financial Inc.'s GMAC Mortgage and Bank of America Corp. admitted that employees had signed affidavits without reviewing the documents. In several judicial states, including New York and Florida, sloppy paperwork by servicers has led courts to require that companies verify they have all the proper documents, including proof they own the mortgage before foreclosing.

This month, in a closely watched case, the Supreme Judicial Court of Massachusetts (a nonjudicial state) rejected claims made by U.S. Bancorp and Wells Fargo that the banks, as securitization trustees, did not have to prove their authority to foreclose on two separate homes.

Peterson, the law professor, said one difference between the notice of default cases and the widely publicized robo-signing incidents is that in the latter, affidavits are given to judges whereas the notice of default is not strictly a legal document.

But consumer lawyers said homeowners face a bigger legal burden in nonjudicial sates because they have to file a lawsuit against the holder of the note to bring any action in court.

"Because there's no court reviewing anything in nonjudicial states," abuses are "probably even more rampant," Gardner said. "This is just another example of robo-signing in a different context."
Those poor abused loan owners. They were victims of rampant mortgage process abuse in nonjudicial states like California. Not.
Two and a half years in the foreclosure process
Amend-extend-pretend is used by banks to buy time. They are hoping if they drag out the process long enough prices will rebound and they will get out without taking a loss on their oversized loans. Today's featured property was served a Notice of Default on 4/21/2008 which means they missed payments in April, March, February, and probably January of that year.
Prior to the housing bubble, lenders would customarily wait until customers were 90 days late with a payment before issuing a NOD. It's also likely that this borrower was delinqent long before then and the bank let them slide 180 days or more before issuing the NOD. Shadow inventory is stuck in the limbo between delinqency on the mortgage and the Notice of Default.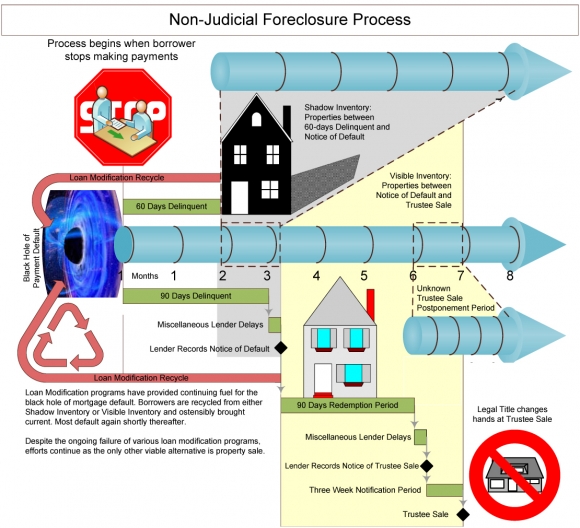 The previous owner of today's featured property was a peak buyer. He paid $509,000 on 9/16/2005. He used a $356,300 first mortgage, a $152,700 second mortgage, and a $0 down payment. By late 2007 he had already given up.
The bank bought the property at auction last July for $431,484. Apparently, with more than three years seasoning, this foreclosure is fully baked and ready for consumption on the Irvine MLS.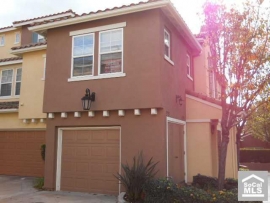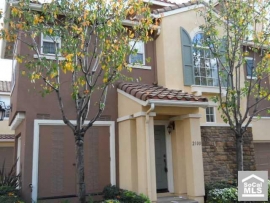 Irvine Home Address … 2100 TIMBERWOOD Irvine, CA 92620
Resale Home Price … $339,900
Home Purchase Price … $431,484
Home Purchase Date …. 7/19/10
Net Gain (Loss) ………. $(111,978)
Percent Change ………. -26.0%
Annual Appreciation … -40.2%
Cost of Ownership
————————————————-
$339,900 ………. Asking Price
$11,897 ………. 3.5% Down FHA Financing
4.78% …………… Mortgage Interest Rate
$328,004 ………. 30-Year Mortgage
$68,627 ………. Income Requirement
$1,717 ………. Monthly Mortgage Payment
$295 ………. Property Tax
$111 ………. Special Taxes and Levies (Mello Roos)
$57 ………. Homeowners Insurance
$241 ………. Homeowners Association Fees
============================================
$2,420 ………. Monthly Cash Outlays
-$280 ………. Tax Savings (% of Interest and Property Tax)
-$410 ………. Equity Hidden in Payment
$22 ………. Lost Income to Down Payment (net of taxes)
$42 ………. Maintenance and Replacement Reserves
============================================
$1,794 ………. Monthly Cost of Ownership
Cash Acquisition Demands
——————————————————————————
$3,399 ………. Furnishing and Move In @1%
$3,399 ………. Closing Costs @1%
$3,280 ………… Interest Points @1% of Loan
$11,897 ………. Down Payment
============================================
$21,975 ………. Total Cash Costs
$27,500 ………… Emergency Cash Reserves
============================================
$49,475 ………. Total Savings Needed
Property Details for 2100 TIMBERWOOD Irvine, CA 92620
——————————————————————————
Beds:: 2
Baths:: 1
Sq. Ft.:: 1270
$0,268
Lot Size:: –
Property Type:: Residential, Condominium
Style:: Two Level, Contemporary
Year Built:: 2000
Community:: Northwood
County:: Orange
MLS#:: P765390
Source:: CARETS
——————————————————————————
Like new! Immaculate two bedroom + loft townhouse built in 2005 located in the desirable Collage complex. Unit features include brand new paint and carpet throughout, fireplace, one car garage, patio with pool views, walk-in closet and storage room. Complex is equipped with beautifully manicured landscaping, pool, spa and secure gate access. Property will be sold with washer, dryer, stove/range and dishwasher.