An Irvine home owner loses more than 25% on his multi-million dollar Irvine property.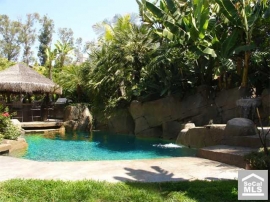 Irvine Home Address … 12 MONTIA Irvine, CA 92620
Resale Home Price …… $1,650,000
Have you ever thrown a fistful of glitter in the air?

Have you ever looked fear in the face

And said "I just don't care"

It's only half past the point of no return

The tip of the iceberg

The sun before the burn

The thunder before the lightning

The breath before the phrase

Have you ever felt this way?

Pink — Glitter In The Air
In recent posts I established that Orange County home prices too high for incomes or rents, and Orange County home sales are falling with prices to follow.
January 26th, 2011, 8:30 am — posted by Jon Lansner
Orange County's high end takes the heaviest discounting, according to a slightly different view of the Orange County real estate market from HousingTracker.net.

This website tracks trends in asking prices from brokers' MLS system of homes for sale. In addition, HousingTracker breaks down its data into a pair of neat markers — the 25th and 75th percentiles that let us see how the market's upper crust and more modest abodes are faring.

From the January report we see …

At the 25th percentile — the median of the lower half of the price spectrum of local homes for sale — the selling price was $294,950; that is down 1% vs. the previous month and down 1.7% vs. a year ago. Over two years, there's been an 1.8% dip in prices set by sellers of more affordable local homes. This is the 5th consecutive month-to-month cut in asking prices for these more "affordable" homes.
At the 75th percentile — the median of the upper half of the price spectrum of local homes for sale — the selling price was $640,873; that is down 1.1% vs. the previous month and off 11.5% vs. a year ago. Over two years, there's been an 11.9% tumble in prices asked for higher-end housing. This is the 7th consecutive month-to-month cut in asking prices for these less "affordable" homes.
The gap between these two price points was 117% this month vs. 118% the previous months and 142% a year earlier. The gap peaked at 167% in June and July 2009.
The overall Orange County median listing price, by this math, was $418,975 for January — that is off 1.1% vs. the previous month and off 6.6% vs. a year ago. Over two years, there's been an 3% decline.

Realtor Aaron Zapata of Prudential California Realty commented: "I call this the sandwiching effect. The upper end is being pressed down by lack of demand, while the lower end is climbing because of great demand. The difference between the high and low end gets smaller."
I recently explored the question With people leaving Orange County, who will buy our overpriced homes? Right now, nobody is, so prices keep falling, inventory keeps building, and sales slowly limp along.
Orange County's data can be found here. The trend at the high end is distinctly downward.
As I demonstrated in yesterday's post, the pressure has been building at the high end due to low sales rates and excessive inventory.
It was inevitable that high end prices would continue to go down. If inventory continues to rise, prices will likely fall.
We are seeing the same buildup of inventory here in Irvine where much of OC's high end resides.
What will happen to pricing and volume here?
I believe new home sales will continue to do well, although the price increases and sales volumes will not meet the Irvine Company's expectations. The dreamers still clinging to bubble values will continue to see erosion of their perceived value. Asking prices will keep falling and the bubble clearance sale will finally get started.
Losing more than 25% after owning in Irvine for more than 5 years
Buying a high-end property in a prestigious neighborhood does not ensure prices cannot go down. The laws of supply and demand in the housing market do not bend to the will of high-end home owners.
This property is not suffering from any malady. It is a huge home in one of Irvine's most exclusive neighborhoods. The back yard is a fantasy resort pool, and the interior is immaculate. The only problem with this home is the price tag attached. This high-end home sale will lose someone half a million dollars. Apparently, even the high end properties are subject to the laws of supply and demand.
Banks know from experience in Irvine that if they force an expensive property to go to auction, the auction price is about half of peak asking price (How to Lose $2,650,000 in Irvine Real Estate). Since the auction is all cash, it gives some indication of what these properties are worth without the lender air that inflated high end properties.
To get an idea what I mean, remember back to a bygone era when loans over $1,000,000 simply didn't exist. Okay, perhaps a few were around, but for the most part, if you saw a neighborhood where transactions were occurring over $1,000,000, you knew that significant savings or ported equity made up the difference. People didn't gain access to those neighborhoods through borrowing alone. People had to save money to be one of the chosen ones.
Fast forward to the housing bubble when stupid loans of every kind where given out to anyone who wanted one. The neighborhood of $1,000,000 homes is accessible to anyone with a high income or a convincing liar loan application. The influx of new buyers sends prices skyward, and by 2006, those formerly $1,000,000 neighborhoods are all listed for more than $2,000,000.
With the credit crunch in August of 2007, credit for jumbo loans dried up. Very few loans have been underwritten in the last three and a half years because no government program insures them. With proper risk pricing and its associated higher interest rate, buyers can't afford a big mortgage. With big mortgages gone, the support for high end prices was removed with them.
Bottom line is that the air has been abruptly removed from the high end of the market, but it has been allowed to slowly gliding downward in a controlled descent.
The owners of today's featured property paid $2,100,000. They used a $1,680,000 first mortgage, a $420,000 HELOC, and a $0 down payment (it is possible they were merely approved for the HELOC and actually put money down.)
On 4/3/2007 they refinanced with a $1,720,000 first mortgage and a $212,000 HELOC. The smaller HELOC and lower combined balance suggests these owners had put money down. However, the larger first mortgage suggests they took out some money in the refinance. No matter the case, having $1,932,000 in debt gets hard to maintain. The stopped paying the mortgage back in May of 2010.
Foreclosure Record
Recording Date: 12/16/2010
Document Type: Notice of Sale
Foreclosure Record
Recording Date: 09/15/2010
Document Type: Notice of Default
The bank is assessing its options. If it forces a foreclosure, they will take a big loss. If they try to negotiate a short sale, they will dance with the sellers for months as the sellers hide assets and claim poverty. The threat of foreclosure will loom over the negotiation, but if the borrowers are already resigned to their fate, the bank has limited leverage.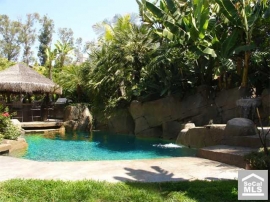 Irvine Home Address … 12 MONTIA Irvine, CA 92620
Resale Home Price … $1,650,000
Home Purchase Price … $2,100,000
Home Purchase Date …. 10/6/05
Net Gain (Loss) ………. $(549,000)
Percent Change ………. -26.1%
Annual Appreciation … -4.4%
Cost of Ownership
————————————————-
$1,650,000 ………. Asking Price
$330,000 ………. 20% Down Conventional
4.78% …………… Mortgage Interest Rate
$1,320,000 ………. 30-Year Mortgage
$333,143 ………. Income Requirement
$6,910 ………. Monthly Mortgage Payment
$1430 ………. Property Tax
$283 ………. Special Taxes and Levies (Mello Roos)
$275 ………. Homeowners Insurance
$190 ………. Homeowners Association Fees
============================================
$9,088 ………. Monthly Cash Outlays
-$1516 ………. Tax Savings (% of Interest and Property Tax)
-$1652 ………. Equity Hidden in Payment
$601 ………. Lost Income to Down Payment (net of taxes)
$206 ………. Maintenance and Replacement Reserves
============================================
$6,728 ………. Monthly Cost of Ownership
Cash Acquisition Demands
——————————————————————————
$16,500 ………. Furnishing and Move In @1%
$16,500 ………. Closing Costs @1%
$13,200 ………… Interest Points @1% of Loan
$330,000 ………. Down Payment
============================================
$376,200 ………. Total Cash Costs
$103,100 ………… Emergency Cash Reserves
============================================
$479,300 ………. Total Savings Needed
Property Details for 12 MONTIA Irvine, CA 92620
——————————————————————————
Beds:: 5
Baths:: 5
Sq. Ft.:: 4350
$0,379
Lot Size:: 10,000 Sq. Ft.
Property Type:: Residential, Single Family
Style:: Two Level, Other
Year Built:: 2000
Community:: Northwood
County:: Orange
MLS#:: S630641
Source:: CARETS
——————————————————————————
Magnificent And Dramatic Arbor Crest Estate, Resort Like Living, Ideal For Executive Buyers. Fabulous Backyard w/ Boulderscape Design Pool, Spa, Waterfall & Slide, Oversized Bar, Palapa, Built-in BBQ And Refrigerator. The House Features 5 Bedrooms-4.5 Baths, Fully Loaded With Top Of The Line Kitchen Appliances(Sub-Zero. .. ), Center Island & Large Eating Area, Travertine Floors Throughout Downstairs, Surround Sound, Soaring Ceilings & Plenty Of Windows and much much more. Custom Builtins Library/Office And One Bedroom W/ Full Bath Downstairs. Four Bedrooms Upstairs Plus A Bonus Room W/ Quality Carpeting, Extensive Wrought Iron Staircase, Water Filter System etc. .. Professional Interior Designer Touch And Ideal for Entertaining. No Need To Preview.