zovall: We still have a couple Stonegate tract reviews left to post.
I made the mistake of visiting San Marcos, the last tract in Stonegate, AFTER I reviewed Las Ventanas at Portola Springs. I think in comparison, the builder (Taylor Morrison) at Portola Springs got it right and Stonegate got it wrong. I've seen all of the other tracts at Stonegate, so San Marcos had relatively little to offer me. I wasn't expecting any pleasant surprises, and indeed, San Marcos contained the recycled features from the rest of the Stonegate tracts. I think that San Marcos deserves a fair shake, so I don't want to knock it off your radar completely. Residence 2 was unavailable for viewing, so I'll only give you Residences 1 and 3. Something tells me that Residence 2 wouldn't wow me, so I won't lament not being able to see it.
Estimated Property Taxes and Special Assessments
Base Property Tax: 1.05% of sales price
AD Tax: $1,889 per year
CFD Tax: $1,700 per year
Other Taxes: $156 per year
Overall Effective Tax Rate: 1.6%
Residence 1
Price: From $626,500
Bedrooms: 3
Bathrooms: 2.5
Garage: 2 cars
Square Footage: 1,824 sq/ft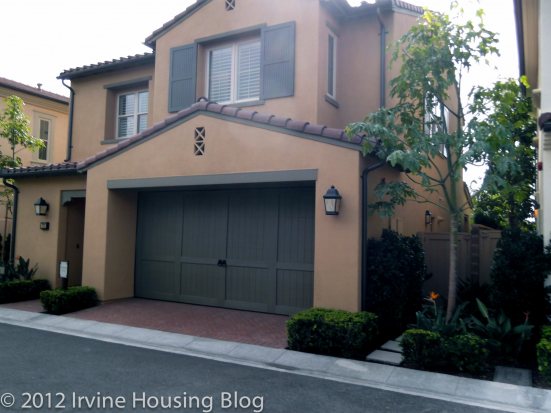 Despite my negative bias against Stonegate, I enjoyed the living space in Residence 1. The huge window overlooking the "California room" and backyard really made the space work for me. I like the open feeling, which is why the great room concept throughout the Stonegate tracts appeals to me. To clarify, the "California Room" is basically a section of the backyard with exposed rafters and a ceiling fan overhanging a cement patio. It's a charming space and I think it adds a nice element of flair to the backyard.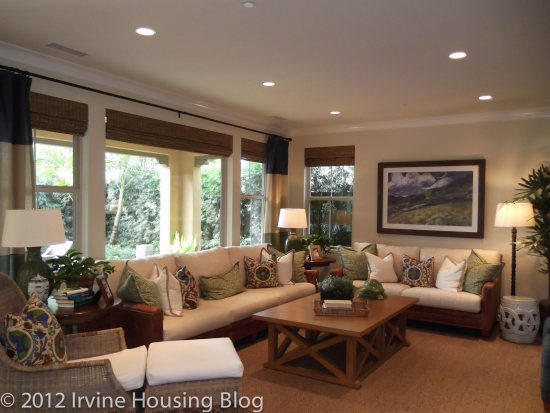 I think after reviewing Las Ventanas at Portola Springs, I've finally pinpointed what I don't like about the Stonegate kitchens: too much cabinetry. In San Marcos Residence 1, I felt like the cabinets swallowed up the entire kitchen. This was indeed the theme throughout all Stonegate tracts. However, there were a few unique features in the Residence 1 kitchen that I liked: the walk-in pantry and the optional wine refrigerator. The walk-in pantry is very nice. I think it appeals to me because I lack pantry space in my apartment, so anything is better than what I have. You could stock your pantry and bunker down for the Winter—it's quite spacious. The wine refrigerator is a must for wine lovers. I don't drink, but if I did I'd upgrade. I think it adds a touch of class and breaks up the white cabinetry.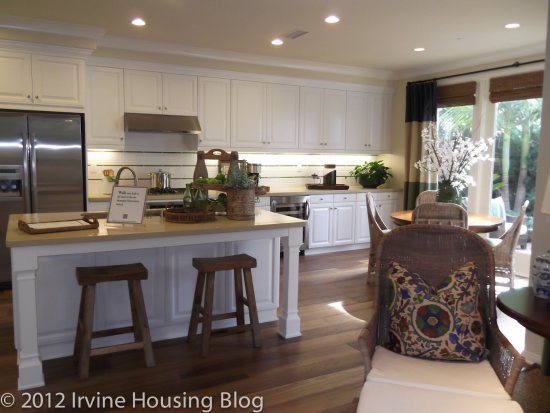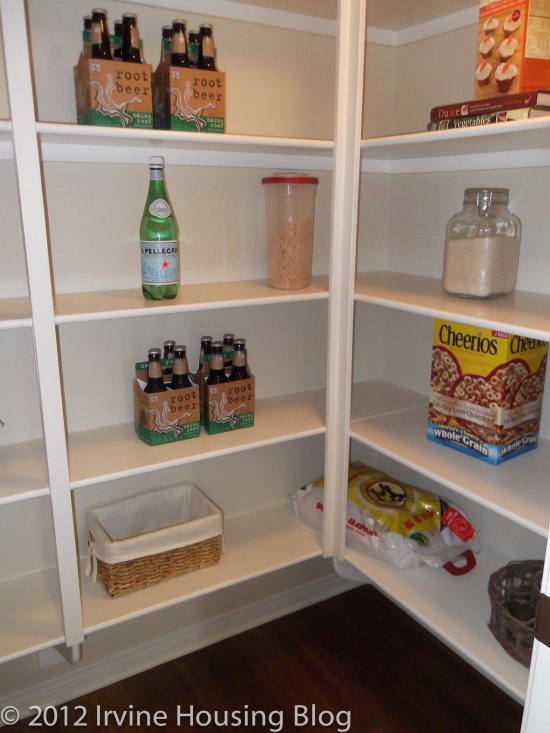 There's a "Tech Space" at the top of the stairs with an optional built-in wrap around desk. You might as well spend the money to upgrade to the built-in desk because I'm not quite sure what else you'd do with the space. It is truly built to be a "Tech Space." I think it could work as an office, but if you work from home and have kids, you'd better schedule your conference calls when the kids are at school. There is no door to shut for privacy.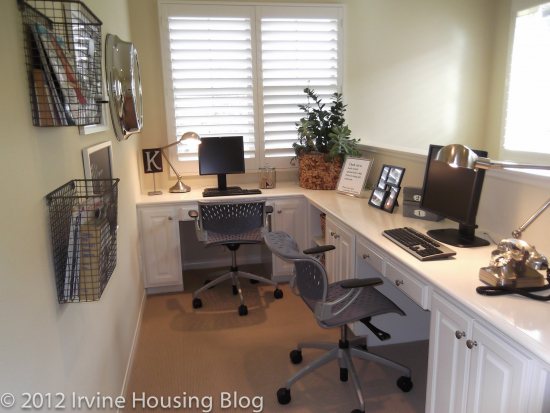 The master bedroom is a fairly decent size, but I didn't like that it's located just off the top of the stairs. However, I did like that bedrooms 2 and 3 are located opposite of the master suite. You win some, you lose some. I actually liked the master bathroom. It didn't feel like a hallway, it was a nice size, the walk-in shower wasn't facing the vanity mirrors and the toilet was in a separate room. The walk in closet located in the bathroom is huge. It's a very nice space and I could have a lot of fun finding clothes to fill the closet with!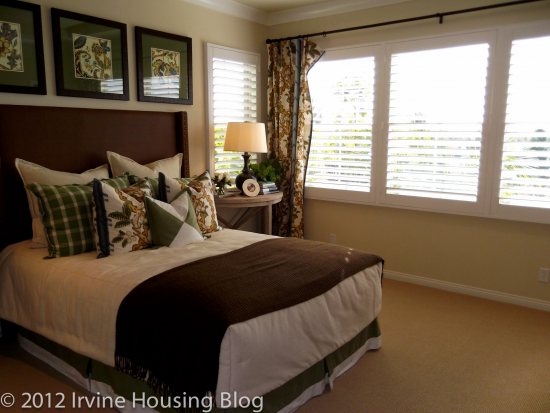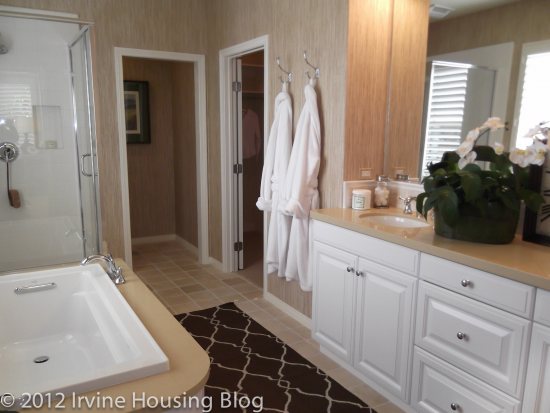 Bedrooms 2 and 3 weren't too bad size-wise. For the price, a small part of me would expect larger bedrooms. On the positive side, the third bedroom had a nice walk in closet. Bedroom two had a closet that seemed slightly bigger than those offered in the bedrooms in other Stonegate tracts. I'm still complaining about the closets, I know. But let's get real Stonegate!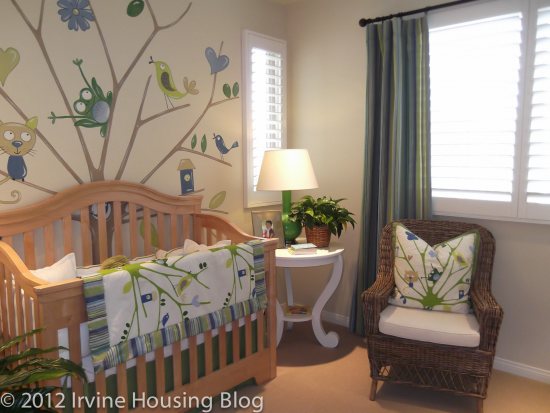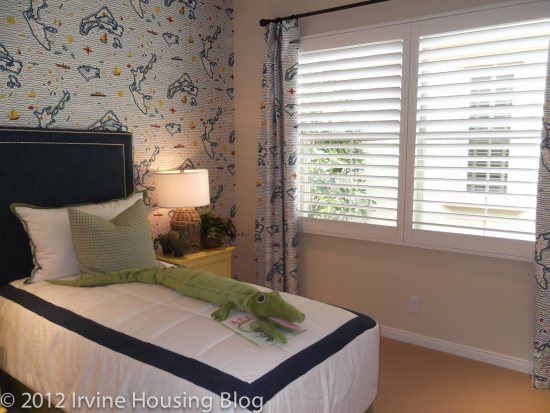 The second bathroom isn't too small, but it's also not big either. It's a shower/tub combo with the toilet next to the tub. It's exactly what I would've expected from Stonegate: dual sink vanity and mirror.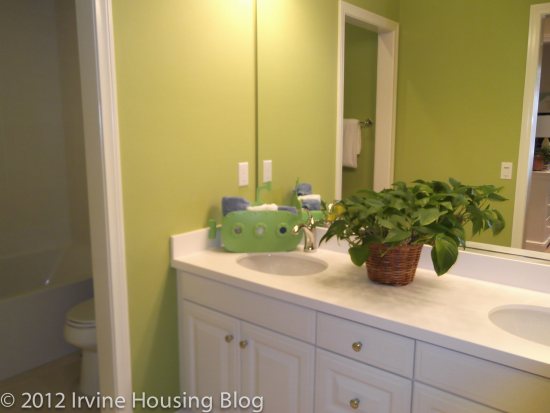 Overall, my impressions of Residence 1 basically made me yawn. I'd seen it all before, so there was nothing left for me to get excited about. I'm going to go out on a limb here and say that San Marcos is overpriced, but it also seems to be the most popular. I think I would invest my money elsewhere.
Residence 3
Price: From $696,500
Bedrooms: 4
Bathrooms: 3
Garage: 2 cars
Square Footage: 2,077 sq/ft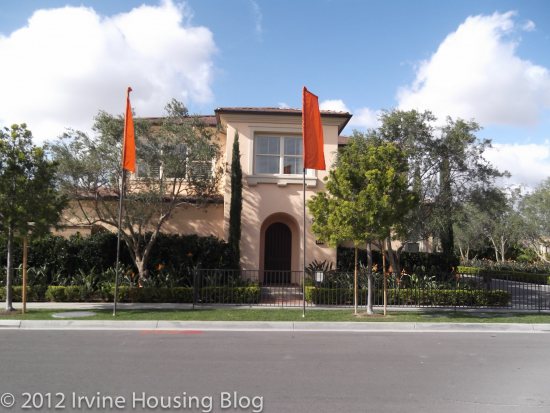 I think I liked Residence 3 more than Residence 1, even though they are practically the same. I like having an optional loft (at the sacrifice of bedroom 3). Since the bedrooms tend to be small in the Stonegate tracts, I'd utilize a loft more than a tiny bedroom. Because of this option, I could imagine myself in Residence 3 as opposed to Residence 1.
When you enter Residence 3, the staircase is just off the right and you have a nice view of the living room. Being able to see your living room when you enter your house is comforting—at least for me. The kitchen and living room feed off of each other, and the dining "space" is set up right in front of the sliding glass door leading to the backyard. I felt like the table blocked the kitchen cabinets, and I wasn't too keen on having to move a chair every time I needed to access the lower cupboards. The whole downstairs is nearly an exact replica of Residence 1 with an exception of a 4th bedroom downstairs. It's unfortunate though, that the 4th bedroom shares a wall with the garage.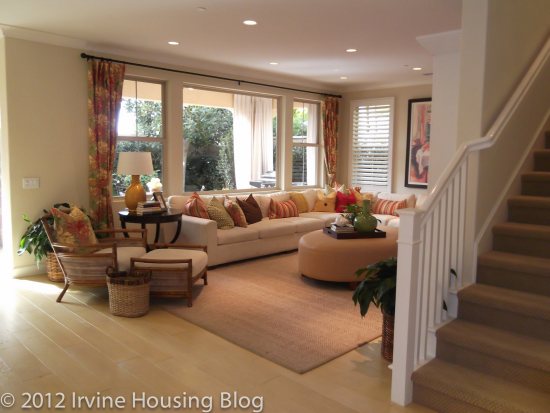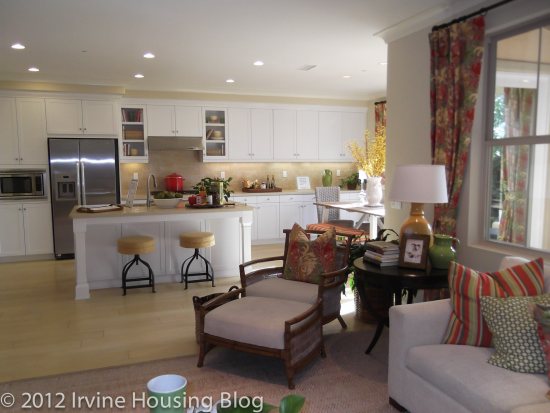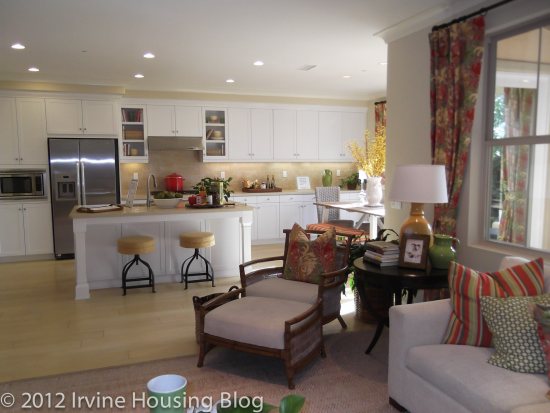 I'm neutral on the master bedroom. It didn't wow me, but it was certainly big enough. However, I liked the master bath. The tub split the two "his and hers" vanities and there was a deep walk-in shower. The walk-in closet was wonderful.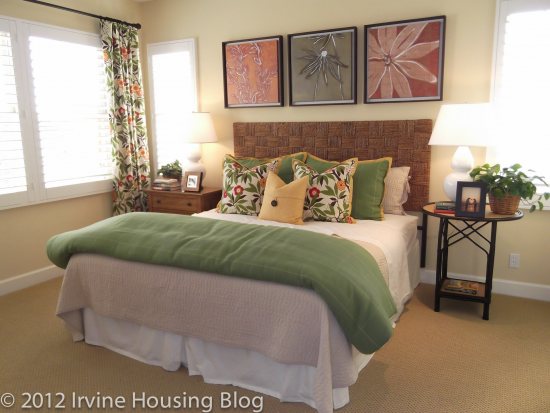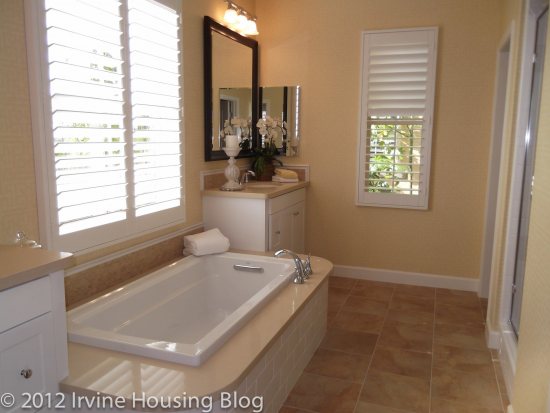 Bedroom 3 is the optional loft. It's big enough for a bed, but it would be a squeeze. Also, it shares a wall with the master. Our regular readers know just how much I hate that. It's becoming a deal breaker for me. Bedroom 2 is typical of the rest of Stonegate. It's not huge, but it's workable with a nice walk-in closet.
The second bathroom is basically a rectangle. When you have a rectangle, you have a hallway. It's no different than any of the other bathrooms in the Stonegate tracts. In retrospect, I'm not sure why I'm expecting the upstairs bathrooms to be more than functional. I guess they serve their purpose. The two elements that I'd like to see in the second bathrooms are a linen closet and to have the toilet separate from the shower/tub combo. I guess that's the difference between a "want" and a "need."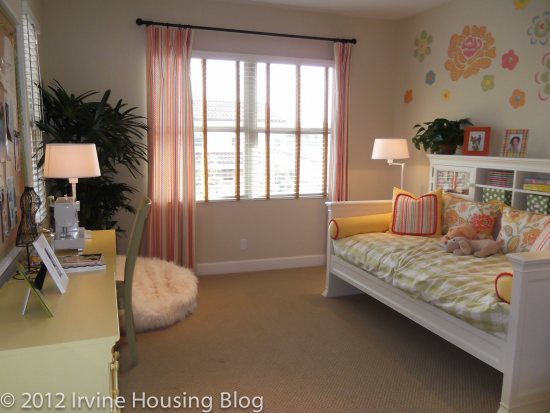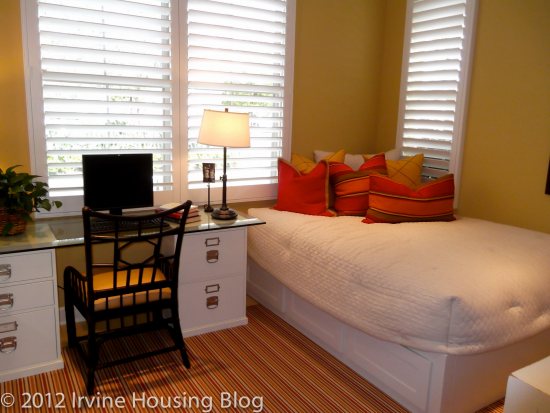 I would've liked to have seen a fireplace in Residence 3. I want more bang for my buck. That was disappointing.
If I had to choose between the neighborhoods of Portola Springs and Stonegate, I would probably go with Stonegate. I think it has a better proximity to the freeways and amenities. It's not flush up against the 133. There are parks, a soccer field, and it's a nice area to cycle or take walks. Despite the positives of the Stonegate neighborhood, it's not the place for me. It's very chic, but I can't justify the purchase price. Goodbye Stonegate.
Discuss below or at Talk Irvine.