The conditions are set for continued deterioration in house prices.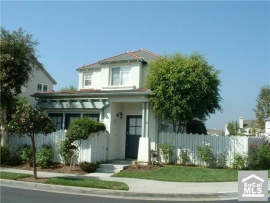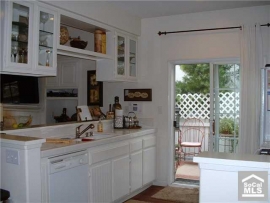 Irvine Home Address … 79 MIDDLEBURY Ln Irvine, CA 92620
Resale Home Price …… $514,999
I've been waiting for something to happen

For a week or a month or a year

With the blood in the ink of the headline

and the sound of the crowd in my ear

You might ask what it takes to remember

When you know that you've seen it before

Where a government lies to her people

Jackson Browne — Lives in the Balance
The conditions which have the most immediate impact on house prices are the current price levels, housing demand, and available supply. If prices are too high, if demand is too low, and if available supply is too high, prices will move lower as the market seeks a new equilibrium.
The banks have been working to manipulate the market through constricting supply. Lenders have convinced the government and the shoeple that building an enormous shadow inventory is a good thing as long as it temporarily keeps prices elevated. Few loan owners disagree, but those looking for affordable housing find the situation untenable, and many of those potential buyers choose not to buy while potentially deflationary conditions persist.
Prices are too high
So are prices really too high? What is the evidence?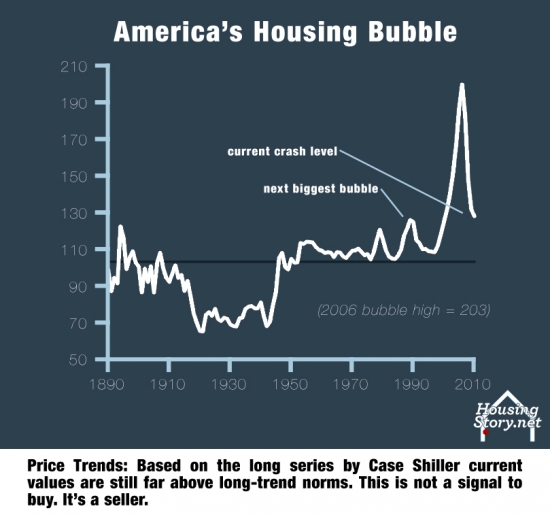 House prices historically have only kept pace with inflation.
Another look at similar data…
We are closer to the bottom than to the top, but based on historic trends both inflation adjusted (top chart) and in nominal terms (bottom chart) prices are simply too high.
Demand is low
It has been a while since realtors have blathered on about "pent up demand," but as a reminder, Desire is not Demand:
Most people want a house. About 65% of Orange County residents own their homes, but probably 95% of residents wish they did. The desire for housing always exceeds the supply because there is always some segment of the market who is unable to obtain home ownership due to the cost of housing and a lack of available credit. True demand is the amount of money those with the desire for housing can raise to put toward the purchase of real estate. If those with the desire for real estate do not have savings and if they cannot qualify for a loan, they create no measurable demand. When realtors make the assertion that there is pent up demand, they are correctly surmising that there is an increasing number of people who want real estate who cannot obtain it, they are totally incorrect in their idea that this demand is merely sitting on the fence waiting to enter the market at a time of their choosing.
So when I say demand is low, I mean the ability of people to put forth sufficient dollars to purchase properties at today's prices is lower than historic norms. Is there any data to back this claim?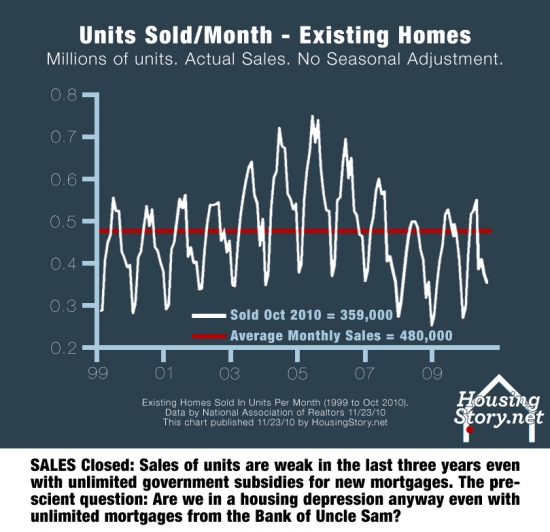 The government and the banking cartel has injected the housing market with excessive stimulation through low interest rates and tax subsidies, yet demand is at historic lows.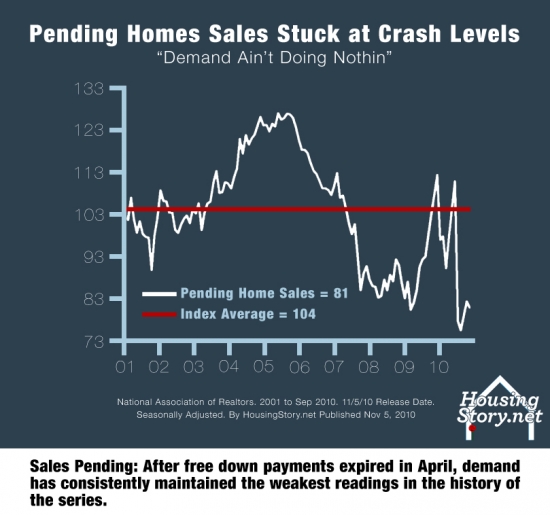 The above charts are national numbers, but the local numbers are not any better….
So why is demand so low? Two reasons: (1) unemployment is very high and it isn't projected to get much better any time soon, and (2) the large number of foreclosures has tainted the potential buyer pool with bad credit.
Without a dramatic economic recovery, demand is not going to increase, and few economists are predicting a vigorous economic recovery.
High levels of supply
What evidence do we have that supply is high?
The most troubling part of the elevated inventories is the accumulation of shadow inventory. In order to hold current price levels, banks slowed their foreclosure rates, embarked on amend-extend-pretend, and allowed a great deal of squatting by delinquent borrowers. The above chart is a conservative estimate from First American Core Logic. Other estimates are not so rosy.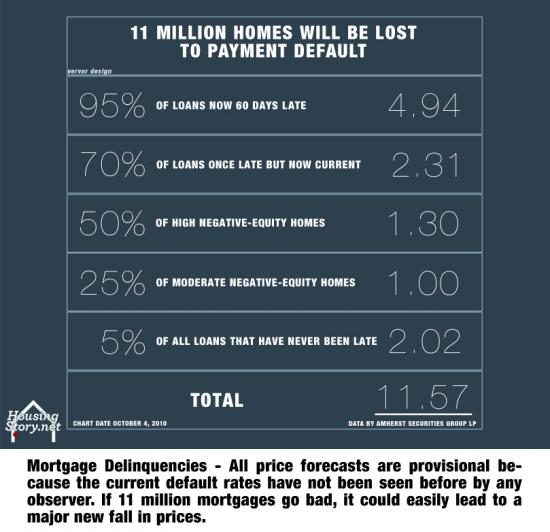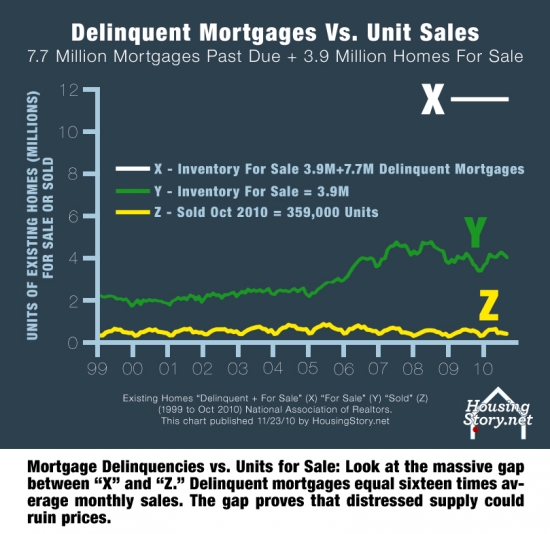 When you compare the above chart with the one from First American Core Logic, the most obvious difference is the measure of shadow inventory. The chart above assumes very few of the currently delinquent mortgages will be cured whereas the First American data assumes a healthy cure rate brought about by an improving economy. The real answer is probably somewhere in between, but the situation is probably much worse than First American Core Logic would lead you to believe.
What we really have is a huge pent-up supply.
So why are the banks building this huge shadow inventory? They don't have much choice if they wish to remain solvent.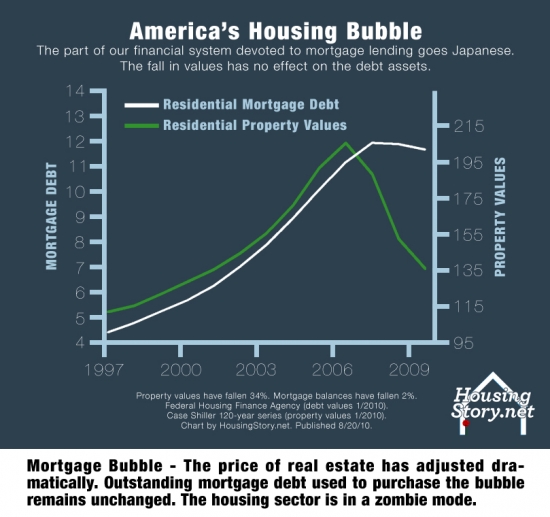 Banks will eventually need to write down this bad debt because prices will not recover as long as the debt overhang exists. If banks had to write down their debt to current values today, they would likely be insolvent, and many would be bankrupt.
Japan had a similar set of circumstances when their real estate bubble burst in 1989. It didn't turn out well for them either.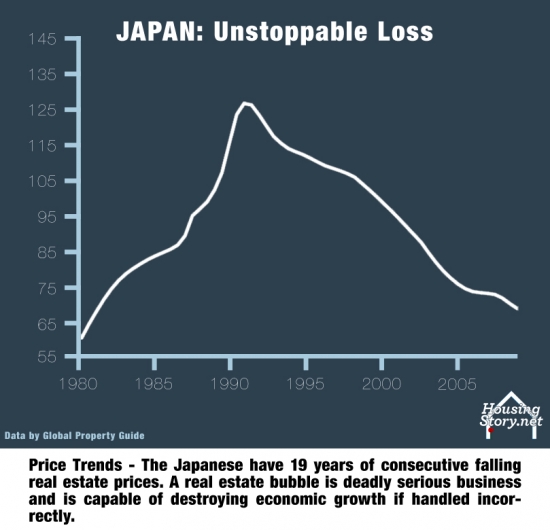 Months of supply points to lower prices ahead
The statistic most cited when examining the balance between supply and demand is the months of supply, the number of months it would take to clear the inventory as current sales rates.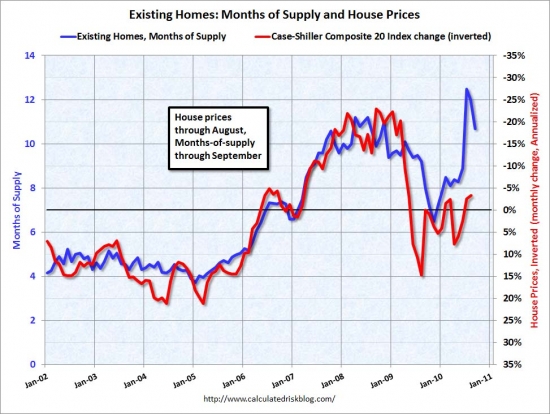 Months of supply has been elevated all year, and back in August it hit the highest level ever recorded. When this indicator exceeds six months, prices generally fall. It first broke above six months in mid 2006 as the market peaked. The months of supply fell off quickly in 2009 as banks stopped foreclosing and began their policy of amend-extend-pretend, but the indicated spiked again with the expiration of the tax credits and it has remained elevated as prices have rolled over in a second leg down.
If the asking price is high enough, it isn't a short sale.
I often giggle to myself when I see a WTF asking price followed by a statement that a property is a standard sale. Well, sure it is a standard sale if the seller asks enough to pay off the Ponzi loans they took out.
Today's featured Ponzi bought this house on 9/30/1998 for $215,000. She used a $171,600 first mortgage and a $43,400 down payment.
On 5/17/2001 she obtained a $50,000 HELOC.
On 9/3/20003 she refinanced with a $223,300 first mortgage.
On 5/14/2004 she obtained a $100,000 HELOC.
On 11/10/2005 she refinanced with a $375,000 first mortgage.
On 12/18/2006 she refinanced with a $392,500 first mortgage.
On 10/31/2007 she obtained a stand-alone second for $50,000.
Total property debt is $442,500, so this is a standard sale, assuming she doesn't have to drop her WTF asking price much.
Total mortgage equity withdrawal is $270,900 including her down payment.
Do you want to pay $468/SF for this tiny house to pay off this lady's debts?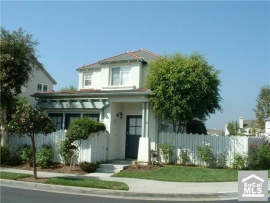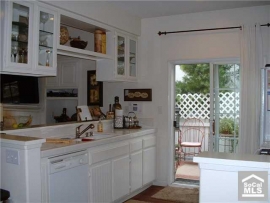 Irvine Home Address … 79 MIDDLEBURY Ln Irvine, CA 92620
Resale Home Price … $514,999
Home Purchase Price … $215,000
Home Purchase Date …. 9/30/1998
Net Gain (Loss) ………. $269,099
Percent Change ………. 125.2%
Annual Appreciation … 7.2%
Cost of Ownership
————————————————-
$514,999 ………. Asking Price
$18,025 ………. 3.5% Down FHA Financing
4.71% …………… Mortgage Interest Rate
$496,974 ………. 30-Year Mortgage
$103,143 ………. Income Requirement
$2,580 ………. Monthly Mortgage Payment
$446 ………. Property Tax
$150 ………. Special Taxes and Levies (Mello Roos)
$86 ………. Homeowners Insurance
$134 ………. Homeowners Association Fees
============================================
$3,397 ………. Monthly Cash Outlays
-$419 ………. Tax Savings (% of Interest and Property Tax)
-$630 ………. Equity Hidden in Payment
$32 ………. Lost Income to Down Payment (net of taxes)
$64 ………. Maintenance and Replacement Reserves
============================================
$2,444 ………. Monthly Cost of Ownership
Cash Acquisition Demands
——————————————————————————
$5,150 ………. Furnishing and Move In @1%
$5,150 ………. Closing Costs @1%
$4,970 ………… Interest Points @1% of Loan
$18,025 ………. Down Payment
============================================
$33,295 ………. Total Cash Costs
$37,400 ………… Emergency Cash Reserves
============================================
$70,695 ………. Total Savings Needed
Property Details for 79 MIDDLEBURY Ln Irvine, CA 92620
——————————————————————————
Beds: 2
Baths: 2 baths
Home size: 1,100 sq ft
($468 / sq ft)
Lot Size: 2,700 sq ft
Year Built: 1998
Days on Market: 52
Listing Updated: 40514
MLS Number: S635678
Property Type: Single Family, Residential
Community: Northwood
Tract: Glle
——————————————————————————
Charming detached cottage home in Northwood Pointe. This is the LOWEST PRICED DETACHED HOME that's a STANDARD SALE in Northwood Pointe.
Beautifully maintained with laminate wood floors & upgraded neutral carpet & paint. Gourmet kitchen with sparkling white tile counters & white cabinetry opens to living room & dining area. Living room features a cozy gas fireplace, & built-in media unit. French doors open to a secluded front porch area. The dining nook features built-in seating & shelves. From the kitchen, enter a serene garden w/patio area, & wrap around yard- great for relaxing & entertaining. Custom window coverings accent the home. Located on a quiet interior cul de sac street, with one of the larger lots for this floorplan. Association amenities include heated pool, lighted tennis courts, sport courts, playground areas, BBQ's. Walking distance to award winning schools-Canyon View Elem., Northwood High. Close to Tustin & Irvine Marketplace for dining, shopping, entertainment.