Despite low interest rates, home sales are not picking up. Lower prices are ahead.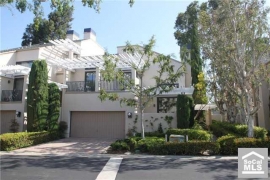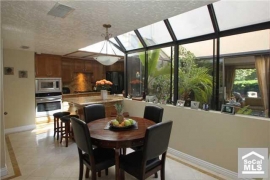 Irvine Home Address … 9 SOUTHWIND Irvine, CA 92614
Resale Home Price …… $775,000
THE MARKET'S BOTTOM HAS FALLEN RIGHT OUT

AND ONLY THE STRONG ARE SURVIVORS.

WELL I FEAR, MY DEAR, THAT IT'S EMINENTLY CLEAR,

THAT YOU CAN'T SEE THE TREES FOR THE FOREST.

THE DOLLAR'S MOVING,

THE ROUBLE'S RISING.

THE YEN IS KEEPING UP

WHICH HARDLY SEEMS SURPRISING.

Paul McCartney — The Pound Is Sinking
In July I reported that Amid Weak Sales Volume Irvine Inventory Hits 23-Month High. In August I reported that Existing-Home Sales Sink to Lowest Level Ever Recorded. And recently, I reported that due to the low sales rates, Time Estimates for Clearing Shadow Inventory Are Too Low. Well, things aren't getting any better.
by KERRY CURRY — Wednesday, November 17th, 2010, 1:21 pm
Southern California home sales dropped in October to their lowest level in three years amid doubts about the drawn-out housing recovery, tight mortgage lending and the expired homebuyer tax credit.
Let's be clear: home sales rates are low because the prices are too high. High unemployment and a return to sane lending standards has reduced the size of the buyer pool, but the high prices are keeping many investors out of the market. As Las Vegas clearly shows, low prices increase the sales volumes.
Volume always precedes price. Sellers always hesitate in lowering their prices until the lack of sales volume forces them too. Lower prices are on the way.
The median price paid for a home rose on a year-over-year basis for the 11th consecutive month, but was the year's smallest increase with just a 1.1% uptick in pricing over October 2009, according to MDA DataQuick of San Diego.

The percentage of sales that were foreclosures declined from year-ago figures, the company said.

A total of 16,744 new and resale homes sold in Los Angeles, Riverside, San Diego, Ventura, San Bernardino and Orange counties last month, down 7.4% from 18,091 in September, and down 24.3% from 22,132 in October 2009.

MDA DataQuick said last month's sales were the lowest for an October since 2007, when 12,913 homes sold, and the second-lowest since 1988, when DataQuick's statistics begin.
In late 2007, the volume of inventory and low sales rates signaled the beginning of a rapid decline in prices that went unabated until the government props gave some support in 2009. We are witnessing a repeat of the conditions in 2007 except that prices are a bit lower, and loans are even harder to come by.
"In addition to a lousy economy, the housing market still has a couple of nasty bottlenecks it has to contend with," said John Walsh, MDA DataQuick president. "First, sales of newly built homes are at a low, mostly because builders can't build at a low enough price to compete with the inventory of resale homes, many of which are short sales or foreclosures."
One of the main reasons our economy is not improving is because homebuilding is not recovering. As long as about 50% of workers in that industry are either unemployed or underemployed, the economy will go nowhere. As John Walsh points out above, the inventory of foreclosed homes and shadow inventory is creating uncertainty in the new home market. Sales rates are low because prices are still too high. Until the foreclosures are liquidated and the shadow inventory cleaned up, homebuilding will continue to be moribund, and the economy will limp along.
"Also, lenders still haven't opened the mortgage money spigot for buying move-up and prestige properties. These properties have come down in value by about half as much as entry-level homes.
That's because the high end has not deflated yet. The prices are being held up by widespread squatting and shadow inventory. Lenders are wise not to open up the mortgage money spigot because prices are still going to fall on these properties, and whoever starts writing jumbo loans first will lose a lot of money. Since the government is not backing these properties, there is no backstop until prices reach $729,750.
But trying to finance a higher-end purchase can be a real grind, even for well-qualified buyers," he said.
Lenders are not suddenly going to open the credit spigot on high end homes. The problem isn't that a mortgage is difficult to get — the problem is that a huge mortgage is difficult to get because people don't make enough money to qualify. They never did. The prices simply aren't realistic, and as people reach for the stars, they come up short because prices are too high. That is why lower prices will show better sales rates.
Mr. Walsh is making is sound like relaxing lending standards will support high end pricing. I suppose he is partially correct. If lenders went back to their stupid lending habits of the housing bubble, we could try to re-inflate it, but the defaults will prevent that from happening. When lenders make loans that are too large to get paid back, it benefits no one.
The median price paid for a Southern California home was $283,000 in October, down 4.2% from $295,500 in September, and up 1.1% from $280,000 in October 2009.

Foreclosure resales accounted for 34.7% of the resale market in October, up slightly from a revised 33.6% in September but down from 40.4% a year ago. The all-time high was 56.7% in February 2009, DataQuick reported.
Since the delinquency rate is still sky-high, the decline in foreclosure sales is a result of the activity of the banking cartel rather than any real improvement in the rate of delinquency or a reduction in the number of foreclosures.
Government-insured FHA loans accounted for 35.8% of all mortgages used to purchase homes in October, relatively flat from September and a year ago.

Absentee buyers — mostly investors and some second-home purchasers — bought 21.8% of the homes sold in Southern California in October, paying a median of $204,500. Buyers who appeared to have paid all cash – with no indication that a mortgage was recorded — accounted for 27.1% of October sales.
Buyers who paid all cash have historically been about a third of the housing market. If there is an influx of foreign cash buyers, it isn't showing up in the sales statistics, unless perhaps US cash buyers are buying less.
Flipping — buying and reselling a home within a six-month period — accounted for 3.7% of the sales, flat with September but up from 2.9% a year earlier.
I'm part of that statistic.

Figures show prices barely rising and sales falling to near-record lows for the month. The median price for new and previously owned homes was $283,000, up 1.1% from October 2009 and a 4.2% drop from September.
By Alejandro Lazo, Los Angeles Times — November 17, 2010
Southern California's median home price stumbled last month and sales fell to near-record lows for an October — a weak performance with little promise for improvement as the traditionally slow season for housing begins.

The October median price for all houses and condominiums in October was $283,000, a slight increase of 1.1% from the same month one year earlier. That made for the weakest year-over-year increase since prices began their ascent last year, San Diego real estate research firm MDA DataQuick said Tuesday. Prices fell 4.2% compared with September as measured by the median price, which is the point at which half the homes sell for more and half for less.
The monthly drop is quite substantial. The year-over-year numbers will turn negative in the next month or two.
…San Diego real estate agent Jim Klinge, who maintains the popular blog Bubbleinfo.com, said the key behind the sales slowdown last month was simple: Prices are just too high.
"Sellers are too optimistic on price. They think the market is better than it is, and they think they deserve more money," Klinge said. "The buyers are smart. The Internet has leveled the playing field, and buyers are paying attention — they are checking the comps closer than ever, and they are not going to overpay for a house."
Jim the Realtor gets it. Notice I captialized the R.

Klinge credited those cautious, well-informed consumers as partially to blame for the October sales slowdown. Escrow closed on only 16,744 properties last month, down 24.3% from the same month last year, for the second-worst October since 1988, when DataQuick began its tracking. Sales of newly built homes posted their worst month on record.

Patrick Duffy, principal for research firm MetroIntelligence Real Estate Advisors, which closely tracks the market for new homes, said builders overestimated the demand for new homes and were likely to retrench in the months to come. The markets for both new homes and previously owned dwellings were driven by tax credits that expired earlier this year.

Those credits gave the market an artificial bump, pulling sales that would have occurred in the latter part of 2010 into the earlier part, Duffy said.

"We are continue to pay a price for the incentives," he said. "You have to pay a price for those — we are having to pay it in the slowest time of year."
Do any readers currently negotiating with the Irvine Company want to share what incentives they are currently offering?
The slowdown comes despite record-low and near-record-low interest rates since April. Home loan rates again hit new lows last week after the Federal Reserve introduced its controversial program to buy $600 billion in Treasury bonds.

Mortgage finance giant Freddie Mac said in its weekly report on rates last week that the lenders it surveyed were offering 30-year fixed-rate loans at an average of 4.17% with 0.8% in upfront fees, down from 4.24% the week before and lower than the survey's previous record of 4.19% set Oct. 14.
Has anyone else noticed the sharp rise in rates over the last two weeks? Bankrate.com has gone from about 4.21% to 4.55% for the 30-year fixed. (Each post has the prevailing interest rate in the property details.)
Esmael Adibi, director of Chapman University's Gary Anderson Center for Economic Research, said a housing recovery in Southern California would depend more on the ability to get the jobs engine churning again and less on low interest rates.

"We need to have household formation, and for that to happen we need job creation," Adibi said. "It is not really interest rates that are drivers of home prices and purchases." … alejandro.lazo@latimes.com
We need job creation, yet we offer businesses nothing but high taxes and red tape, and we offer potential employees high housing costs and high taxes. I don't think that is a winning combination for job creation. Do you?
Kool aid sippers
Even though I profile the most interesting stories of HELOC abuse here each day, not everyone in Irvine is a HELOC abuser. When I set up the HELOC abuse grade system, I set up a special category for those who increased their mortgage a little bit, but not enough to cause any real damage. Usually this comes in the form of periodically paying off consumer debt and credit cards with a HELOC or some other form of cash-out refinancing.
I think this kind of HELOC use is foolish. Many argue that consolidating debts at lower interest rates with tax deductibility is a good thing. That may be true, but it is only a good emergency measure, not a regular habit. Once people make adding to their mortgage a habit, they start financing short-term consumer spending with long-term debt. Is it wise to pay for a vacation on credit over 30-years?
Cash out refinancing for anything other than home improvements should be either completely prohibited, or at least the tax deductibility should be removed. Our tax code bans the deductibility of consumer debt to renters, but the code allows loan owners to spend all they want, consolidate the consumer debt into mortgage debt, and deduct the interest on the mortgage debt. Another perk offered only to loan owners.
Today's featured property was purchased on 9/16/199 for $370,000. The owners used a $275,000 first mortgage and a $95,000 down payment.
On 8/14/2001 they refinanced with a $274,500 first mortgage.
On 8/29/2002 they refinanced with a $275,000 first mortgage.
On 12/23/2002 they refinanced with a $274,000 first mortgage. So far they haven't made any progress on paying down their mortgage, but they haven't added to it either. They were treading water on the Ponzi limit.
On 9/23/2003 they refinanced for $297,000 and sipped a nip of kool aid. Only $23,000.
On 2/9/2004 they opened a $120,000 HELOC but didn't use it.
On 5/10/2004 they refinanced the first mortgage for $315,000 and sipped another $18,000 in kool aid.
On 6/21/2004 they obtained a $200,000 HELOC, but there is no indication that they used it. Based on their previous imbibe rate, I guess they have used about $40,000 of it.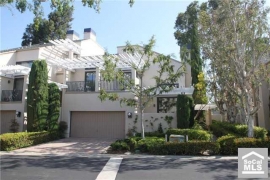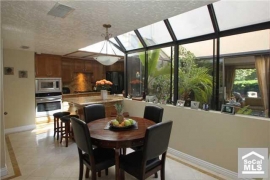 Irvine Home Address … 9 SOUTHWIND Irvine, CA 92614
Resale Home Price … $775,000
Home Purchase Price … $775,000
Home Purchase Date …. 11/4/2010
Net Gain (Loss) ………. $(46,500)
Percent Change ………. -6.0%
Annual Appreciation … 0.0%
Cost of Ownership
————————————————-
$775,000 ………. Asking Price
$155,000 ………. 20% Down Conventional
4.38% …………… Mortgage Interest Rate
$620,000 ………. 30-Year Mortgage
$149,339 ………. Income Requirement
$3,097 ………. Monthly Mortgage Payment
$672 ………. Property Tax
$0 ………. Special Taxes and Levies (Mello Roos)
$129 ………. Homeowners Insurance
$310 ………. Homeowners Association Fees
============================================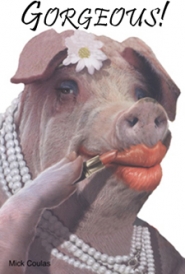 $4,208 ………. Monthly Cash Outlays
-$734 ………. Tax Savings (% of Interest and Property Tax)
-$834 ………. Equity Hidden in Payment
$248 ………. Lost Income to Down Payment (net of taxes)
$97 ………. Maintenance and Replacement Reserves
============================================
$2,985 ………. Monthly Cost of Ownership
Cash Acquisition Demands
——————————————————————————
$7,750 ………. Furnishing and Move In @1%
$7,750 ………. Closing Costs @1%
$6,200 ………… Interest Points @1% of Loan
$155,000 ………. Down Payment
============================================
$176,700 ………. Total Cash Costs
$45,700 ………… Emergency Cash Reserves
============================================
$222,400 ………. Total Savings Needed
Property Details for 9 SOUTHWIND Irvine, CA 92614
——————————————————————————
Beds: 3
Baths: 2 full 1 part baths
Home size: 2,669 sq ft
($290 / sq ft)
Lot Size: n/a
Year Built: 1985
Days on Market: 20
Listing Updated: 40487
MLS Number: S636966
Property Type: Condominium, Residential
Community: Woodbridge
Tract: Ls
——————————————————————————
According to the listing agent, this listing may be a pre-foreclosure or short sale.
BEAUTIFUL LAKE AND LAGOON VIEW HOME!FULLY REMODELED AND UPGRADED THROUGHOUT. UPGRADED KITCHEN WITH GRANITE COUNTER TOPS, MARBLE FLOORS, NEW APPLIANCES, AND RECESSED LIGHTING. LOVELY ATRIUM WITH FOUNTAIN. LIGHT AND BRIGHT WITH HIGH CEILINGS AND SKYLIGHT. FAMILY ROOM WITH ENGINEERED HARDWOOD FLOORS AND COMPLETE SURROUND SOUND WIRING AND SPEAKER SET UP. UPSTAIRS LAUNDRY ROOM WITH TILE FLOORS AND NEW WASHER/DRYER. NEW CARPET AND PAINT. MASTER SUITE WITH RETREAT AND BATHROOM WITH NEW TILE. BALCONIES WITH LAGOON VIEW AND MASTER BEDROOM WITH GORGEOUS LAKE VIEW. A MUST SEE!
Question of the day
If the sustained rate of appreciation is $40,000 a year for your property, and if you have equity at the bottom of the market cycle, is it okay to add $20,000 per year to your mortgage to supplement your spending? In short, is it okay for your house to work part time?