Portola Springs just opened three new sets of homes along its northern edge. All three home collections are built by California Pacific. The homes will be in walking distance of two new neighborhood parks, the future community park, and the neighborhood elementary school. With homes extending into the mountain side, some of the new models will have great views of the city, though most will simply look at the surrounding houses. Each model is either a detached condominium or an attached townhome, so there will be neighborhood dues in addition to the $134 monthly Portola Springs Community Association Dues. Residents will have access to all 17 parks in Portola Springs (plus any future parks) and all pools.
Portola Springs is part of the Irvine Unified School District. At this time, students in grades TK – 6 are assigned to Portola Springs Elementary School, which opened in 2015. Irvine's newest proposed elementary school, Loma Ridge Elementary, is slated to open in August 2019 and residents in these new neighborhoods will be reassigned to the new school. Loma Ridge Elementary will be just south of the new homes, bordered by Tomato Springs, Pearblossom, and Portola Parkway.  Students in grades 7 – 8 are assigned to Jeffrey Trail Middle School. Portola Springs is the neighborhood high school, though it currently only serves grades 9 – 10, with plans to add 11th grade in 2018 and 12th grade in 2019. Current students in grades 11 – 12 will attend Northwood High School. Per IUSD, school boundaries are subject to change, so check with the district for current information.
The three new home collections are open and actively selling. Brisa is a collection of attached townhomes. Celeste and Talise are courtyard-style, detached condos. Each collection has four floorplans.
| | | | | | |
| --- | --- | --- | --- | --- | --- |
| Collection | Square Feet | Beds | Baths | Garages | Base Price |
| Brisa | 1,231 – 1,526 | 2 – 4 | 2.5 – 3.5 | 2 cars | $600,000 – $750,000 |
| Celeste | 1,460 – 1,792 | 3 | 2.5 – 3.5 | 2 cars | $758,000 – $862,000 |
| Talise | 1,806 – 2,070 | 4 | 3.5 | 2 cars | $910,000 – $985,000 |
Resort Amenities
The smallest new park, Ridgetop Park, is near completion. This small park is on the western side of the new neighborhoods, closest to the Talise homes. The park will have a tot lot, barbecue and picnic areas, shade structures, and a great lawn.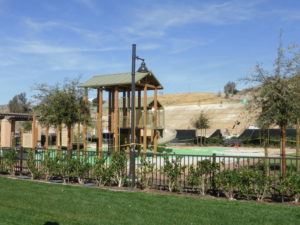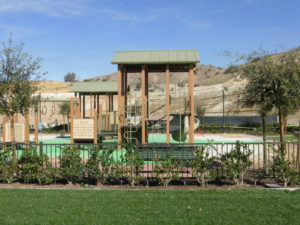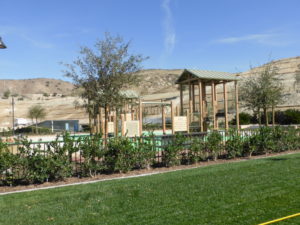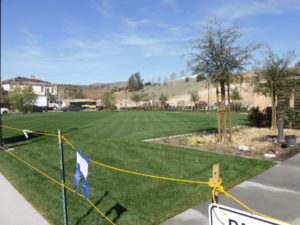 Round Canyon Park will be bigger than Ridgetop Park, but most of it isn't built yet. The park will be a little farther up the hill, adjacent to the Brisa and Celeste homes. Round Canyon Park is slated to have a circular pool, spa, tot lot, barbecue and picnic areas, shade structures, and great lawn.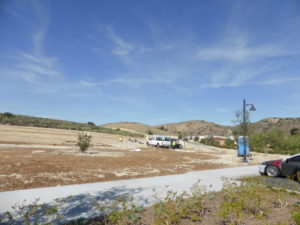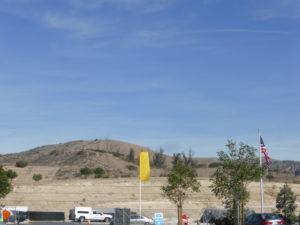 Portola Springs Community Park is scheduled to open this summer and construction is well under way. This huge new park is at the end of Portola Parkway, just before it meets the 241 toll road. Features include a community center, lighted softball and soccer fields, a sand volleyball court, lighted tennis and pickleball courts, a tot lot, barbecue and picnic areas, and a Native American garden. There are plans to build a walking path between the park and the Celeste and Brisa neighborhoods.
The area south of the new homes (adjacent to Loma Ridge Elementary) is supposed to remain open space. There is a trail that runs south from Tomato Springs Road to the pedestrian bridge over Portola Parkway, offering easy access to Portola Springs Elementary. The area north of the new homes is occupied by the large city landfill, located just across the toll road.
The Brisa homes use the same floorplans as the Lantana Collection at Cypress Village. Likewise, the Talise homes match the Trellis Court homes in Cypress Village. In addition to the $134 community association due, there will be additional HOA fees of $199 for Brisa, $112 for Celeste, and $109 for Talise. Each collection has a base tax rate of 1.05% and CFDs of $1,700 annually. AD Tax is expected to be $1,600 for Brisa, $1,800 for Celeste, and $2,350 for Talise. All HOA fees and tax rates are subject to change.
I will review each collection in detail in the coming weeks, starting with the Brisa collection. The models are open daily and sales were in phase one when I visited in early February.