Last summer, I reviewed 31 Entrada West, a three bedroom house in Northwood's Park Paseo neighborhood. The house sold on September 28, 2012 for $620,000 ($324 per square foot; asking price was $649,000). This week, exactly seven months later, I toured 2 Campanero West, the same model home but with a reversed floor plan. As we have seen, the market has risen significantly in the last several months. This property is listed at $725,000.
The basics:
Asking Price: $725,000
Bedrooms: 3
Bathrooms: 2.5
Square Footage: 1915
Lot Size: 4,092
$/Sq Ft: $379
Days on Market: 17
Property Type: Single Family Home
Year Built: 1980
Community: Northwood, Park Paseo
HOA dues are $85 per month and there are no Mello Roos.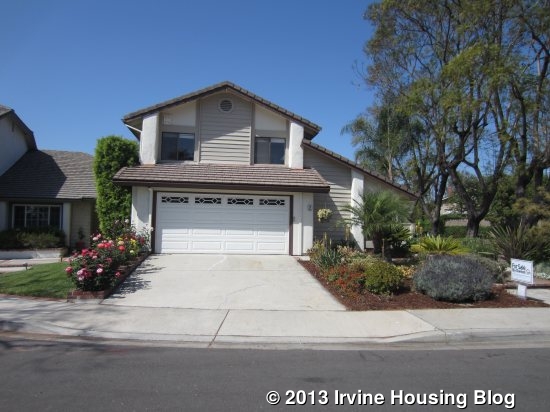 This is a corner lot, backing to Hicks Canyon (a non-residential street) and right alongside where people enter the street. It is a quiet, cul-de-sac street that has direct walking access to Santiago Hills Elementary School.
Lighter flooring and cabinetry do a lot to brighten the house, as many rooms don't get enough natural light. The front living room has light colored carpet, vaulted ceilings, and two large windows. The carpet here, and throughout the house, is in good condition, but buyers will likely want to replace it soon. Across the entry way, the dining room has matching carpet, high ceilings, and a sliding door out to the L-shaped yard.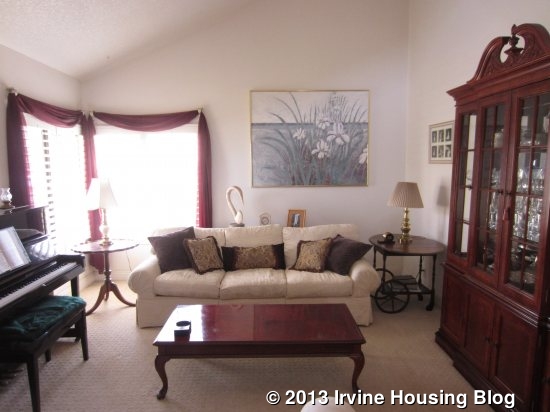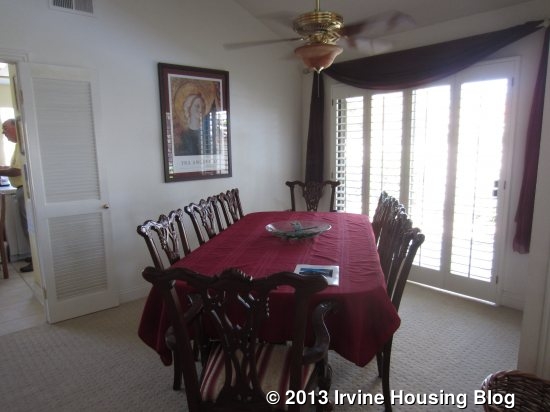 The family room at the back of the house was very cluttered, making it hard to get a good sense of the size and feel of the room. I did notice that the ceilings hadn't been scraped and overall, the room is pretty dark. This room also has the same carpet and has a tile fireplace.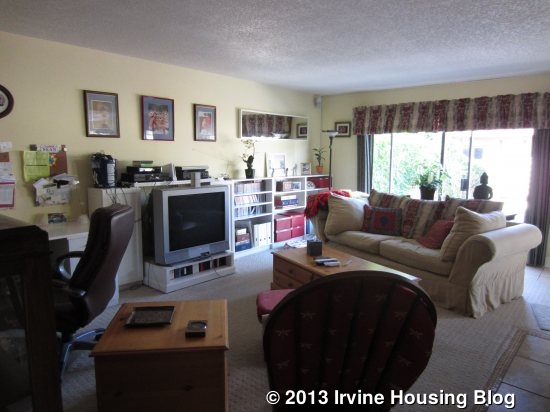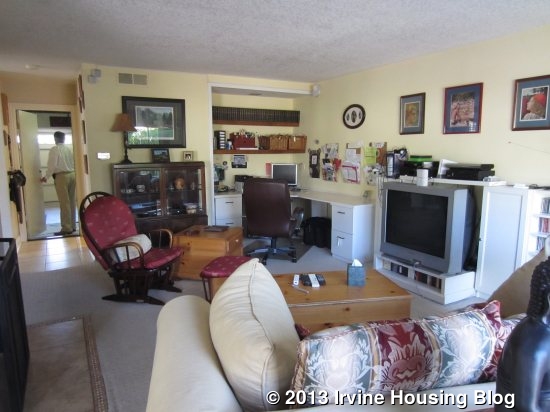 This model has a very small and narrow kitchen. While the one at 31 Entrada West was very dark, this one is brighter, largely attributed to white cabinets and light colored tile floors. The garden window brings in some natural light from the bright backyard. The kitchen's only updates are newer white appliances, but it still has the original white tile counters, panel lighting and plain white cabinets. It is clean and well maintained, but definitely not modern.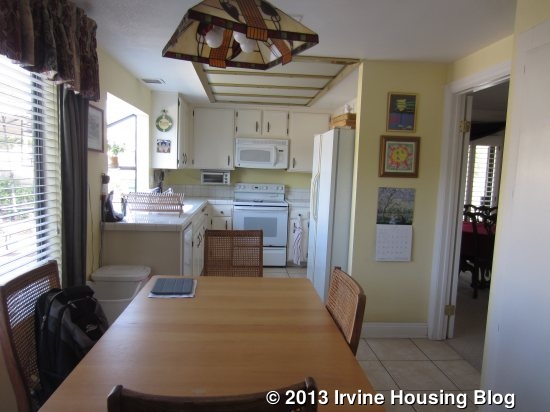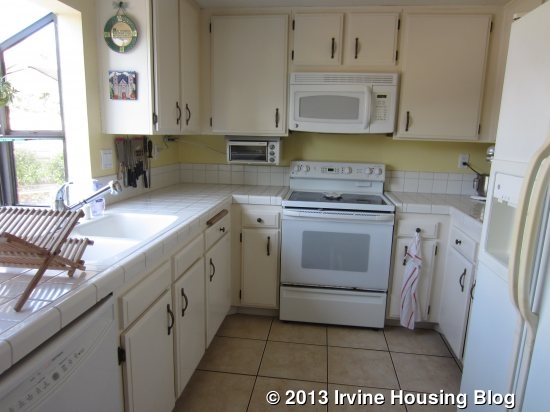 The backyard has a patio, with the rest of the space covered by gravel and several large, raised garden boxes. There aren't any tall trees, so the yard is bright, but it won't block any sound from Hicks Canyon.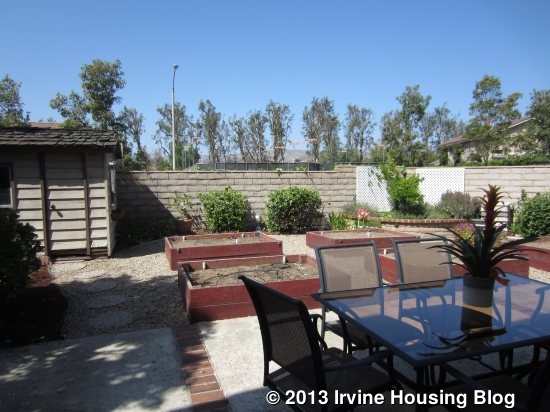 Upstairs, there are three bedrooms, all with light-colored wood floors (the hallway is carpeted). The two secondary bedrooms are small and both face the front of the house. Each one has a two-door, mirrored closet. They share a bathroom with a single sink set into a long counter. The faucet is newer, but most of the bathroom is original. Like the kitchen, it is mostly in good shape but looks dated.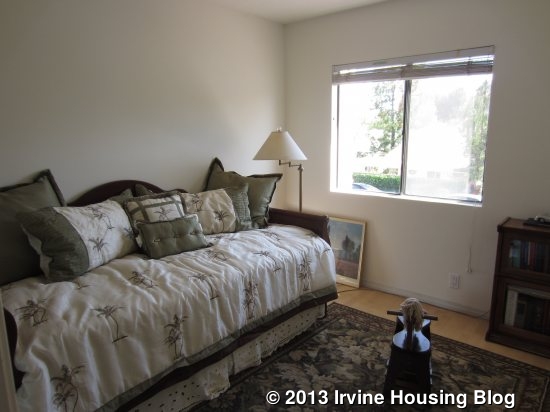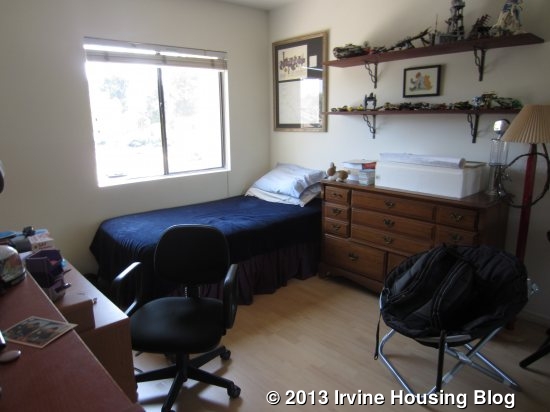 The master bedroom has smooth, vaulted ceilings and a large walk-in closet. It is one of the smallest master bedrooms I have seen. The bathroom has a stall shower and dual sinks with new hardware and cabinet pulls. Nothing else in the bathroom has been upgraded.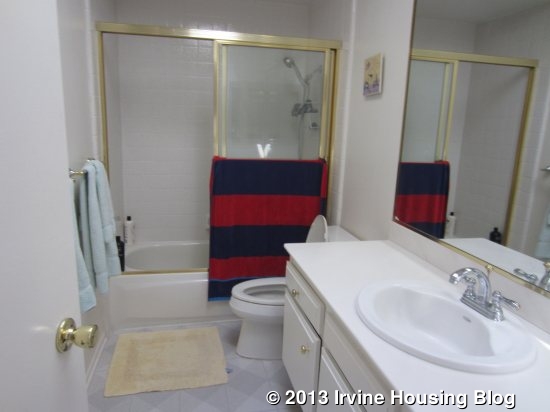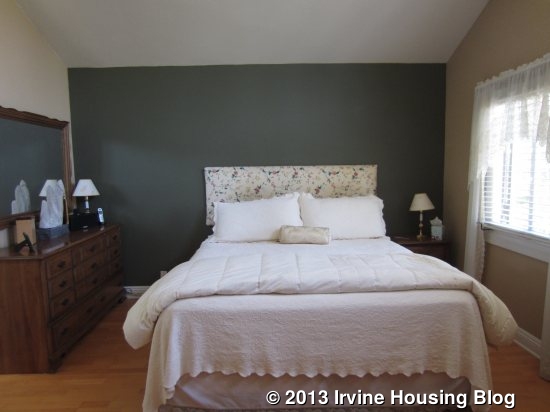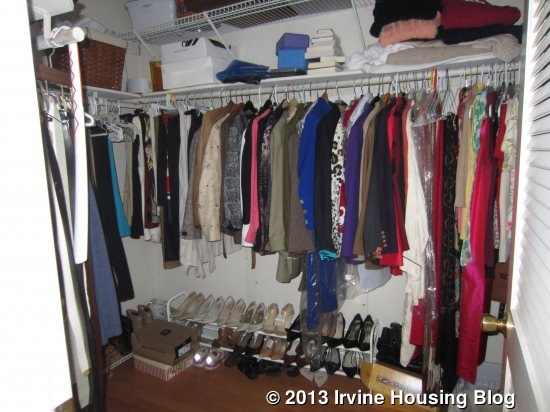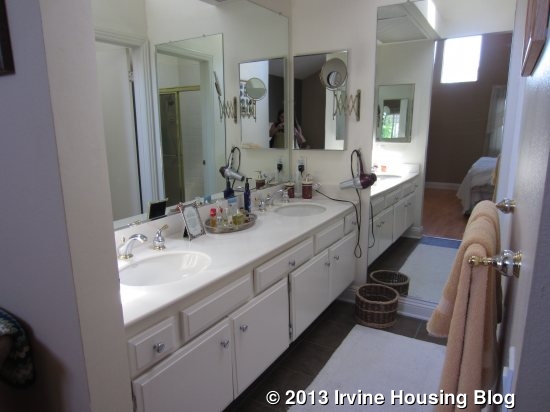 Like 31 Entrada West, this home is in good condition, but has very few upgrades and plenty of room for improvement. It does have nice plantation shutters in some rooms, but all of the windows are original. I liked 2 Campanero West a little bit more, largely because it felt brighter. The corner lot allows for a slightly bigger yard, but puts it in a less desirable location.
Has the market changed so much that you would pay $100,000 more for the same model (also without any remodeling) just seven months later?
Discuss on Talk Irvine: http://www.talkirvine.com/index.php/topic,3795.0.html