According to Altos Research, Irvine's single-family housing market is continuing to improve (note the sharp upturn in the graph below). Altos gives Irvine's single-family homes a Market Action Index of 25.63, which Altos defines as a buyer's market. (Above 30 is defined as a seller's market; below is defined as a buyer's market.) Altos also states that the average single-family home in Irvine has been on the market for about 127 days as of January 11, 2013.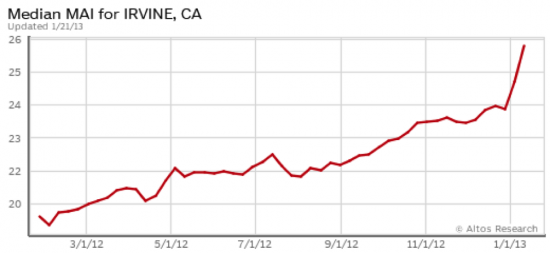 Altos Market Action Index for Single-family Homes in Irvine
Following is Irvine's housing market data provided by Redfin on January 14, 2013. To view numbers for Irvine by neighborhood, see my previous post: Irvine Housing Numbers by the Numbers: January 2013.
| | | | | |
| --- | --- | --- | --- | --- |
| Type | # Homes Listed | # Homes Sold | List Per SF | Sold Per SF |
| Houses | 113 | 274 | $409 | $357 |
| Condos | 106 | 324 | $377 | $327 |
| All | 219 | 598 | $389 | $338 |