A Super Sized Find in Turtle Rock Hills
18762 Via San Marco, Irvine CA
The minute you step into this home you are caught by the light. It is everywhere, streaming through the bay windows, bouncing off the burnished wood floors, flooding the kitchen and the family room.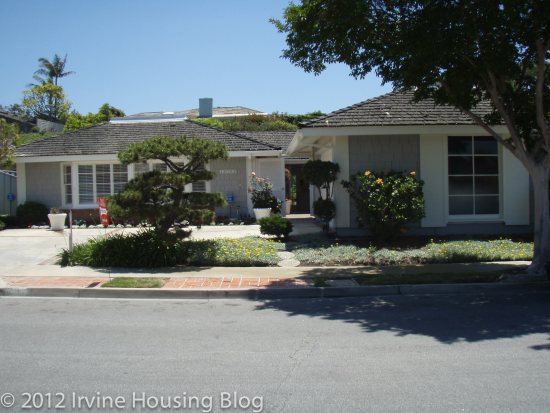 The light leads the way through a spacious open floor plan flowing around the huge living room that is perfectly positioned in the center of the house to capture the best view of a very private, very large backyard with a steep green hillside.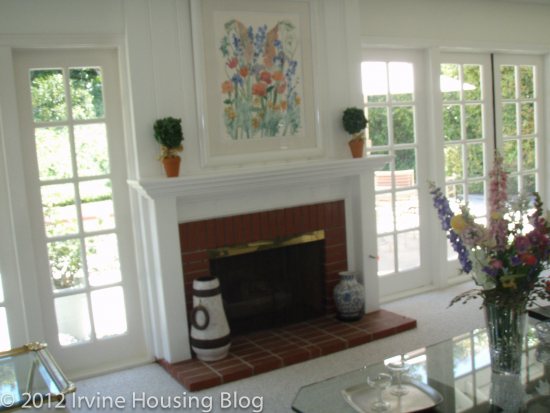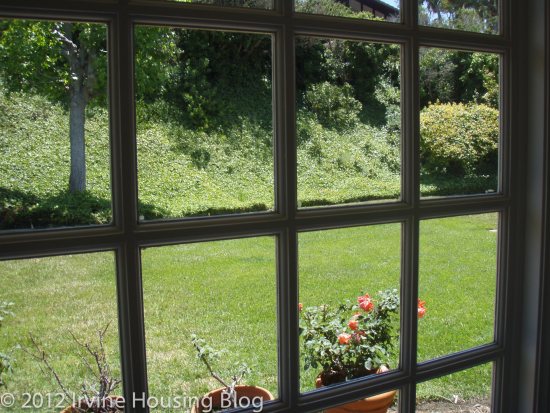 The French doors and bay windows frame the many views.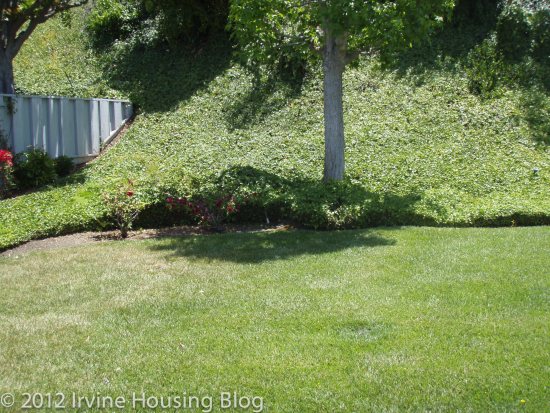 Situated on an oversized 10,000 sq. ft. lot, this in many ways, is a super sized property, made even better by its secluded location on the quiet streets of Turtle Rock Hills.
Off to the right, a formal dining area competes with the living room for attention, positioned near French doors opening onto the backyard. Beyond there is the kitchen, an informal dining area, and the family room, all nicely done and linked with tile and hardwood floors.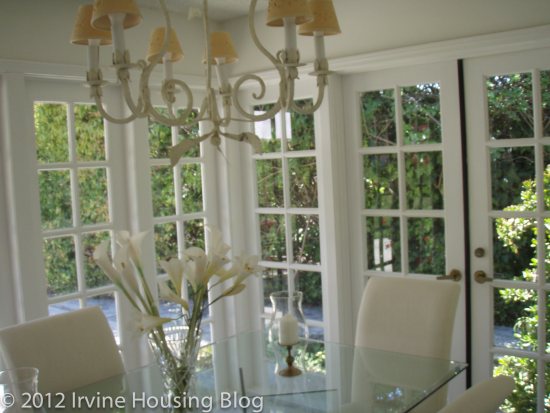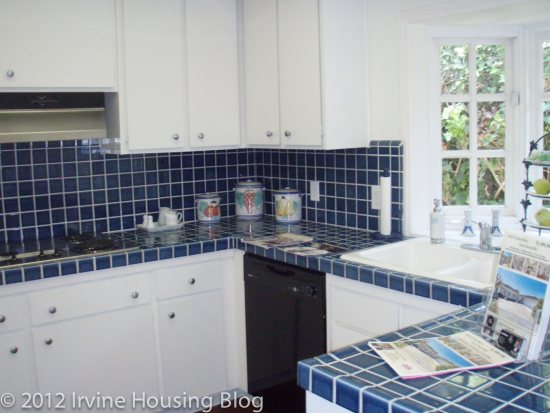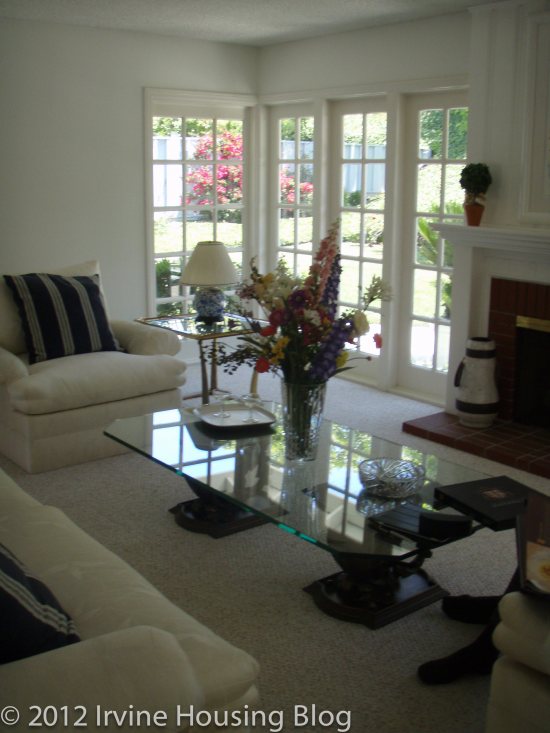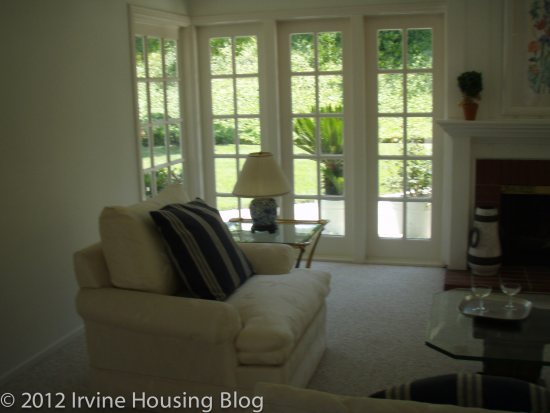 Off to the left, down the hall, the four bedrooms and two baths all fit together, each providing another big helping of natural light. They offer big bay windows and window seat views of the backyard. The home has new carpets and paint throughout.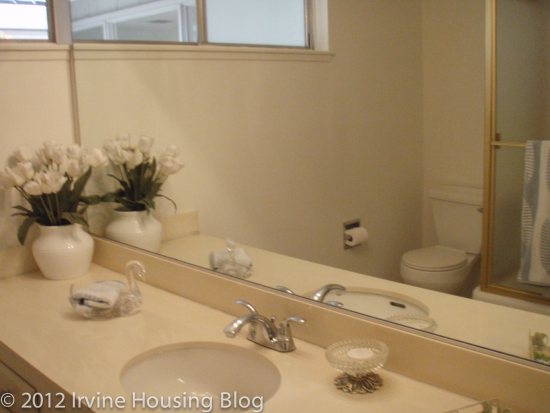 The owners have lived here over thirty years and clearly enjoyed their home. The house is being shown with some furnishings to set the stage. With the bedrooms, family room and adjoining eating area all open, the viewer can pencil in a variety of options.
That openness leads to 'what if's.' What if the family room grew bigger? Or that very private backyard acquired a pool or added patio accessories? What if the bedroom with the wonderful view of the backyard became a library with built in bookcases, or a home office?
This home could be sold as the starting point for a whole new round of innovations or as a welcoming site ready for a new family to move in. The huge private backyard could acquire a spa, chill pool, barbeque, and added patio accessories, becoming a great entertaining area, flowing perfectly from the line of French doors in the living room.
Up front a new great room could be created from some of the extra driveway space, or be developed from the existing garage with a new garage added.
Either way, there are supersized assets here. Situated in a quiet spot in Turtle Rock Hills with the oversized lot and a private hill in the back, this house has a great presence
Where it goes from here is the question.
Specifics:
Beds: 4
Baths: 2
Sq. Ft.: 1,925
$/Sq. Ft.: $571
HOA Dues: $140/month
Lot Size: 10,725 Sq. Ft.
Single Family Style:
One Level, Ranch
Central Air
Two Car Garage
Irvine Unified School District
Year Built: 1968
No Mello Roos Tax
Community: Turtle Rock
Limitations: Competition in this price range might find buyers looking for extra features. Right next door there is a similar home for sale that offers a salt system pool and spa. In this price range, a buyer might be looking for more kitchen upgrades, or an enlarged family room. This might lead to an evaluation of the home, with the buyer's requirements, and the development potential and cost involved, making the final call. In April this home was listed for a hundred thousand more.
Who will make this property their home? A family needing bedrooms, yard space and excellent schools could opt for this home. A family seeking a floorplan with all of the bedrooms on the main floor might choose this home. Or, a couple who like to entertain and want to develop the property with even more supersized assets might select this home.
In Comparison – The house next door at 18782 Via San Marcos is pending at $1,299,000, offering 4 bedrooms and three baths, a salt pool and spa and waterfall. Also in Turtle Rock, 5 Morning Glory is listed at $1,199,000. It is a two level Craftsman with three bedrooms, two baths, and a view.
Discuss below or on Talk Irvine.