Las Colinas is one of the larger (and pricier) tracts in Portola Springs. They're currently in their final phase and have about seven properties left. I reviewed the property on a beautiful Saturday morning. Clear blue skies put me in the buying mood for some reason, so my review may have a positive twist. I noticed that the neighborhood was quiet, which was almost an eerie feeling since I'm so used to loud neighbors. The demographics in this neighborhood were different than the other Portola Springs communities. I saw the age 40+ crowd walking their dogs or jogging. I observed this very quickly since I'm used to seeing kids everywhere in the other neighborhoods. Indeed, the Las Colinas housing feels like it's not built for families. The aura and atmosphere felt like it catered to an older, more established homeowner. I could never imagine skateboarding ramps or Hop Scotch chalk drawings on the sidewalks. Maybe that's why this neighborhood appealed to me.
The builder of this tract is Taylor Morrison. Their motto is "homes inspired by you." I tend to agree with their tag line. Out of all the builders that I've seen, Taylor Morrison is my favorite. They have hits and misses, but overall I like them the best because they're the most practical and share my love of big bathrooms. The neighborhood does have its down side. It's constructed like a quarter slice of a piece of a pie—literally. Depending on where your lot is positioned, you could experience street noise from Portola Parkway. Granted, there is a berm of trees and shrubs shielding you from the ugly street view, but if you get one of those loud construction trucks barreling down the street, you're going to hear it. The outermost houses border Ridge Valley, so no matter where you go you'll hear some street noise. Welcome to California.
Would I live here? Yes—if the house was given to me. If I had to sink money into it, I'd choose to bypass this property. It's too big for someone like me. Even if I was married I still couldn't imagine living in the space, unless I did a large volume of entertaining and had house guests often. Pricing ranges in the high $900,000s but you're probably looking at well over $1 million if not higher. I'm not sure I can justify the price. I'd want a bigger lot size for that chunk of change. I'm sure it's comparable to other properties, but I'm a dreamer and still holding out for that "gem" of a property that gives me more bang for my buck.
Residence 1X (La Cumbre)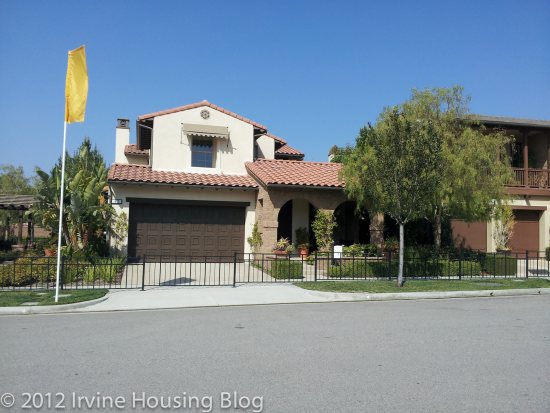 Number of bedrooms: 4 bedrooms
Number of bathrooms: 4 baths
Square footage: 2,988 sq. ft.
Garage: 2 cars
Base price: $996,885+
The entry to Residence 1 surprised me. You're greeted by a series of architectural arcades that give the illusion of length. The rounded arches are Romanesque, which would typically attract my attention, but my initial instinct was that it made the entry seem cold. It's grand and luxurious. Maybe Daddy Warbucks would like it, but my preference is cute and charming. Right away my guests will experience the comfort of my home without having to walk down a stretching hallway. To the right of the door is what they refer to as the "Loggia." Basically it's an extra seating area with a view of the backyard. It's functional if you entertain a lot and want to offer guests seating. My personality profile says it's impractical for my lifestyle—not matter how cool it is to say your house has a "Loggia."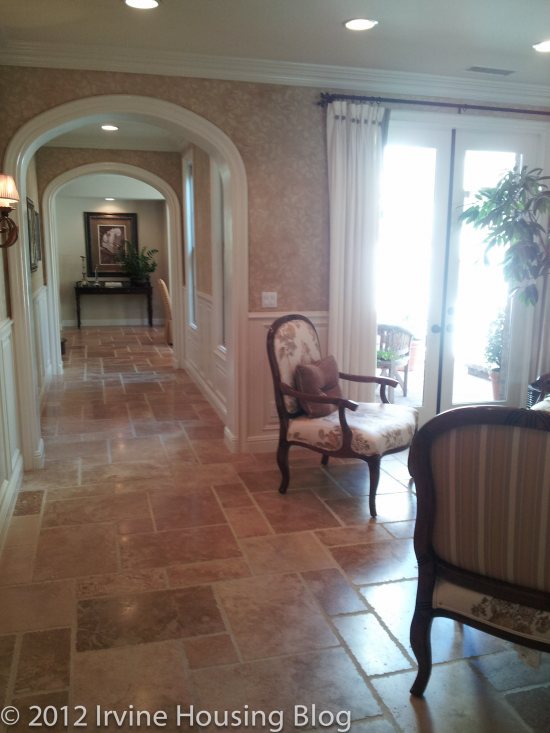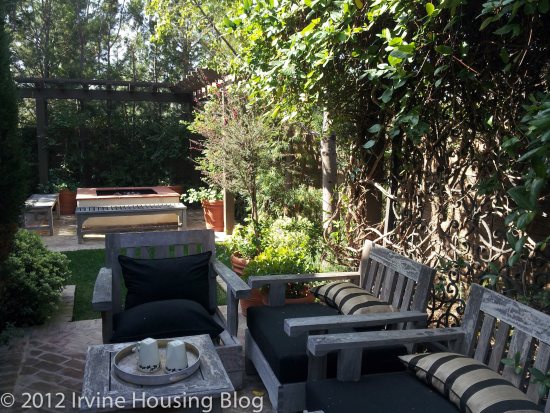 Once you walk through the arcade, you'll spot the formal dining room. It's a nice feature to have a separate space dedicated to dining. We spend a lot of time eating in front of the television, so having a separate space to enjoy your meals is attractive to someone like me. However, practicality dictates that somehow we'll still find a way to eat near a television (it's part of our lifestyle), so I'm not sure if I would use this space other than for "show." I'm just being realistic.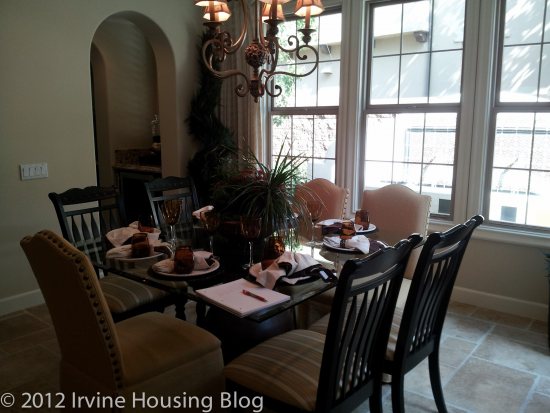 The kitchen wasn't as large as I expected. It was nonetheless beautiful with a huge island. The island is perfect for bar style seating, and is even big enough to serve dinner for 2-4 people. The one element that shocked me was the minimal overhead cabinetry. Remember my post from Laguna Altura? My complaint was that there was too much cabinet space, which created a "too much kitchen" feel. Residence 1 has a smaller amount of upper cabinet space, but compensates by providing adequate lower cabinet storage. I liked this concept. There is a large pantry. It's shelving, not a walk in. I don't eat that much food but it would be ideal for 2-4 people. Nestled near the window is a space that the builders call a "Morning Room." I prefer to think of it as the informal dining room. You could seat a rectangular table for 6 people. They carved out a nice space and I could see myself sitting there on a Saturday morning, drinking my glass of OJ and enjoying the view of my backyard.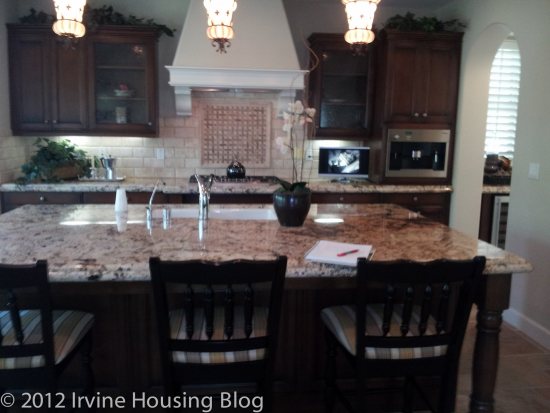 The living room isn't as large as I thought it would be. I'd opt to have a fireplace installed to make it a little extra cozy. The living room is shaped like a square, so the furniture fits just right. I think it's a sufficient space and will offer plenty of seating with room for a large coffee table.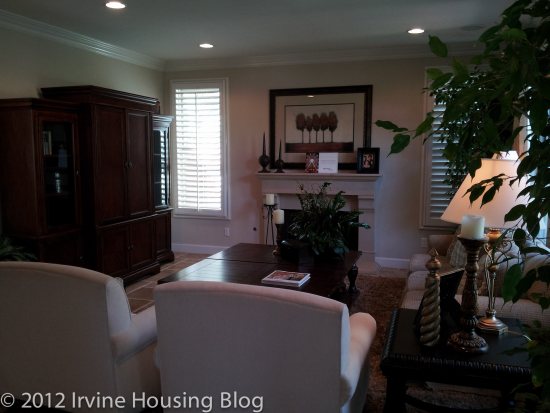 The other features on the ground floor include the powder room (small and functional) and an under the stairs storage closet. The backyard isn't what I expected size-wise. It was rather narrow and small. The model's backyard was "L-shaped" and extended past the Loggia. They had a fountain that could be viewed from the Loggia, but I still felt like it was a tight squeeze. Somehow they were able to fit a kid's swing set back there—kudos to them.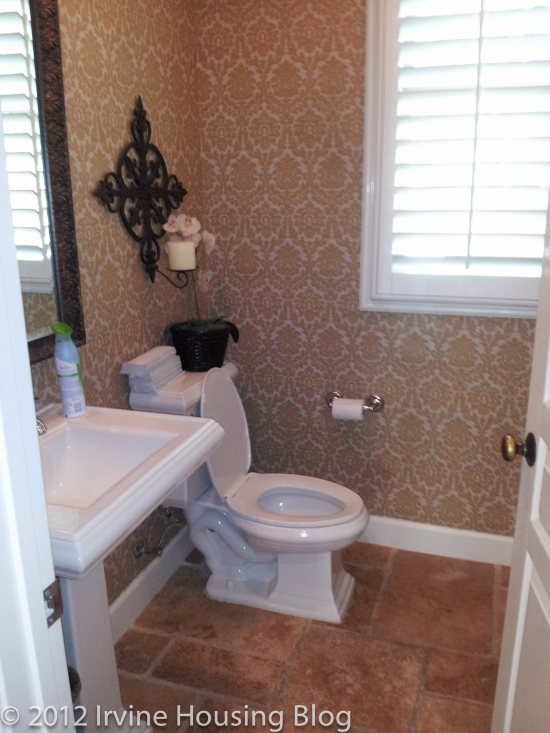 The master bedroom is located at the top of the stairs. If the house doesn't have a lot of foot traffic, this might be acceptable. If I had kids with elephant feet stomping up and down the stairs while I'm napping, it would bother me.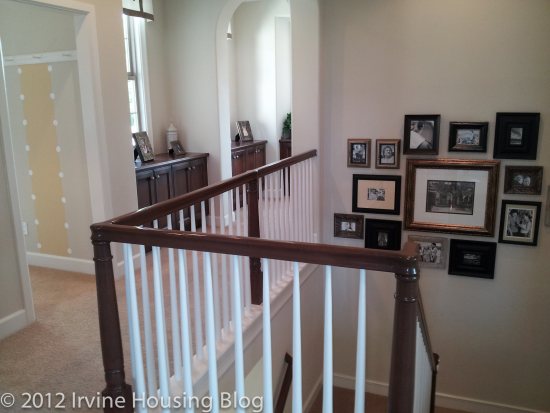 I enjoyed the master bedroom. I felt like it had a pleasant aura to it. Maybe it's because there were plenty of windows and the model had a view of the backyard. It was just the right size for me. The only down side that I saw to the master bedroom was the sliver of wall space, where your headboard would typically go. If you have a King, Queen, or Cal King bed you'll be hard pressed to fit a headboard on the wall since it's wedged in between two windows. If you turn on HGTV you'll find a plethora of options to give you the illusion of a headboard. It's not a deal breaker for me.
The master bathroom has a split sink vanity with an oval tub sandwiched between them. This is a reoccurring feature in Taylor Morrison's designs. I wished the vanities had more countertop space. I was a little disappointed in that. The walk in shower is skinny, but gets the job done. It was very nice, and less to clean. The bathroom also included a large walk-in closet. I'd have lots of fun filling up the space with my wardrobe! Tip: I'd opt to get the mirror upgrade installed on the closet door since there aren't any full length mirrors elsewhere.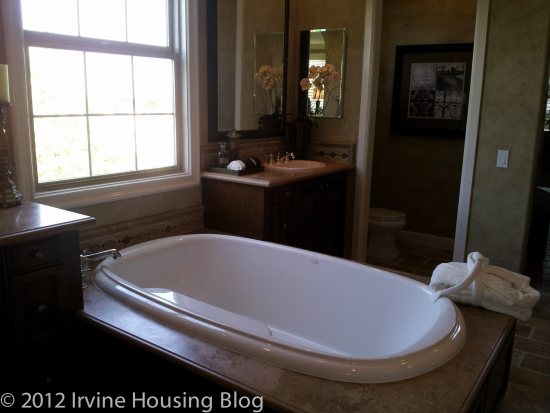 The second bedroom is a decent size. The model has it set up as a nursery, but there's definitely room for growth. The room includes its own bathroom and a spacious walk in closet. The bathroom has a tiny vanity and a very narrow tub. I was wondering if I was too tall to fit in it. It doesn't seem conducive for an adult bath retreat. There is a tiny balcony accessible off the second bedroom. I call it the "Romeo Balcony" because you can literally take one step out the door and not be able to go any further. It's perfect if you have a Romeo serenading you in the moonlight. Otherwise, I see no purpose for it!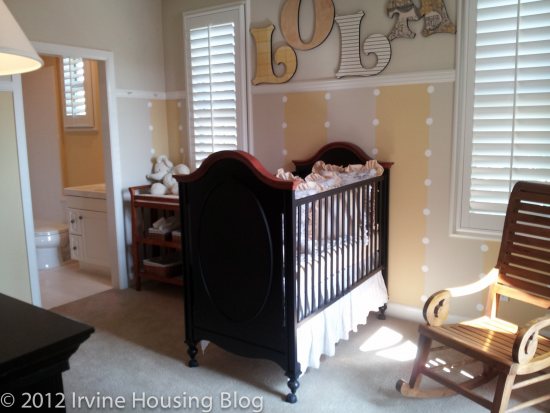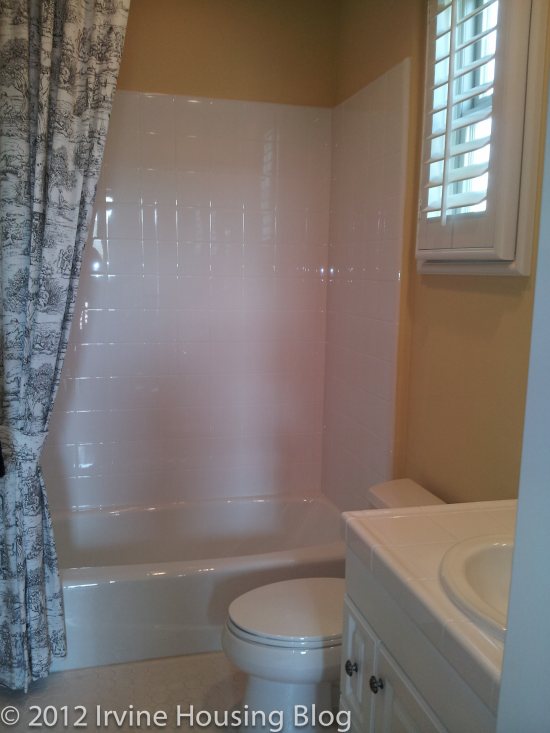 The third bedroom is also an acceptable size. There are dual split closets, which I was pleasantly surprised with. The model also featured a third closet, just in case you have an overflow of clothes. The ensuite mirrors the bathroom in bedroom 2, so there isn't any wow factor to the bathroom. On the plus side, the bedrooms have their own bathrooms. The negative is the cramped space, small vanities and narrow tubs.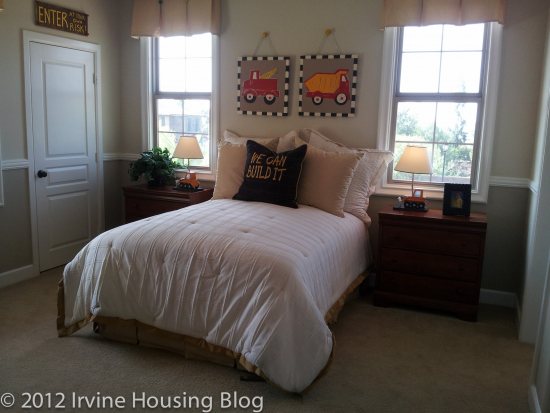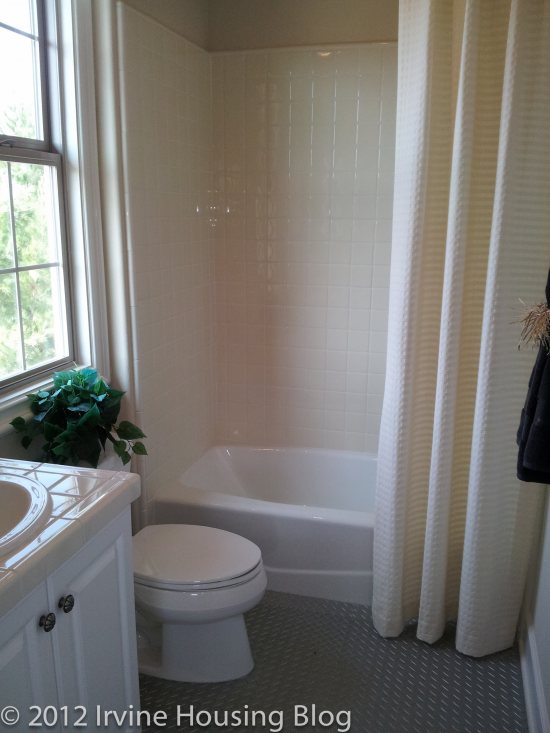 Residence 1 has a nice layout, and my complaints are only grumblings. There wasn't anything blaringly wrong with this place upon my first sweep through, but like any house it has to fit your lifestyle. Residence 1 does not fit my lifestyle or personality.
Residence 3 (El Morro)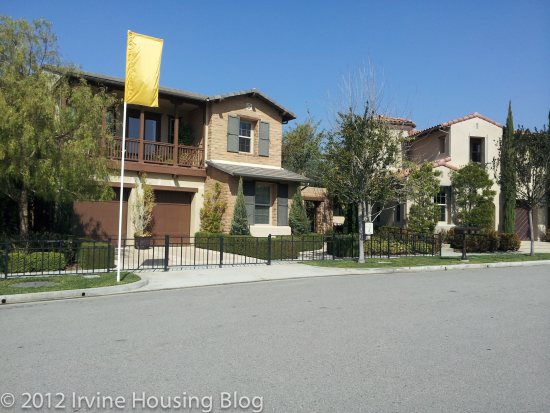 Number of bedrooms: 4 bedrooms
Number of bathrooms: 4 baths
Square footage: 3,109 sq. ft.
Garage: 3 cars
Base price: $1,008,675+
When I walked through the outside wooden door to Residence 3 I almost gasped. It was like entering a garden paradise. It was beautiful. The backyard functioned as a front yard. Dual purpose! The actual front door to your house is accessed off the garden. I wanted to buy the house just for this feature. Every day I'd walk through my entry just to see how wonderful my outdoor living space was. It almost felt like I was in an Italian Villa. They had a fire pit, fountain, BBQ, and a huge covered dining room. It's perfect for the Summer, if you do a lot of entertaining. The lovely landscape of course is how the model features the space. You will inherit a pile of dirt. Hopefully you'll be able to create something very similar to achieve the same effect. My smile was HUGE. Love it! Love it!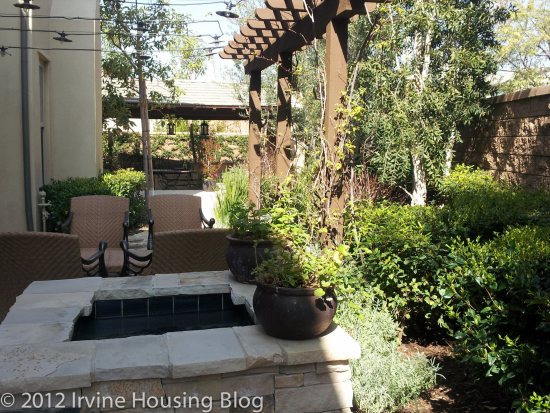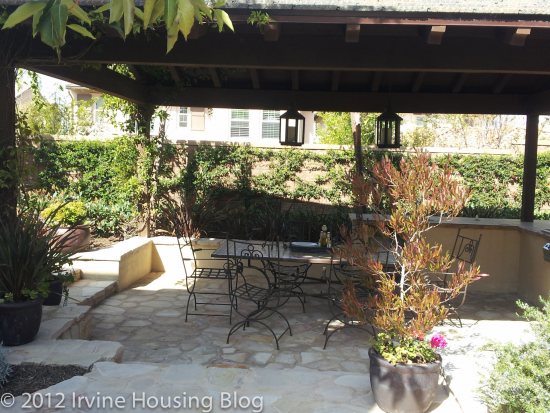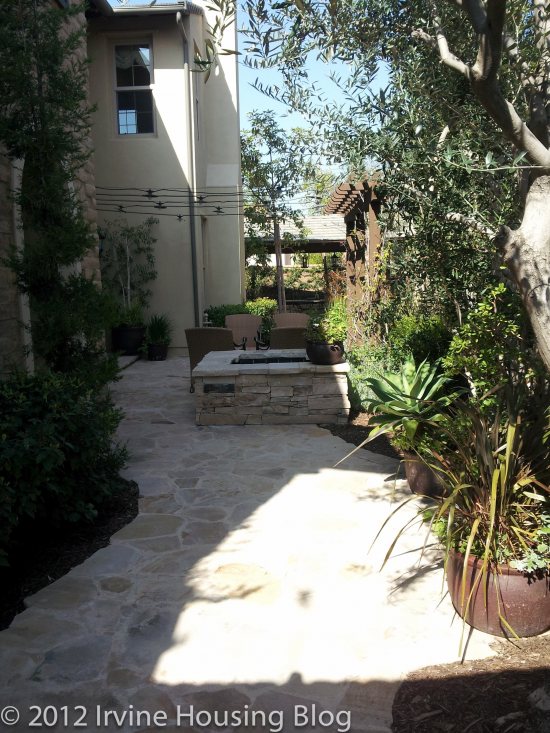 To the right of the entrance is the formal dining room. It's a great space. It's at the foot of the stairs, which I'm not thrilled with, but in my honest opinion this space is more for show than for practical eating habits.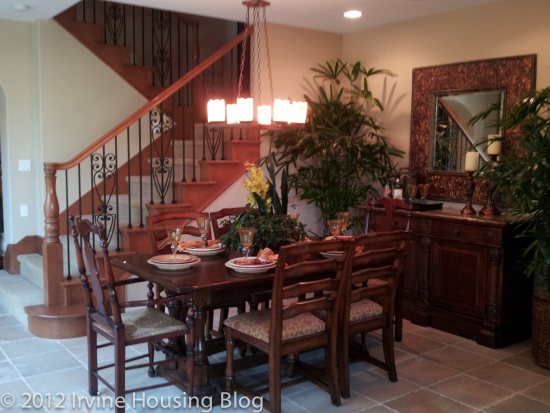 To the left of the entrance is a small guest bedroom and bathroom. When I say small, I mean small. I could barely squeeze in to get a picture. There are dual split closets which are a nice feature, but I didn't find room for a television. You can stick overnight guests here, or make the space into something else.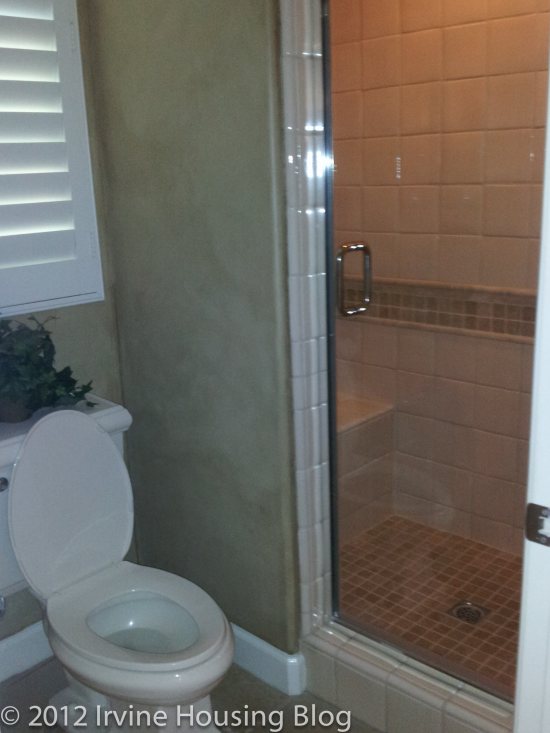 The great room/living room isn't overly grand. It's just the right size to suit my tastes and has a wonderful view of the backyard. There's a fireplace in the great room, which adds an extra element of coziness to the space.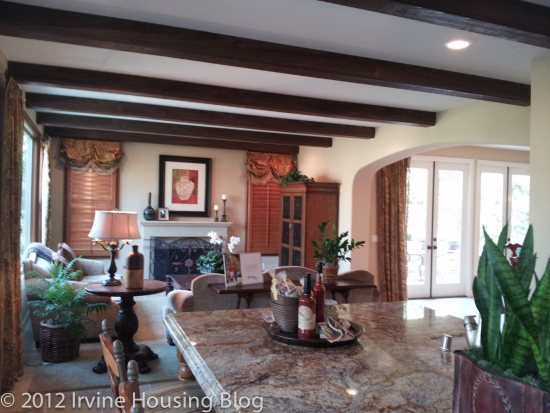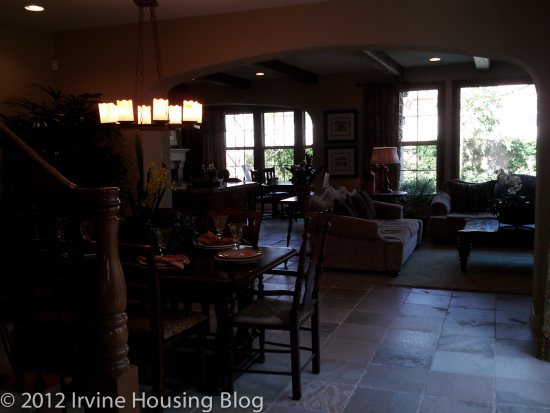 The kitchen didn't have as much counter space or storage as I thought. The island is huge, and accounts for a big chunk of cabinet storage, but for the price I'd pay for the house I'd expect a larger kitchen. I also would've liked to have seen a double oven. I'm pleased with Taylor Morrison's kitchen designs, and I'm not trying to be overly critical. It's a workable space.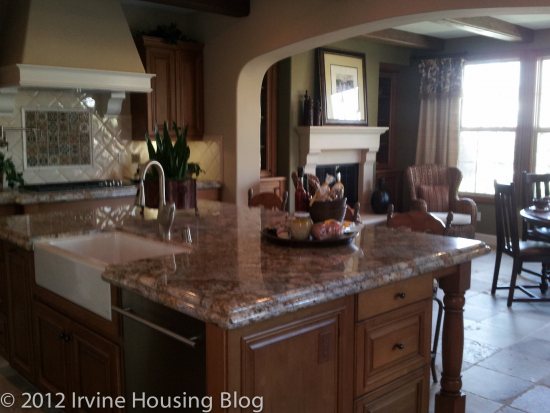 Off the kitchen is the conservatory. It's a rectangular room that almost has a lodge feel to it, especially if you opt to have the fireplace built into it. I'm still trying to figure out exactly what I'd do with the room. The model features it as a dining area with additional seating. It would be nice on those cold California nights to dine by firelight! I almost feel like having two fireplaces on the ground floor is excessive. I'd rather see the second fireplace in the master suite.
At the top of the stairs is the bonus room, which can either be turned into a bedroom or another space such as an entertainment or billiard room. It's actually really nice. I wasn't expecting this unique layout at the top of the stairs. Unless I have a large family, I'd turn this space into something really unique. I could have a lot of fun decorating. It leaves room for creativity and because the layout is so open, I feel like you're not restricted to turning it into a bedroom.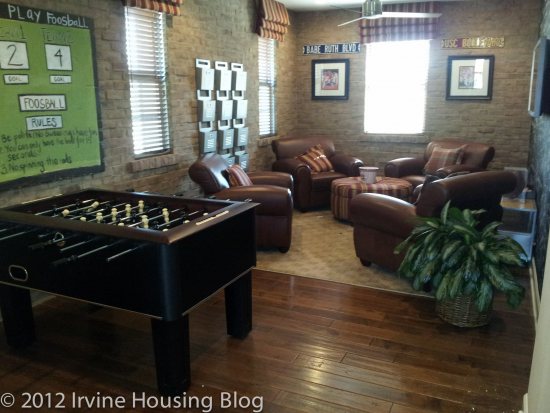 The master bedroom is lovely—very nice. The attached master bathroom is huge. I'm very particular about my bathrooms and I did not like this bathroom. It was very chic and sexy, but because it was so big that I became a little turned off. The tub is surrounded by lots of counter space. In all practicality I'm imagining my daily beauty routine with all the bottles, shave gel, razor, loofah etc…and if I leave any of them out, the entire bathroom would look junky. I'd either have to be immaculate, diligent about putting my beauty items away, or find a clever way to conceal them! The bathroom has an entire wall of linen cabinets/storage. It's really nice and looks pretty, but I'd be hard pressed to fill them up. I'm not THAT high maintenance!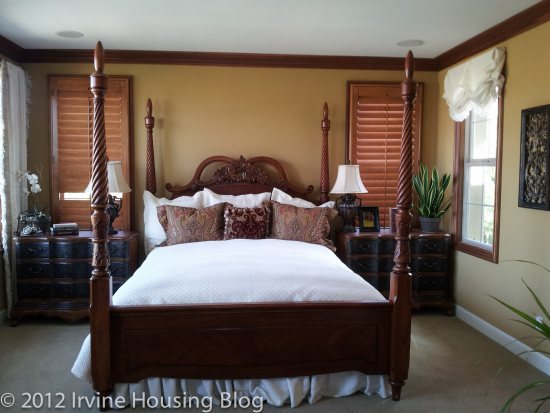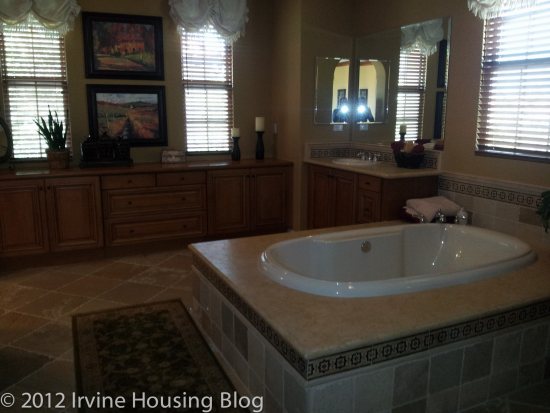 The second bedroom had a "boxy" feel to it. The closet was too small. The bathroom was slightly larger than bedroom 3, but the narrow tub is wearing on me. I wasn't impressed with bedroom 2.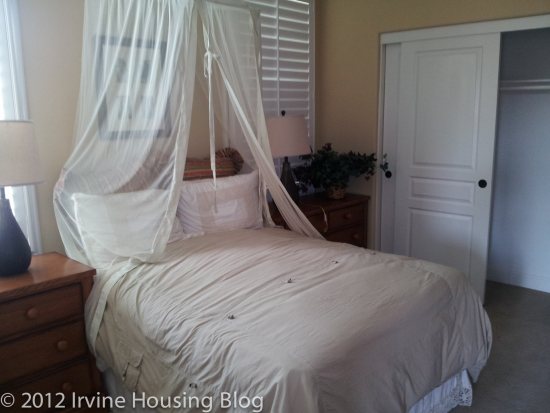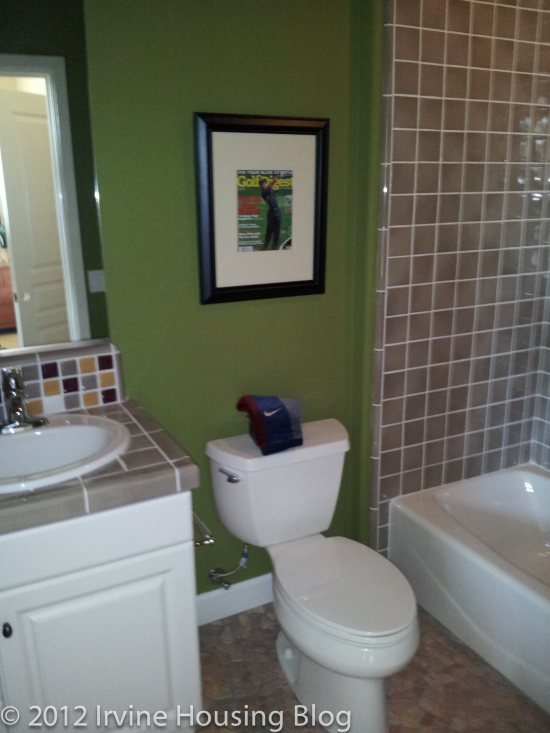 The third bedroom was a decent size with a standard walk-in closet. Bedroom 3 has access to a deck. My experience with bedroom decks is that you either spend a lot of time on the deck or no time on the deck. Since the deck is long and narrow perhaps a bistro table with two chairs or another petite furniture configuration would work best out here. The one thing I didn't like about the third bedroom was the small wall space between the bathroom and closet. You can fit a small dresser, but where's the space for a television? I was thinking about the televisions in my house and wondering if they could fit in this space. Even my smallest tv might be a stretch.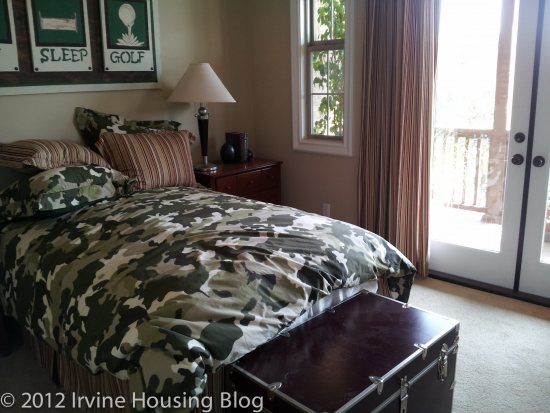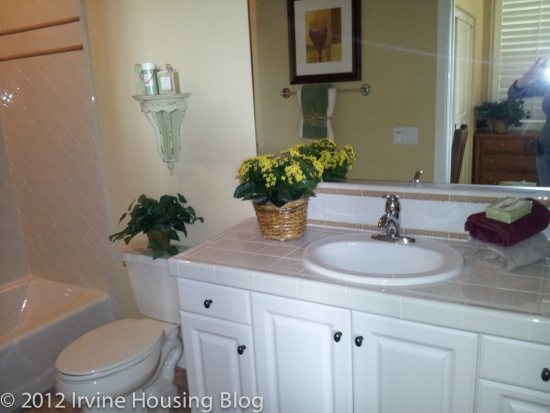 One other cool feature that I wanted to mention was the study loft, located in between the bonus room and master bedroom. The model featured it with shelving, hinting at a library but I'm sure you can find other options for this space if you're not a bibliophile.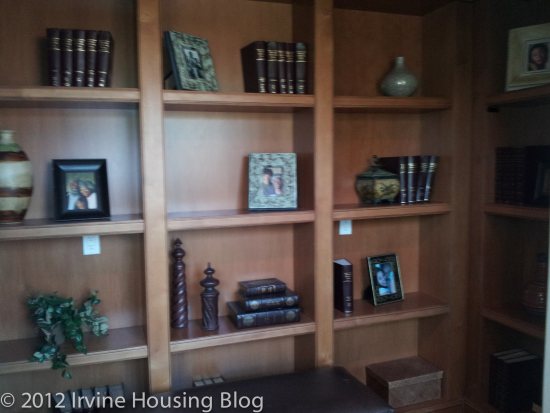 My overall impressions of Residence 3 are positive. Would I choose to live here? No. Why? Because it's simply too big for me. I don't need a conservatory or a library. I would LOVE to have my backyard configured like the model. However, seeing as every plant I own dies within two weeks, I'd definitely have to hire a gardener to maintain my property. These are extra expenses resonating in my head. I think the builders did a decent job at defining Irvine luxury, but as the French would say "c'est pas mon truc!" (It's not my thing!).
Discuss below or at Talk Irvine.