Déjà vu! San Mateo at Stonegate is the spitting image of the Siena tract at Laguna Altura. I'm not surprised, but am a little disappointed particularly because my original assessment of Siena at Laguna Altura was overpriced. I stand by my opinion. San Mateo is significantly cheaper than Laguna Altura and if I had to choose between the two locations, Stonegate or Laguna Altura, I'd choose Stonegate. I like the neighborhood better and you're not surrounded by freeways. San Mateo is close to an on premises soccer field and Hummingbird Park. I was impressed with the park and soccer field. Summertime would be fun in this community.
Estimated Property Taxes and Special Assessments:
Base Property Tax: 1.05% of sales price
AD Tax: $1,694 per year
CFD Tax: $1,700 per year
Other Taxes: $152 per year
Overall Effective Tax Rate: Approximately 1.7%
Residence 1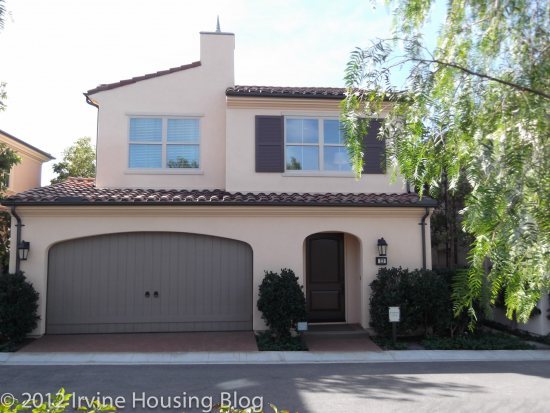 Number of bedrooms: 3 bedrooms
Number of bathrooms: 2.5 baths
Square footage: 1,636 sq. ft.
Garage: 2 cars
Base price: $561,000
Over half a million dollars for this? I don't think so! I'm comparing the floorplan brochures from San Mateo Residence 1 at Stonegate and Siena Residence 1 at Laguna Altura and they're identical. Siena Residence 1 started at $590,000 so San Mateo seems more reasonably priced if we were comparing. Rather than cheat and copy my Laguna Altura posts, I'm going to make a few observations about this property and try to rekindle the positives about this floorplan.
After reviewing some of the other models at Stonegate, I really appreciate the use of the great room in the San Mateo tract. Residence 1 has a distinction between the dining space and the kitchen. The living room area is a decent size. I think to further create a distinction between the dining space and kitchen I'd invest in the upgrade and get the hutch. Now that I think about it, the hutch does provide a nice countertop and convenient cabinet space. It's a necessary design element. Anything else would just look silly.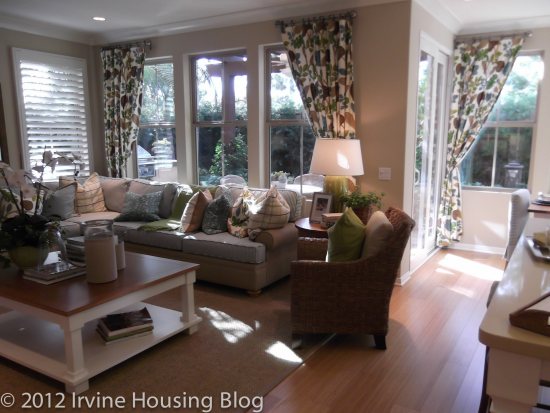 The kitchen is smaller than the other plans, but I still think that it's an adequate space. The rule is that bathrooms and kitchens sell houses, and I think this kitchen would suffice. There is no full length pantry, which is kind of a bummer, but you still have plenty of cupboard space to store dry goods. I also enjoy the amount of light the windows in the living and dining areas bring in to the space. The backyard is small, but nice. I could fit everything out in the space that I need: seating and a grill. The model has a very well-manicured backyard, but remember when you buy this place you're inheriting a lump of dirt. A big dog might be cramped in the backyard, but at least you have a backyard for them to wander out in. Essentially, I can't complain about the ground floor in this plan. I could easily see myself using this space. The upstairs is a whole other story.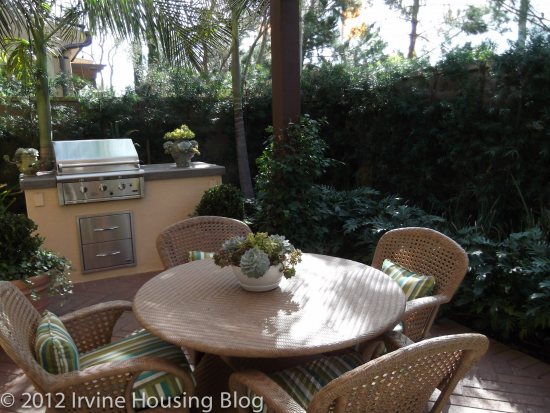 Residence 1 includes the loft option. I'm advising that you keep this space as a loft. It would make an awesome entertainment area, or even an office. You can choose to have the upgraded cabinetry and I think I'd opt to have this feature. I would make it into a nice lounge area. There are plenty of options if you utilize this space as a loft. If you turn it into a bedroom, you're limiting yourself to an oddly shaped room—and you know the closet will be tiny!
The master bedroom is not as big as I'd like it to be. If you choose to upgrade, you can have some nice crown moulding and a ceiling fan. It gives the space a more comforting touch, but I'd need to see the price tag before I sign off on it. I still wish that the master bathroom was larger with a stand-alone shower. Disappointing bathrooms are becoming the theme, or common thread within these tracts. The master bath has a shower/tub combo and the toilet is in a separate room. At least they hit one of my requirements.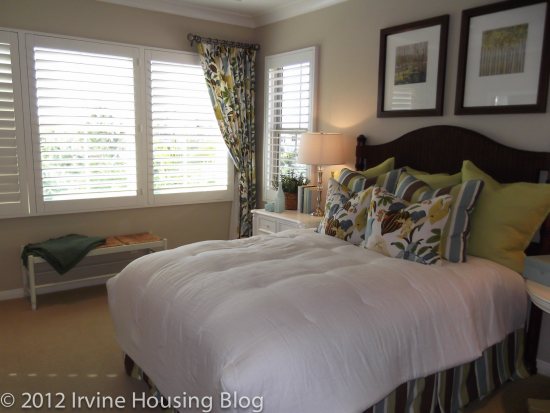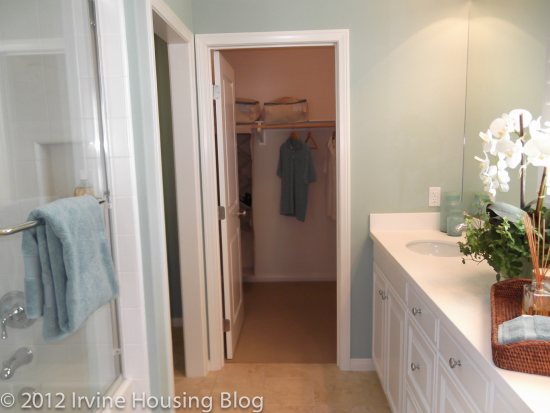 The second bedroom is large enough for a child, with no room to grow. The closet is small—no surprise there. I think the size of the second bedroom is what kills this deal for me. It just feels cramped. I'm sure plenty of families will choose this home to raise their kids in, but I personally would want to have my child in a larger room for when they hit the teenager years. I suppose you could make it work.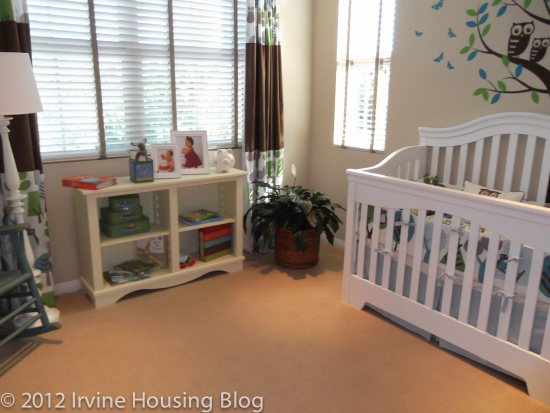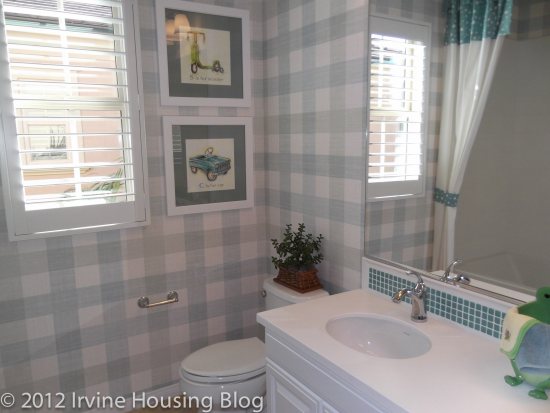 My biggest complaint about the Siena tract at Laguna Altura was that the bedrooms and closets were too small. Since San Mateo is the exact same floorplan, my opinions haven't changed. It's too bad—a little extra square footage would make a huge difference.
Residence 2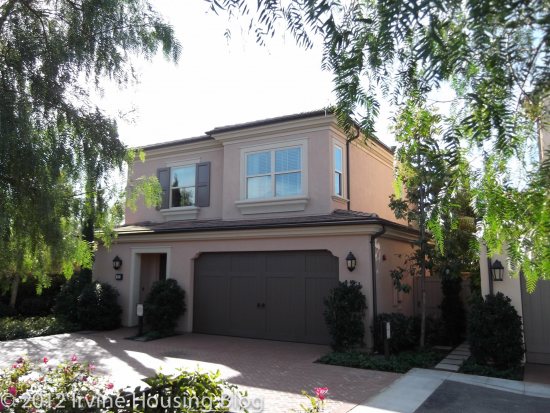 Number of bedrooms: 3 bedrooms
Number of bathrooms: 2.5 baths
Square footage: 1,660 sq. ft.
Garage: 2 cars
Base price: $571,473
San Mateo Residence 2 compares to the Siena tract Residence 2 at Laguna Altura, except the space is flipped. Residence 2 is my favorite floorplan because it feels more inviting. The entry way is larger and it makes a difference in the look and feel of the place. The powder room off the entry way offers a great storage space underneath the stairs. There's a surprisingly large coat closet located off the stairs.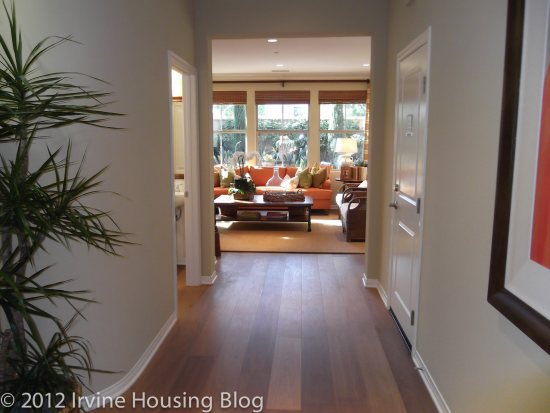 As I said in the Residence 1 overview, San Mateo maximizes the great room concept and Residence 2 is a reflection of Residence 1. One of the reasons this floorplan is my favorite is because of the optional breakfast banquette in the dining area. This is the only unique feature to the house and it would be on my upgrade list. I like that the kitchen is smaller than some of the other floorplans in Stonegate. Residence 2 doesn't have the cabinetry that canvasses the entire wall of the kitchen and sometimes this opens the space up. The hutch option is replaced by the banquette in this floorplan. I much prefer not to have seemingly endless amounts of cupboard space. The kitchen offers a pantry as an optional feature. I could take it or leave it.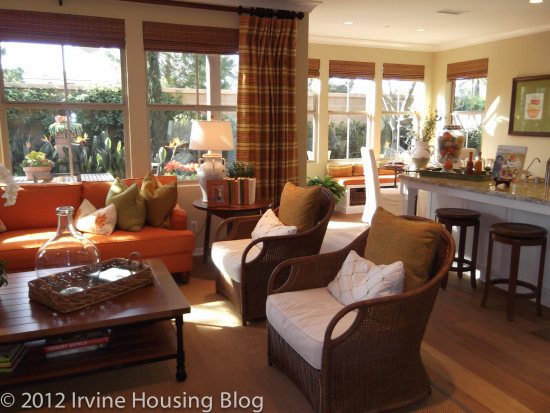 The second bedroom is actually a nice size. I could probably live in this space. The closet would be a challenge, but I don't think this size of this space was unreasonable. It's probably similar to the size of my current bedroom. I don't think I would have an issue putting my furniture in here. The master bedroom is a nice space as well. I think that the master bedroom and master bathroom have an apartment feel to them. You have the option to choose a shower/tub combo or just a stand-alone shower. The toilet is in a separate room. I liked the walk-in closet. I'd opt to have the mirrors built into the door.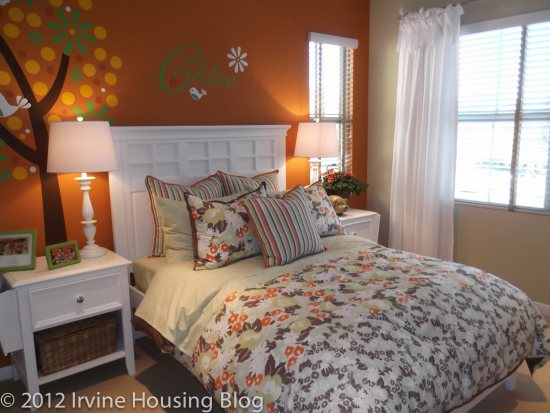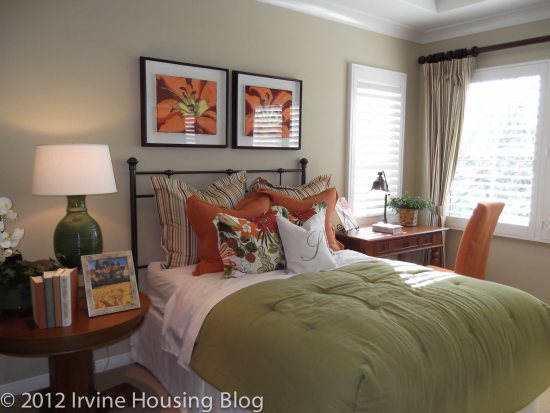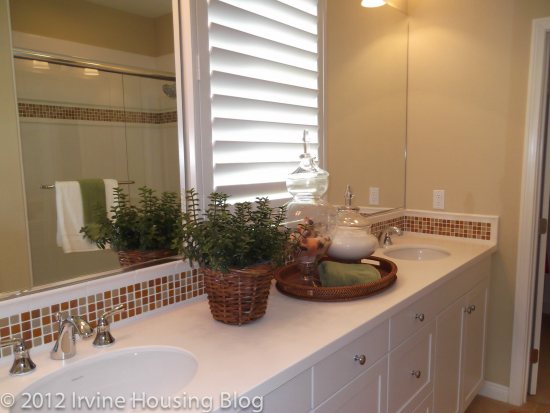 The second bathroom was great. It didn't feel like a hallway, which is probably why I liked it. The toilet isn't separate from the shower/tub area, but it wasn't a deal breaker. The one thing I started to notice in these models is that the shower/tub combos have high ceilings, so you'll have to find a long shower curtain!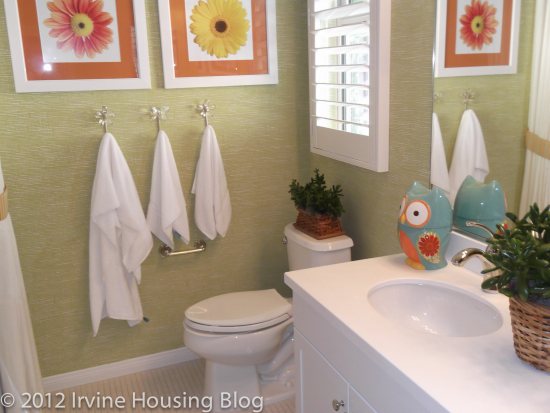 Although this is my favorite plan, I still wouldn't buy it.
Residence 3
Number of bedrooms: 3 bedrooms
Number of bathrooms: 2.5 baths
Square footage: 1,804 sq. ft.
Garage: 2 cars
Base price: $597,000 SOLD
There's really not much to say about San Mateo Residence 3, mainly because it's sold out. It's significantly cheaper than the Laguna Altura Siena Residence 3, which started at $630,000. The San Mateo Residence 3 is larger than Residence 3 at Laguna Altura and the difference can be felt in the bedroom size. It has all the downstairs amenities as the other two San Mateo models and the upstairs is a major improvement. If I had a family I would consider this property.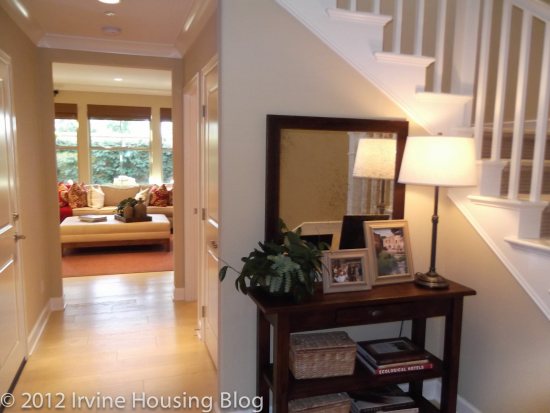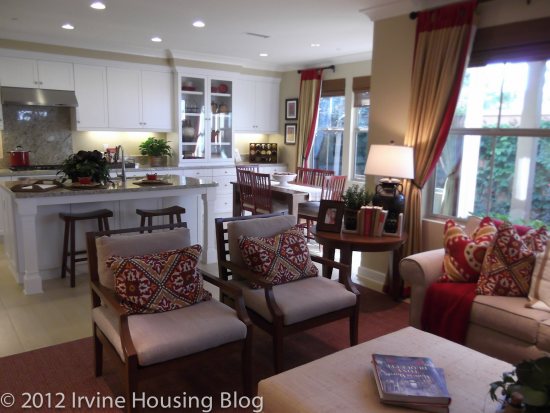 The master bedroom was big—or bigger than most of the other tracts in Stonegate. I would really enjoy the space. The icing on the cake was finding a stand-alone shower and tub in the bathroom that didn't feel like a hallway. I almost didn't know what to do with myself! A bathroom that felt like a bathroom! The walk-in closet was acceptable. Finally!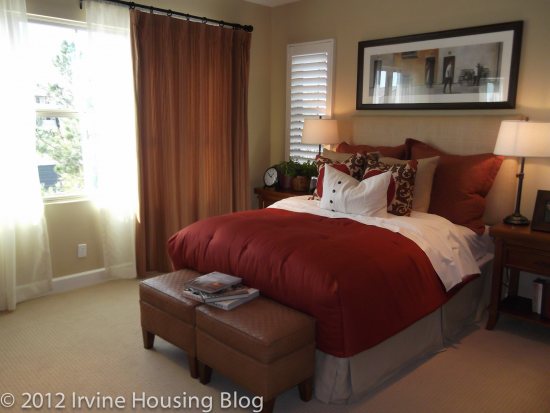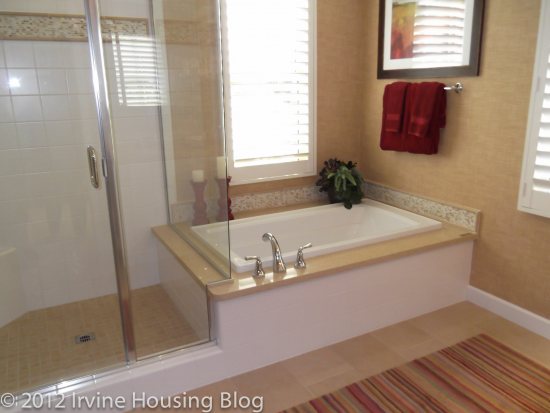 The other bedrooms were livable. Bedroom 2 had some nice sliding glass closet door mirrors. I don't like things that slide, but I'd make an exception in this bedroom. The larger bedroom make this space more family oriented and if you purchased this property it is somewhere you could stay for a while to raise your family. Well done Residence 3.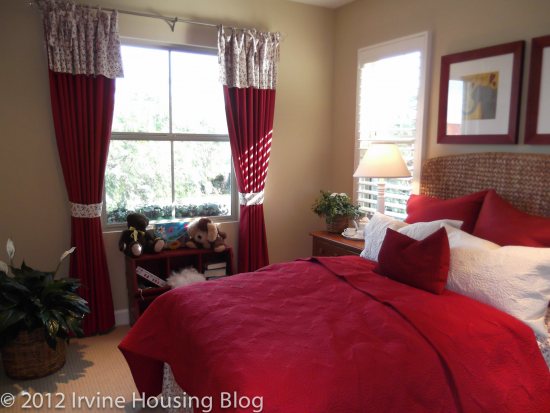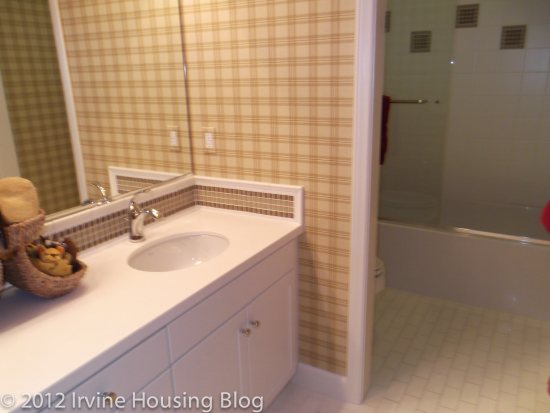 Overall, this floorplan left a great impression on me. No wonder it's sold out!
Summary
I think Residences 1 & 2 are overpriced for the quality of space. Residence 3 impressed me and I would consider spending the money if I lived in a household with dual incomes. Remember, Stonegate pre-qualifies through Wells Fargo, and if you compare the income calculations sheet I snagged at Santa Clara, the mortgage payments were still over-the-top. The payments seemed hard to stomach at Santa Clara, so I can only imagine how much they'd be at San Mateo which is around $200K more than Santa Clara.
Discuss below or at Talk Irvine.