The Orange County resale home sales market enjoyed its seventh consecutive month of increasing affordability. The lack of a move-up market has depressed sales more than 25% below the long-term average.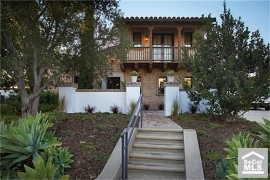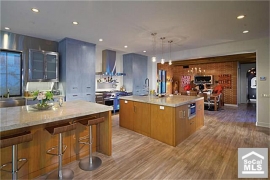 Irvine Home Address … 11 VERNAL Spg Irvine, CA 92603
Resale Home Price …… $4,895,000
Are you ready to crawl out?

Are you ready to take my hand and see?

Are you ready to crawl out?

From within the slow bleed?

Thousand Foot Krutch — Slow Bleed
The story of the housing market over the next few years will be a slow bleed. Prices won't likely crash hard as lenders have learned to control the price descent by slowly releasing product. They know if they release too fast, prices will crash, so they slowly bleed the market drop by drop. This slow bleed will go on until the inventory of distressed properties is cleared from the system. At current rates, that will take a very long time.
September 25th, 2011, 12:01 am — posted by Jon Lansner
DataQuick's first glance at September and Orange County homebuying trends shows pricing at a 7-month low — suggesting that a summertime price bump may have lost steam.

For the 22 business days ending Sept. 8 – the latest numbers — Orange County's real estate market saw …

Median selling price for all residences of $417,500 – that is off 6.2% vs. a year ago. Last full month that was lower was February 2011 at $410,000.
Total Orange County sales of 2,683 residences closed in the latest period — that is up 6.8% vs. a year ago.
Note: 16 of 83 Orange County ZIPs had both rising sales and prices in the period. Is your ZIP one of those neighborhoods? To see, CLICK HERE!

Here's the breakdown of recent activity by key category; included is how the latest results compare to the average monthly sales pace from 1988 through 2010:

| Slice | Price | Price vs. year ago | Sales | Sales vs. year ago | Sales vs. '88-'10 avg. |
| --- | --- | --- | --- | --- | --- |
| Houses | $470,000 | -11.3% | 1,784 | +8.6% | -21.0% |
| Condos | $269,500 | -10.2% | 749 | +4.5% | -13.0% |
| New | $583,000 | +12.2% | 150 | -2.0% | -71.5% |
| All O.C. | $417,500 | -6.2% | 2,683 | +6.8% | -26.4% |
Take a careful look at the chart above. Note the price change on resale houses and condos are both down over 10%. Only new home sales — numbers which can be easily gamed by incentive programs — shows any strength at all in the market. And since the actual sales volumes of new homes is declining, the price gains are largely an illusion.
Also note the rate of sales versus the long-term average (1988-2010). Sales of all housing types is down well below their historic norms. It is particularly bad in sales of both new and resale detached houses. This is explained by the lack of a move up market due to the utter collapse of low end pricing. Nobody at the bottom of the housing ladder has any money to purchase a move-up home.
And more analysis ….

$417,500 median selling price is 35% below June 2007′s peak of $645,000.
Current price is 7.2% below 2010′s peak (May and July) of $450,000; 2% above end of 2010′s median ($410,000.)
The most recent median is 13% above the cyclical low hit in January 2009 at $370,000 — so the median has recouped 17% of the $275,000 price drop from the peak.
While it's true that the median does not show the double dip that both the hedonic and the $/SF measures show, the median is more susceptible to changes in the mix than either of those measures.
Basically, when the bottom dropped out of the market, the only thing that was selling was low-priced homes. With the complete seizure of the high end of the market, a radical change in mix caused the median to decline more rapidly than actual home values. Therefore, the increase in the median since then is more reflective of a change in sales mix than an actual increase in sales prices of individual homes.
Compared to cyclical low, single-family house median is 12% higher ($418,250 in January 2009); condo median is 7% higher ($252,000 in March 2009.) Builder prices for new homes are 38% above June 2009′s $424,000 bottom.
Does anyone believe builders are selling the same houses for 38% more than they were in 2009? Do you see how the change in mix effects the numbers?
The median selling price of a single-family home is 36% less than their peak pricing (June '07). Condos sell 43% below their peak in March 2006. Builder prices for new homes are 33% below their February '05 top.
Those are some sobering numbers. Most of that drop is due to a return to sane lending standards and the commensurate decline in loan balances.
Single-family homes were 74% more expensive than condos in this period vs. 77% a year ago. From 1988-2010, the average house/condo gap was 57%.
This disparity portends a continuing decline in high-end pricing. Prices at the high end are generally pushed up from below as move-up buyers take their accumulated equity and increase buying power to bid up prices in the next rung of the housing ladder. With the collapse of low end pricing, what is ordinarily a price push is turning into a price pull — to the downside. Without a move up market, high end prices are floating in air with little real demand to support them.
The chart from Global Decision displays how during the price rally, condos rose more rapidly than SFRs, so prices were pushed up from below. Now with the decline at the low end, the price push has reversed and a price pull has taken its place.
As the lack of a move up market squelches demand, the substitution effect will also pull demand away from higher priced properties as each successive rung on the property ladder falls to more affordable levels.
Builder's new homes sales were 6% of all residences sold in the period vs. 6% a year ago. From 1988-2010, builders did 14% of the Orange County homeselling.
Despite the fanfare regarding the Irvine Company's new home products, sales continue to be very weak. Given the price points they are wishing for, sales should continue to be very weak indefinitely.
Delusions at the high end
Wealthy home owners seem to live in their own world. For them, the price crash never happened, and no matter how much they paid, they believe a great fool is waiting in the wings to pay them substantially more when they want to sell. For some, this has proven to be true.
The owners of today's featured property paid $3,350,000 on what was a distressed sale back in April. Did they really buy this for 40% under its "real" value back in April? If they pull off a $1,251,300 profit on a Shady Canyon flip in less than six months, I will be very impressed.
Personally, I don't give them much chance. Where was their take-out buyer willing to pay so much more back in April? If so, was this a flop?
What do you think? Will they sell this for a profit in this market environment?
——————————————————————————————————————————————-
This property is available for sale via the MLS.
Please contact Shevy Akason, #01836707
949.769.1599
sales@idealhomebrokers.com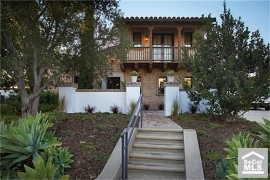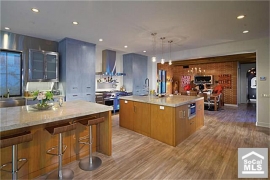 Irvine House Address … 11 VERNAL Spg Irvine, CA 92603
Resale House Price …… $4,895,000
Beds: 5
Baths: 7
Sq. Ft.: 7577
$646/SF
Property Type: Residential, Single Family
Style: Two Level, Spanish
View: Mountain
Year Built: 2004
Community: Turtle Rock
County: Orange
MLS#: U11003897
Source: SoCalMLS
On Redfin: 14 days
——————————————————————————
With a private and expansive corner lot, this beautifully customized estate reflects Hacienda-style Spanish Revival architecture and is located within the exclusive residential golf preserve of Shady Canyon. The home was recently expanded and completely remodeled, opening up the living space and providing a soft contemporary flair to the custom home sized estate with 7,577 square feet. The well-designed additions created a full theater room, family room, and two additional bedrooms. The one of a kind home now features an incredible outdoor kitchen, dining area, and covered logia adjacent to a spectacular new yard complete with a pool, fire pit, custom lighting and water features, and pool bathroom.
——————————————————————————————————————————————-
Proprietary IHB commentary and analysis
Resale Home Price …… $4,895,000
House Purchase Price … $3,350,000
House Purchase Date …. 4/21/2011
Net Gain (Loss) ………. $1,251,300
Percent Change ………. 37.4%
Annual Appreciation … 78.3%
Cost of Home Ownership
————————————————-
$4,895,000 ………. Asking Price
$979,000 ………. 20% Down Conventional
4.10% …………… Mortgage Interest Rate
$3,916,000 ………. 30-Year Mortgage
$982,420 ………. Income Requirement
$18,922 ………. Monthly Mortgage Payment
$4242 ………. Property Tax (@1.04%)
$585 ………. Special Taxes and Levies (Mello Roos)
$1020 ………. Homeowners Insurance (@ 0.25%)
$0 ………. Private Mortgage Insurance
$610 ………. Homeowners Association Fees
============================================
$25,379 ………. Monthly Cash Outlays
-$2145 ………. Tax Savings (% of Interest and Property Tax)
-$5542 ………. Equity Hidden in Payment (Amortization)
$1414 ………. Lost Income to Down Payment (net of taxes)
$632 ………. Maintenance and Replacement Reserves
============================================
$19,738 ………. Monthly Cost of Ownership
Cash Acquisition Demands
——————————————————————————
$48,950 ………. Furnishing and Move In @1%
$48,950 ………. Closing Costs @1%
$39,160 ………… Interest Points @1% of Loan
$979,000 ………. Down Payment
============================================
$1,116,060 ………. Total Cash Costs
$302,500 ………… Emergency Cash Reserves
============================================
$1,418,560 ………. Total Savings Needed
——————————————————————————————————————————————————-