The S&P Case-Shiller home price indices have confirmed a double-dip in home prices. The bear rally has failed.
Irvine Home Address … 14 LONGSHORE #77 Irvine, CA 92614
Resale Home Price …… $730,000
Need a shave

Cut myself need a new blade

Something's gone wrong again

And again and again and again again and

Something's gone wrong again

Something's gone wrong again

The Buzzcocks — Something's Gone Wrong Again
The bulls were wrong — again. Eventually they will be right. Like a broken clock that is accurate twice a day, the perma-bulls will have their day. But their day is not today.
Les Christie, On Tuesday May 31, 2011, 10:43 am EDT
Home prices hit another new low in the first quarter, down 5.1% from a year ago to levels not reached since 2002.

It was the third straight quarterly drop for the S&P/Case-Shiller national home price index, which was released Tuesday. Prices are now down 32.7% from their peak set five years ago.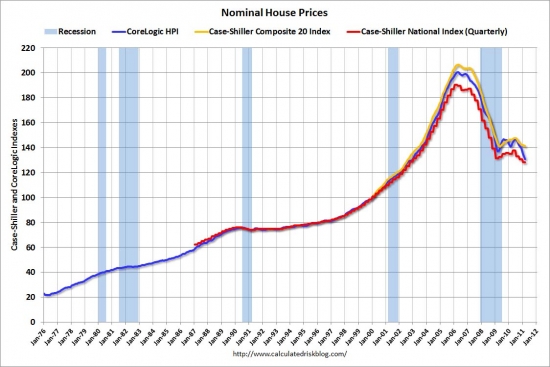 "Home prices continue on their downward spiral with no relief in sight," said David Blitzer, spokesman for Standard and Poor's.

The index covers 80% of the housing market, and this month's report confirmed "a double-dip in home prices across much of the nation," said Blitzer.

The housing market went through a brief recovery period starting in mid-2009, recovering nearly 5% of earlier losses. After homebuyer tax credits expired last April, the slump resumed.
The only reason people had for believing the crash would not resume was wishful thinking. We can debate whether or not the transfer of trash from lenders to the government was necessary (that is the only thing the tax credit buying accomplished), but a steep decline in prices back to historic norms for price-to-rent and price-to-income was inevitable. With the associated strategic default, a depleted buyer pool, and huge stockpiles of REO, the bust is likely to have a long tail and many years before normal, income-induced appreciation takes over.
A separate S&P/Case-Shiller index covering 20 major cities also dropped during March, the index's eighth straight monthly decline. 10 dirt-cheap housing markets
Falling nominal prices only tell part of the story. On an inflation-adjusted basis, the declines have been far worse.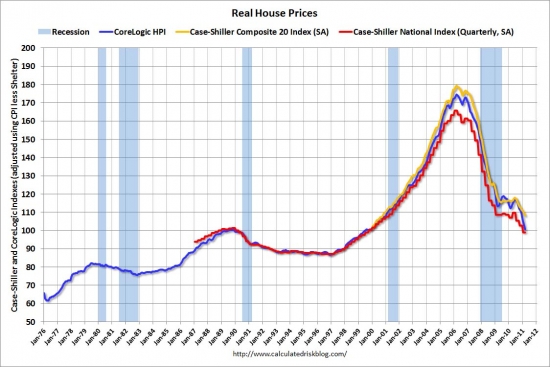 Of the 20 cities, only Washington has posted a home-price gain: 4.3% over the past 12 months.

Minneapolis homes lost the most value over that period, with prices falling 10%.

Other big losers include Phoenix (- 8.4%), Chicago (- 7.6%) and Portland, Ore. (- 7.6%)
Don't forget Las Vegas where prices have declined 12% since last March. The nation's best housing bargains keep getting better.
Prices continue to be hammered by foreclosures with high numbers of repossessed homes flooding the market.

Many repossessed properties are in poor condition and sell at a big discount to conventionally sold homes, driving down overall values.
It is demonstrably true that foreclosures are often in very bad shape. Check out this one I saw go through the Las Vegas auction site yesterday.
The hole in the wall to the right is where they went digging for copper pipe. That may also explain why they jackhammered a hole beneath the sink. The cabinets and counters were too old to have any value, so they left them behind.
Despite the evidence of beaten up foreclosures, it isn't their poor condition that is lowering prices, the lender's willingness to liquidate at very low prices is driving prices lower.
Falling home prices have a devastating impact on new home construction, according to Pat Newport, a housing market analyst for IHS Global Insight.

"They are a key reason why builders aren't building new homes, even in the fastest growing states, like Texas," he said. "Existing homes are selling for so much less, the builders can't compete."
That is not accurate. Builders are successfully building and selling homes in Las Vegas and obtaining a 25% premium for their efforts. They aren't building in large numbers like before the crash, but they are successfully exploiting the market niche that wants new and is willing to pay for it.
Normally, new-home construction is an important contributor to the economic recovery. Not so this time, according to Mike Larson, an analyst with Weiss Research.

"Housing has been an albatross for the economy as opposed to an engine powering it," he said.

If residential development had come back as it has in the past, the current recovery would be much stronger. There's be much more robust hiring of construction workers, building materials manufacturers and drivers and deliverymen to bring the products to site.

Newport pointed out that when developers build a new home for $300,000 it adds $300,000 to the economy, as measured by GDP. An existing-home sale just adds 5% or 6% in broker's commission.

"As a component of the GDP," said Larson, "housing has been out to lunch."
Unfortunately, it continues to be a drag on the economy. Until lenders capitulate and dispose of their REO, builders will be facing competition, and they will always be unsure of the stability of prices. Under those circumstances, it is problematic to value and acquire property, set up a production run, and believe the houses can be sold on the other side.
The Irvine Company took that risk, and now they have many unsold homes, and they don't know what to do to kick start sales. Given the weak buyer demand, there isn't much they can do. There is a shortage of qualified buyers at price points at which they want to build and sell.
The national numbers are interesting, but the local data is what matters, right?
May 31st, 2011, 9:38 am by Jon Lansner
Home values in Los Angeles and Orange counties fell for the 8th consecutive month in March, by the math of the S&P/Case-Shiller indexes as Standard & Poor's analysts state that the national housing market is officially in a "double dip."

S&P found locally:

L.A./O.C. prices were down 0.29% from February to March after falling 0.96% the previous month. March's dip was the smallest decline since September.
L.A./O.C. prices were down — on a year-to-year basis – 1.66% in March. It was the fourth consecutive year-over-year drop but down from the 2.07% annual rate of decline seen in February.
L.A./O.C. prices have fallen 4.8% since last July's recent peak and 38.8% from the historic high of September 2006.
The first time L.A./O.C. prices hit the current level was October 2003.
Nationally, S&P found:

U.S. National Home Price Index declined 4.2% in the first quarter after 3.6% dip in fourth quarter to hit new recession low.
National home prices are back to their mid-2002 levels.
In March, 19 of 20 large markets covered by S&P/Case-Shiller are down in a year. DC only gainer.
18 of 20 markets feel February to March. DC and Seattle, only gainers.
Minneapolis posted a 10.0% annual decline, the first market to be in double-digit losses March 2010 (Las Vegas, down 12%.)
S&P's David Blitzer: "This month's report is marked by the confirmation of a double-dip in home prices across much of the nation. … The rebound in prices seen in 2009 and 2010 was largely due to the first-time home buyers tax credit. Excluding the results of that policy, there has been no recovery or even stabilization in home prices during or after the recent recession. Further, while last year saw signs of an economic recovery, the most recent data do not point to renewed gains."

Patrick Newport, IHS Global Insight economist:

House prices are dropping at a steady clip nearly everywhere. Unfortunately, given that over a quarter of all mortgages are under water, according to zillow.com, and that 12.3% (or 6.3 million) of homeowners with mortgages were either delinquent or in foreclosure at the end of the first quarter, according to the latest Mortgage Bankers Association's National Delinquency Survey, further declines in prices are etched in stone. Going forward, our view is that weak demand, foreclosures, and a glut of homes for sale should translate into at least another 5% drop in the Case-Shiller composite indices.
So when will prices stop declining? The price to rent ratio gives some indication that we are within 10% of the bottom, depending on how much markets overshoot to the downside.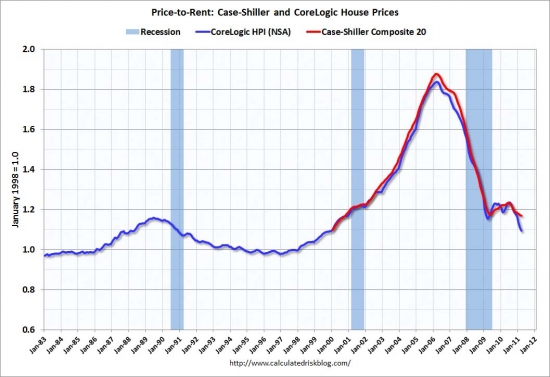 Another foreign cash buyer bailing on Irvine
Periodically someone in the astute observations will point to the army of foreign cash buyers who will save prices in Irvine. I have pointed out many such buyers are dumb money buying into markets based on narrative rather than valuation. At least some of these buyers are wise enough to cut their losses when they realize prices are going south.
The owner paid cash two years ago when the market was beginning its bear rally. Based on his asking price, he estimates the house has declined in value rather than appreciated. Since he owns the property free-and-clear, this is not a short-sale price set too low in order to generate interest. He is willing to sell this property for a $72,800 loss after commissions. That wasn't supposed to happen to buyers over the last two years, right?
Irvine House Address … 14 LONGSHORE #77 Irvine, CA 92614
Resale House Price …… $730,000
House Purchase Price … $759,000
House Purchase Date …. 6/26/2009
Net Gain (Loss) ………. ($72,800)
Percent Change ………. -9.6%
Annual Appreciation … -1.9%
Cost of House Ownership
————————————————-
$730,000 ………. Asking Price
$146,000 ………. 20% Down Conventional
4.54% …………… Mortgage Interest Rate
$584,000 ………. 30-Year Mortgage
$127,412 ………. Income Requirement
$2,973 ………. Monthly Mortgage Payment
$633 ………. Property Tax (@1.04%)
$0 ………. Special Taxes and Levies (Mello Roos)
$152 ………. Homeowners Insurance (@ 0.25%)
$0 ………. Private Mortgage Insurance
$277 ………. Homeowners Association Fees
============================================
$4,035 ………. Monthly Cash Outlays
-$497 ………. Tax Savings (% of Interest and Property Tax)
-$763 ………. Equity Hidden in Payment (Amortization)
$247 ………. Lost Income to Down Payment (net of taxes)
$111 ………. Maintenance and Replacement Reserves
============================================
$3,132 ………. Monthly Cost of Ownership
Cash Acquisition Demands
——————————————————————————
$7,300 ………. Furnishing and Move In @1%
$7,300 ………. Closing Costs @1%
$5,840 ………… Interest Points @1% of Loan
$146,000 ………. Down Payment
============================================
$166,440 ………. Total Cash Costs
$48,000 ………… Emergency Cash Reserves
============================================
$214,440 ………. Total Savings Needed
Property Details for 14 LONGSHORE #77 Irvine, CA 92614
——————————————————————————
Beds: 3
Baths: 3
Sq. Ft.: 2614
$279/SF
Property Type: Residential, Condominium
Style: Two Level, Contemporary
Year Built: 1983
Community: 0
County: Orange
MLS#: U11000211
Source: SoCalMLS
Status: Active
——————————————————————————
Timeless elegance and contemporary flair infuses this spacious two-story townhome with a rare ambiance of peace, quiet and privacy. Located just steps from the Village of Woodbridge's picturesque south lake and a large community swimming pool, the custom-caliber residence measures approximately 2,614 square feet and is host to three spacious bedrooms–each with its own balcony–and two and one-half bathrooms, plus an attached two-car garage. Plush custom carpeting and handsome tile flooring accent grand living areas that reveal two hand-crafted fireplace surrounds, airy volume ceilings, vast window expanses that invite natural light, and recessed and track lighting in select locations. Overlooking a large, lushly landscaped atrium, the generously proportioned L-shape kitchen displays granite countertops, light wood cabinetry, deluxe appliances, built-in dining nook, and oversized atrium windows. Purchase price includes all furniture.
Is leaving the furniture behind a sign of bailing?
Timeless elegance and contemporary flair infuses this spacious two-story townhome with a rare ambiance of peace, quiet and privacy.
Somebody has been practicing their flowery writing with superfluous adjectives.