Banks attempts to manage MLS inventory have resulted in an enormous REO inventory and an even larger shadow inventory of future REO. Banks will need to sell, but buyers won't have to buy.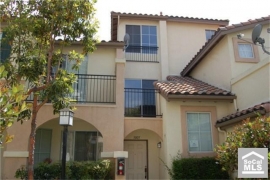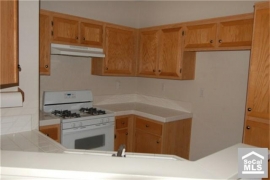 Irvine Home Address … 1902 CRESCENT OAK Irvine, CA 92618
Resale Home Price …… $264,900
So let's try one last time

So we never forget

This is still worth fighting

Still worth fighting for

It's gone on

For too long

And this is it

My Darkest Days — Still Worth Fighting For
Affordable housing is no longer part of the American Dream. Lenders have usurped the American Dream by forcing everyone to take on huge debts to get an education, a car, and a house.
How many among us were debt-free at 25, 30, 35 or 40? Lenders assail teenagers with credit card offers knowing their parents will pick up the tab. They burden students with college loans that will take an entire career to pay off. By the time most graduate, they are so burdened with debt that they cannot save money to buy a car or a house, so they take on even more debt just to get by.
Now that lenders have inflated a massive housing bubble with even more debt, they pushed millions of people into insolvency where their only hope is strategic default on their mortgages and bankruptcy. As a result, they now have an abundance of homes they can't sell because the over-indebted population cannot afford them. Yet they hold onto these homes at inflated prices to force the next generation of buyers to play along.
As Marie Antoinette would say, "Let them eat house."
By ERIC DASH — Published: May 22, 2011
EL MIRAGE, Ariz. — The nation's biggest banks and mortgage lenders have steadily amassed real estate empires, acquiring a glut of foreclosed homes that threatens to deepen the housing slump and create a further drag on the economic recovery.

All told, they own more than 872,000 homes as a result of the groundswell in foreclosures, almost twice as many as when the financial crisis began in 2007, according to RealtyTrac, a real estate data provider. In addition, they are in the process of foreclosing on an additional one million homes and are poised to take possession of several million more in the years ahead.
Calculated Risk has added some clarification to the RealtyTrac numbers in a recent post:
I pointed out that the RealtyTrac estimate of 872,000 REO (lender Real Estate Owned) was probably too high, and I also noted that there are approximately 2.25 million homes currently in the foreclosure process. There are another 1.8 million homes with the borrower more than 90 days delinquent – so there is more to come. …

First, the F's (Fannie, Freddie and the FHA) will probably foreclose on close to 500 thousand homes this year since they are picking up the pace. So they will also sell 500+ thousand homes this year – they sold 110,000 in Q1 alone.

But notice that modifications and short sales are twice the number of foreclosures. So if the F's foreclose and sell 500 thousand homes, they might modify/short sell another 1,000,000 (this is mostly modifications, and of course short sales are distressed sales too, but they usually sell for more than REO).

If we add in the PLS and banks and thrifts, the lenders will probably make significant progress on delinquencies this year (and again in 2012). Of course some of the modifications will redefault and end up as REO too, but I just wanted to make sure everyone knows that all of these properties won't end up as REO.
They don't all have to end up as REO to either pummel prices or hold prevent appreciation for several years. There is a very simple dynamic of sales in play: banks need to sell and buyers don't need to buy.
The reason markets capitulate is because sellers give up waiting for the prices they want and liquidate for whatever they can get. Real estate owned inflicts carrying costs and maintenance expenses on banks of about 1.5% each month without providing any income. The more REO a bank has, the more it costs them each month. A lender holding out for top dollar may go broke before the market recovers, assuming they aren't too big to fail.
Since each lender has a different financial strength and different beliefs about the future of pricing, some lenders will sell now even though prices are low and their losses will be large. Each bank that liquidates keeps prices down while they sell and makes the other banks wait longer if they want to get their wishing prices.
Eventually, years go by with banks bleeding cash with no end in sight, and lenders get motivated to liquidate and get what capital they can. When lenders become motivated to liquidate, that is capitulation. It's the same dynamic for individuals who hold cashflow negative properties that are underwater. At some point, most figure out it is pointless to throw bad money after bad, so they cut their losses through strategic default. Lenders don't strategically default, they merely sell REO for whatever they can get, lobby for a bailout, and move on.
Back to the NY Times Article:
Five years after the housing market started teetering, economists now worry that the rise in lender-owned homes could create another vicious circle, in which the growing inventory of distressed property further depresses home values and leads to even more distressed sales. With the spring home-selling season under way, real estate prices have been declining across the country in recent months.

"It remains a heavy weight on the banking system," said Mark Zandi, the chief economist of Moody's Analytics. "Housing prices are falling, and they are going to fall some more."
The double dip was the last gasp of denial market bulls had left. With house prices tunneling to new lows five years after the market peaked, many who held out hope that 2011 and 2012 might help them with their capital recovery are now facing the reality that it will take a very long time to get back to the peak. With carrying costs of 1.5% per month, capitulation becomes a more viable option than waiting with hopes of recovery later, particularly with the GSEs liquidating their inventory.
Over all, economists project that it would take about three years for lenders to sell their backlog of foreclosed homes. As a result, home values nationally could fall 5 percent by the end of 2011, according to Moody's, and rise only modestly over the following year. Regions that were hardest hit by the housing collapse and recession could take even longer to recover — dealing yet another blow to a still-struggling economy.

Although sales have picked up a bit in the last few weeks, banks and other lenders remain overwhelmed by the wave of foreclosures. In Atlanta, lenders are repossessing eight homes for each distressed home they sell, according to March data from RealtyTrac. In Minneapolis, they are bringing in at least six foreclosed homes for each they sell, and in once-hot markets like Chicago and Miami, the ratio still hovers close to two to one.

Before the housing implosion, the inflow and outflow figures were typically one-to-one.
There is not light at the end of the tunnel. As long as they are taking on many more houses than they liquidate, they fall further behind.
The reasons for the backlog include inadequate staffs and delays imposed by the lenders because of investigations into foreclosure practices. The pileup could lead to $40 billion in additional losses for banks and other lenders as they sell houses at steep discounts over the next two years, according to Trepp, a real estate research firm.
The reasons for the backlog all can be reduced to the desire of lenders to keep prices up. The numerous delays were not holding back banks eager to process foreclosures. Each delay had a cover story such as robo-signer, but the reality is that lenders simply don't want to flood the MLS with properties and recreate Las Vegas in every housing market in the country.
"These shops are under siege; it's just a tsunami of stuff coming in," said Taj Bindra, who oversaw Washington Mutual's servicing unit from 2004 to 2006 and now advises financial institutions on risk management. "Lenders have a strong incentive to clear out inventory in a controlled and timely manner, but if you had problems on the front end of the foreclosure process, it should be no surprise you are having problems on the back end."
If I were an asset manager from Washington Mutual during the bubble, I would be hiding my head in shame rather than using that as a credibility booster in a news article. His comments are accurate though.
A drive through the sprawling subdivisions outside Phoenix shows the ravages of the real estate collapse. Here in this working-class neighborhood of El Mirage, northwest of Phoenix, rows of small stucco homes sprouted up during the boom. Now block after block is pockmarked by properties with overgrown shrubs, weeds and foreclosure notices tacked to the doors. About 116 lender-owned homes are on the market or under contract in El Mirage, according to local real estate listings.

But that's just a small fraction of what is to come. An additional 491 houses are either sitting in the lenders' inventory or are in the foreclosure process. On average, homes in El Mirage sell for $65,300, down 75 percent from the height of the boom in July 2006, according to the Cromford Report, a Phoenix-area real estate data provider. Real estate agents and market analysts say those ultra-cheap prices have recently started attracting first-time buyers as well as investors looking for several properties at once.
There is a price point where anything will sell. If prices are low enough to attract cashflow investors, they will buy even in a declining market because the cashflow is so rewarding. Prices won't fall to zero, and the activity of cashflow investors is usually the buying interest that causes markets to bottom.
Lenders have also been more willing to let distressed borrowers sidestep foreclosure by selling homes for a loss. That has accelerated the pace of sales in the area and even caused prices to slowly rise in the last two months, but realty agents worry about all the distressed homes that are coming down the pike.

"My biggest fear right now is that the supply has been artificially restricted," said Jayson Meyerovitz, a local broker. "They can't just sit there forever. If so many houses hit the market, what is going to happen then?"
Prices will go down. What else could happen? Low prices aren't a bad thing, particularly for today's buyers. realtors seem to forget that for each unhappy seller, there is often a very happy buyer.
Back when lenders began restricting inventory realtors cheered the move. Now that buyers know this inventory is out there and buyer motivation is at a low because of it, realtors are suddenly concerned about the problem. Perhaps realtors believed they could overcome the inventory problem with brute force of bullshit. Unfortunately for them, buyers aren't that stupid.
The major lenders say they are not deliberately holding back any foreclosed homes.
What? I would like to read a quote from someone at a major bank who actually stated that transparent lie. I have profiled many properties on this blog that were bought by the bank a year earlier and finally made their way onto the MLS.
They say that a long sales process can stigmatize a property and ratchet up maintenance and other costs. But they also do not want to unload properties in a fire sale.
"If we are out there undercutting prices, we are contributing to the downward spiral in market values," said Eric Will, who oversees distressed home sales for Freddie Mac. "We want to make sure we are helping stabilize communities."
Stabilize communities? Give me a break. They want to maximize recovery at the expense of today's buyers. If they could get everyone to sign on for massive loans with 50% DTIs, they would do it in a moment if it got them out of their mess.
If they really wanted to stabilize communities, they would firesale their homes, and give Americans affordable housing. Imagine a society where we weren't putting 30% or more of our income toward debt service on housing. Wouldn't that free up a great deal of money for stimulating the economy? Of course it would.
The biggest reason for the backlog is that it takes longer to sell foreclosed homes, currently an average of 176 days — and that's after the 400 days it takes for lenders to foreclose.
Why does it take so long to sell REO? Any property can be sold in 90 days if they just reduce the price.
After drawing government scrutiny over improper foreclosures practices last fall, many big lenders have slowed their operations in order to check the paperwork, and in two dozen or so states they halted them for months.

Conscious of their image, many lenders have recently started telling real estate agents to be more lenient to renters who happen to live in a foreclosed home and give them extra time to move out before changing the locks.

"Wells Fargo has sent me back knocking on doors two or three times, offering to give renters money if they cooperate with us," said Claude A. Worrell, a longtime real estate agent from Minneapolis who specializes in selling bank-owned property. "It's a lot different than it used to be."
Lenient with renters? I feel better knowing the banks have decided to treat the renting subclass with a fraction of the respect they give the deadbeats who squat in their properties for years without making any payments. If banks are conscious of their images, they have completely failed to capture the hearts and minds of the people.
Every loan owner who gets the boot will hate the bank for life, and any renter who gets evicted by a bank because the landlord was a deadbeat will similarly hate the bank for life. Further, everyone who realizes the banks are stealing their money through government bailouts will also hate the banks for life. So who exactly thinks positively of banks these days?
Realty agents and buyers say the lenders are simply overwhelmed. Just as lenders were ill-prepared to handle the flood of foreclosures, they do not have the staff and infrastructure to manage and sell this much property.

Most of the major lenders outsourced almost every part of the process, be it sales or repairs. Some agents complain that lender-owned home listings are routinely out of date, that properties are overpriced by as much as 10 percent, and that lenders take days or longer to accept an offer.
It shouldn't be too surprising that REO departments are understaffed and inefficient. Who at the bank is going to get kudos for spending a lot of money to accelerate their loss recognition? Of course, lenders would be better off if they quickly resolved their REO and get what's left of their capital back. But they won't see it that way.
The silver lining for home lenders, however, is that the number of new foreclosures and recent borrowers falling behind on their payments by three months or longer is shrinking.

"If they are able to manage through the next 12 to 18 months," said Mr. Zandi, the Moody's Analytics economist, "they will be in really good shape."
In really good shape? Wishful thinking.
The liquidation phase of the Great Housing Bubble will persist for years. Even if banks begin liquidation in earnest and accept whatever happens to house prices, it will still take three to five years before the REO is gone. Since the banks seem determined not to capitulate, it will likely take another decade before the liquidation is complete. Buyers can sit on the sidelines longer than lenders can remain solvent.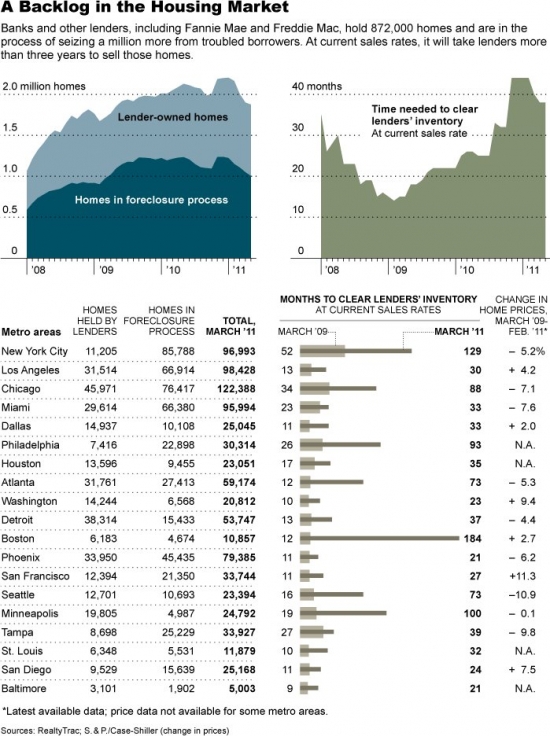 Bought at the peak with 100% financing
The bank unknowingly bought this property at the peak for full asking price. They provided a borrower all the money to obtain this property and thereby took on all the risk in the event of a price decline. With an asking price that represents a 42% loss after commissions, this REO is going to cost the lender plenty.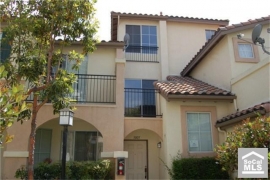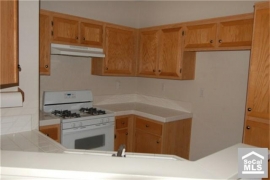 Irvine House Address … 1902 CRESCENT OAK Irvine, CA 92618
Resale House Price …… $264,900
House Purchase Price … $435,000
House Purchase Date …. 5/11/2006
Net Gain (Loss) ………. ($185,994)
Percent Change ………. -42.8%
Annual Appreciation … -9.3%
Cost of House Ownership
————————————————-
$264,900 ………. Asking Price
$9,272 ………. 3.5% Down FHA Financing
4.56% …………… Mortgage Interest Rate
$255,628 ………. 30-Year Mortgage
$55,901 ………. Income Requirement
$1,304 ………. Monthly Mortgage Payment
$230 ………. Property Tax (@1.04%)
$100 ………. Special Taxes and Levies (Mello Roos)
$55 ………. Homeowners Insurance (@ 0.25%)
$294 ………. Private Mortgage Insurance
$239 ………. Homeowners Association Fees
============================================
$2,222 ………. Monthly Cash Outlays
-$120 ………. Tax Savings (% of Interest and Property Tax)
-$333 ………. Equity Hidden in Payment (Amortization)
$16 ………. Lost Income to Down Payment (net of taxes)
$53 ………. Maintenance and Replacement Reserves
============================================
$1,838 ………. Monthly Cost of Ownership
Cash Acquisition Demands
——————————————————————————
$2,649 ………. Furnishing and Move In @1%
$2,649 ………. Closing Costs @1%
$2,556 ………… Interest Points @1% of Loan
$9,272 ………. Down Payment
============================================
$17,126 ………. Total Cash Costs
$28,100 ………… Emergency Cash Reserves
============================================
$45,226 ………. Total Savings Needed
Property Details for 1902 CRESCENT OAK Irvine, CA 92618
——————————————————————————
Beds: 1
Baths: 2
Sq. Ft.: 900
$294/SF
Property Type: Residential, Condominium
Style: 3+ Levels, Contemporary
Year Built: 1999
Community: 0
County: Orange
MLS#: P781874
Source: SoCalMLS
Status: Active
——————————————————————————
Nice Irvine Townhouse located in Oak Park community. Great location near the swimming pool. 1 Bedroom, 1.5 Bath, plus attached 2 car tandem garage. Master suite has walk in closet and vaulted ceilings. Oak Park is a gated community with 2 swimming pools, clubhouse and spa. Close to shopping center and restaurants.