Home sales are off again in 2011 and remain well below historic norms. Are lenders creating this problem with overly tight lending standards?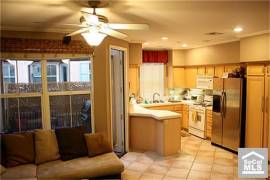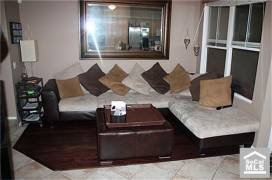 Irvine Home Address … 507 TERRA BELLA Irvine, CA 92602
Resale Home Price …… $285,000
I'd put out a burning building with a shovel and dirt

And not even worry about getting hurt

I'd lay in a pile of burning money that I've earned

and not even worry about getting burned

The Fabulous Thunderbirds — Tuff Enough
Everyone who put a down payment on an underwater home is laying in a pile of burning money they earned. In the end, they all get burned. Some will succumb to the financial pressures, some will accelerate their defaults, and some will hang on paying far too much for the properties they inhabit.
Now that house prices are again in free fall, lenders need to be concerned about loan quality and borrower qualifications more than ever. If they make bad loans now, they won't have a rising market to sell into that will recover their capital.
May 2nd, 2011, 6:34 am — posted by Jon Lansner
The latest Orange County home inventory report from local broker Steve Thomas — data as of April 28 — says …

Demand, the number of new pending sales over the past month, decreased by 5% over the past month, shedding 169 pending sales and now totals 3,189. This year, the height in demand was reached on March 31st with 3,358 pending sales.
My criticism of Steve Thomas's methodology is that pending sales fall out of escrow — frequently. Using pending sales simply distorts the numbers. During the beginning of the selling season escrow numbers should be increasing instead of going down.
Two weeks prior, on March 17th, demand had increased to 2,982. So, current demand may be off over the past month, but it is definitely up from earlier in the year. The Orange County market had been following a normal cyclical pattern, but has changed course over the past month. Typically, demand remains elevated or increases during the spring, not dropping.
This is a sign of just how weak the market really is.
Is it the negative press on pricing, buyer fear, tight financing, unemployment, consumer confidence, gas prices, the Middle Eastern upheaval, the U.S. economy, or the world economy? Maybe the answer is a bit simpler; we suffer from the "too much information age."
I will admit, the IHB contributes to the "too much information age." Now people know what is really going on with the market. it must have been much easier for realtors when people accepted their bullshit as experts.
Market psychology is not what is holding back the market right now. The problem is that there are not enough people with jobs and good credit scores to buy the available inventory, not to mention the shadow inventory lingering out there.
In The Great Housing Bubble, I wrote about the problem this way:
In the denial stage of a residential real estate market, many speculators are unable to obtain the sale price they desire. The accumulation of unrealistically priced houses starts to build a large inventory of homes "hanging" over the market. Overhead supply is a condition in a financial market when many units are held for sale at prices above current market prices. Generally there will be a minor rally after the first price decline as those who missed the big rally but still believe prices will only go up enter the market and cause a short-term increase in prices. This is a bear rally. It is aptly named as those bullish on the market buy right before the bear market reverses and quickly declines. For prices to resume a sustained rally, the overhead supply must be absorbed by the market. Once prices stopped going up and actually began to fall, demand is lessened by diminished buyer enthusiasm and the contraction of credit caused by mounting lender losses. With increasing supply and diminished demand prices cannot rally to absorb the overhead supply. The overall bullish bias to market psychology has not changed much at this point, because owners are in denial about the new reality of the bear market; however, the insufficient quantity of buyers and the beginnings of a credit crunch signal the rally is over and the bubble has popped.
The problem is not buyer psychology. Kool aid is still alive and well in Orange County.
Back to the OC Register article.
Everybody seems to react to just about anything and everything that is happening locally, nationally and abroad. There just is too much information at our fingertips with cable news, Internet news, print news, blogs, and RSS feeds. So, where do we go from here? Demand is not going to plummet like it did a year ago with the end of the first time home buyer tax credit. It will be interesting to gauge demand in June and see if it finally surpasses 2010 year over year comparisons, a real measure of market strength.
Yes, this summer will tell us if the market is going to hold its own over the winter or take another major leg down. Based on the weak sales number so far this year, I am becoming more bearish about this fall and winter. It could get ugly.
Thomas calculates a "market time" benchmark tracking how many months it theoretically takes to sell all the inventory in the local MLS for-sale listings at the current pace of pending deals being made. By this Thomas logic, as of last Thursday, it would take:

3.49 months for buyers to gobble up all homes for sale at the current pace vs. 3.36 months two weeks ago vs. 2.45 months a year ago vs. 2.35 months two years ago.
Of the 8 pricing slices Thomas tracks, 1 had faster market time vs. 2 weeks ago; and 2 improved over a year ago.
Homes listed for under a million bucks have a market time of 3.10 months vs. 9.43 months for homes listed for more than $1 million.
So, basically, it is 3.0 times harder to sell a million-dollar-plus residence!
And just so you know, the million-dollar market represents 17% of all homes listed and 6% of all homes that entered into escrow in the past 30 days.
Is there any good news in there for bulls? I don't see it. By any measure, the market for high end homes in Orange County is very weak. The reduced asking prices will likely continue to be reduced. There is far too much inventory and very few buyers.
Here's the recent data, as of last Thursday, for listings; deals pending; market time in months; last Thursday vs. 2 weeks ago, a year ago and 2 years ago (Note: k=thousand; m=million) …

| Slice | Listings | Deals | Time (month) | 2 week ago | 1 yr. ago | 2 yr. ago |
| --- | --- | --- | --- | --- | --- | --- |
| $0-$250k | 1,833 | 648 | 2.83 | 2.72 | 1.64 | 1.61 |
| $250k-$500k | 4,068 | 1,441 | 2.82 | 2.72 | 1.62 | 1.62 |
| $500k-$750k | 2,329 | 669 | 3.48 | 3.30 | 2.62 | 2.40 |
| $750k-$1m | 1,081 | 247 | 4.38 | 4.27 | 3.39 | 3.16 |
| $1m-$1.5m | 718 | 117 | 6.14 | 6.56 | 6.50 | 5.78 |
| $1.5m-$2m | 384 | 39 | 9.85 | 8.56 | 7.89 | 6.83 |
| $2m-4m | 526 | 37 | 14.22 | 13.42 | 13.49 | 11.71 |
| $4m+ | 295 | 11 | 26.82 | 26.45 | 38.44 | 29.50 |
| All O.C. | 11,144 | 3,189 | 3.49 | 3.36 | 2.45 | 2.35 |
The glut of high-end homes is apparent. And since many delinquent mortgage squatters are inhabiting these high end properties, the shadow inventory makes the time on the market much, much longer.
The main reason there are so few sales at the high end is because people in Orange County don't make enough money to support those prices. The jumbo loan market is the only game in town. Jumbo loan lenders are lending their own money, so they are concerned about loan quality, whereas the rest of the market is origination-based lending where it only has to pass GSE or FHA standards.
Jumbo loan lenders won't loan money to people who won't pay them back, so FICO score requirements are high, interest rates are between 0.5% and 1.0% higher than conforming mortgages, and lenders are carefully scrutinizing what people really make. Jumbo loan lenders are not willing to count the appreciation and HELOC booty as income. Without mortgage equity withdrawal, far fewer people can afford the payments on jumbo loans, hence we have very low sales volumes at the high end.
That isn't going to change because the government is not insuring the market.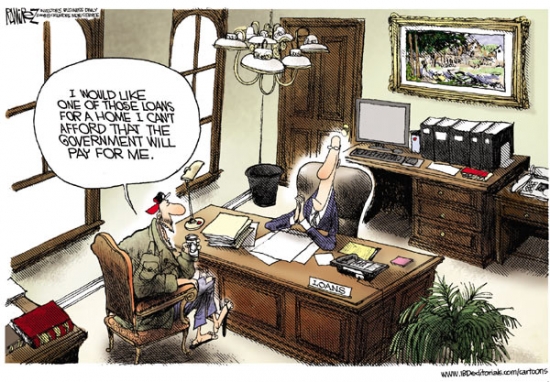 To make matters worse, the conforming limit is going down which will force more buyers to go jumbo — a loan they may not qualify for.
May 3rd, 2011, 8:11 am — posted by Jon Lansner
In his latest biweekly commentary, veteran Orange County home broker Steve Thomas ranted about lenders going overboard with their underwriting, claiming it's a reason the home market looks sluggish these days.

Lenders have reversed course and now look at every potential borrower as not lendable unless they can prove their worthiness with a mountain of written documentation and many requests that are borderline ridiculous.
Apparently, documenting income with more than a signature is too cumbersome for him. It certainly would be easier if everyone could just apply for a loan and get whatever they want, but when lenders tried that, they found that borrowers often didn't pay them back. Whocouldanode?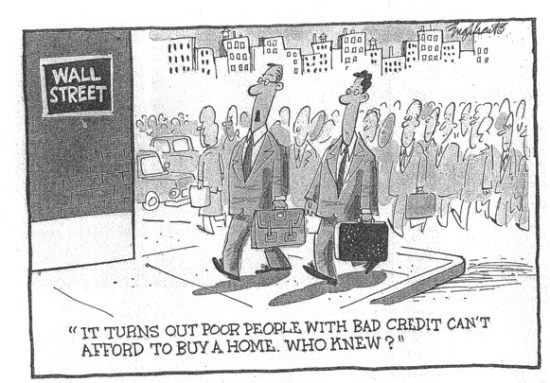 Their reaction reminds me of my kids reactions to painful experiences. Mia, my four year old daughter and splitting image of her gorgeous mother, was stung a few weeks ago after accidentally placing her hand on top of a crawling bee. After wiping her tears and a quick dose of Benadryl to stop the swelling, she didn't want to go outside in fear of being stung again. Fortunately, she swiftly recovered after I took her by the hand and explained to her in front of a flowering bush swarming with bees that they were not out to get her as long as she left them alone. She resumed her normal neighborhood activities and hasn't talked about it since.
That is cute analogy. However, what if those bees were African honey bees who will aggressively attack anyone nearby? Leaving those bees alone wouldn't be enough to protect yourself.
Lenders were stung, and they should be afraid to lend. Their lack of caution was directly responsible for the disaster they created. In a declining market with few qualified buyers, the aggressive lenders simply lose more money and go out of business — provided they are not too big to fail. The danger has not yet passed. The likelihood of more defaults and price declines is high. Lenders who fail to recognize that risk won't last very long.
I would like to take lenders and the U.S. government by the hand and show them that hard working buyers with a respectable job history, good credit and a reasonable down payment will NOT sting them. Instead, the lenders won't go outside to play right now.
That is simply not true. Sales volumes are 30% below normal right now, but that still means 70% of the normal transaction volume is still occurring. Who are those people? They are the hard working buyers with a respectable job history, good credit, and a reasonable down payment. There aren't enough of those people. That is the problem.
They are playing it WAY too safe by lending only to those that qualify by the strictest of standards. It is time for lenders to go outside and play nicely.
Readers, do any of you think it's a good time to loan money to jumbo borrowers in Orange County? Would you put your own money behind such a loan? I wouldn't, except for those few good borrowers that remain.
They won't get stung again as long as they don't lend based upon one's ability to fog a mirror.
If I understand his argument, he is saying we can do many other varieties of lending — which were proven losers during the housing crash — to inflate prices and increase sales as long as we don't go back to the worst of the housing bubble's lending practices. That sounds like nonsense to me.
Dr. Lawrence Yun, the chief economist for the National Association of Realtors estimates that if lenders would just relax their standards, sales activity would receive a 15% bump. If you don't believe me, ask buyers and Realtors in the trenches. Lenders are commonly requesting letters of explanation for the absurd: a job 10 years prior, an old phone number that is no longer used, and much, much more.
Lenders learned from their mistakes of the housing bubble, and they don't want to repeat them. Steve Thomas does want them to repeat these mistakes because it would increase sales volumes and make him a few more pennies on commissions.
MEMO TO LENDERS AND THE U.S. GOVERNMENT: go outside and play again, lend to those that qualify, the entire economy and housing market is counting on it. An increase in sales activity would translate to more homes sold and a quicker improvement in the housing market. An improvement in the housing market helps in reestablishing consumer confidence. Confident consumers translate into more dollars spent and a return to a robust U.S. economy. Until then, expect more of the same, a housing market and an economy that lacks much direction other than sideways.

Does Thomas have a point?
No. Not really.
He paid over $400,000 for a 1 bedroom apartment
One of the surest signs of the housing bubble was the amounts people were willing to pay for glorified apartments. Properties like this only make sense as rentals. It's an obvious bubble when the cost of ownership is more than double the cost of rental — as it is with a $405,000 price tag.
This purchase was foolish for a couple more reasons. One, this was purchased in May of 2007 which is after the subprime meltdown and after outlets like the IHB were telling people the market was going to crash. The future buyer for this place was going to have difficulties without ignorant subprime lending. Two, there was no backup plan if the price didn't continue to rise 10% a year. Renting makes no sense when you are losing $1,000 or more a month with no opportunity for HELOC supplementation.

This purchase captures the essence of kool aid intoxication. It's a property purchase that only makes sense if you believe prices are going to rise significantly every year and lenders are going to give out unlimited HELOC money at ever-decreasing interest rates. Obviously, that didn't happen. It never could.
This property was purchased on 5/24/2007 for $410,000. The owner used a $328,000 first mortgage, a $82,000 HELOC, and a $0 down payment. I am amazed that any of the no money down deals still survive. We don't see them very often any more.
Despite this borrower's perseverance, the market has collapsed, and this owner is hoping for a 35% loss. I think it needs to go lower. The rent still only covers about two-thirds of the cost of ownership. Not exactly a cash cow.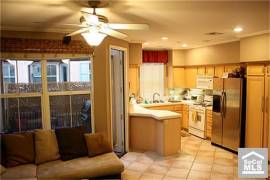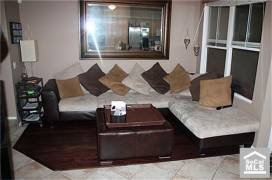 Irvine House Address … 507 TERRA BELLA Irvine, CA 92602
Resale House Price …… $285,000
House Purchase Price … $410,000
House Purchase Date …. 5/24/2007
Net Gain (Loss) ………. ($142,100)
Percent Change ………. -34.7%
Annual Appreciation … -9.1%
Cost of House Ownership
————————————————-
$285,000 ………. Asking Price
$9,975 ………. 3.5% Down FHA Financing
4.72% …………… Mortgage Interest Rate
$275,025 ………. 30-Year Mortgage
$61,272 ………. Income Requirement
$1,430 ………. Monthly Mortgage Payment
$247 ………. Property Tax (@1.04%)
$0 ………. Special Taxes and Levies (Mello Roos)
$59 ………. Homeowners Insurance (@ 0.25%)
$316 ………. Private Mortgage Insurance
$395 ………. Homeowners Association Fees
============================================
$2,447 ………. Monthly Cash Outlays
-$133 ………. Tax Savings (% of Interest and Property Tax)
-$348 ………. Equity Hidden in Payment (Amortization)
$18 ………. Lost Income to Down Payment (net of taxes)
$56 ………. Maintenance and Replacement Reserves
============================================
$2,040 ………. Monthly Cost of Ownership
Cash Acquisition Demands
——————————————————————————
$2,850 ………. Furnishing and Move In @1%
$2,850 ………. Closing Costs @1%
$2,750 ………… Interest Points @1% of Loan
$9,975 ………. Down Payment
============================================
$18,425 ………. Total Cash Costs
$31,200 ………… Emergency Cash Reserves
============================================
$49,625 ………. Total Savings Needed
Property Details for 507 TERRA BELLA Irvine, CA 92602
——————————————————————————
Beds: 1
Baths: 2
Sq. Ft.: 944
$302/SF
Property Type: Residential, Condominium
Style: 3+ Levels, Other
Year Built: 2000
Community: 0
County: Orange
MLS#: S656825
Source: SoCalMLS
Status: Active
On Redfin: 4 days
——————————————————————————
Exclusive Northpark community with 24 hour guard gated security, 6 swimming pools, tennis courts, sports courts, clubhouse, parks and trails. Spacious floor plan with an indoor laundry and a 2 car tandem garage space. Highly desirable and sought after unit. Please note, sale excludes wash/dryer and refrigerator.