NAr measures shadow inventory and reports it on the same months-of-supply metric. What about the other homes? Don't they count?
Irvine Home Address … 1 TRADITION Pl Irvine, CA 92602
Resale Home Price …… $595,000
You never listen to the voices inside

They fill your ears as you run to a place to hide

You're never sure if the illusion is real

You pinch yourself but the mem'ries are all you feel

Can you break away from your alibis

Can you make a play will you meet me in the dark…

Billy Squire — in The Dark
The NAr and lenders both want to convince potential buyers no problem exists with shadow inventory. They want to keep both this inventory and buyers in the dark.
by CHRISTINE RICCIARDI — Monday, March 21st, 2011, 5:08 pm
Foreclosure time lines and an abundance of distressed home sales are causing wide fluctuations in shadow inventory across the country.

The National Association of Realtors released state-by-state data on shadow inventory Monday, calculating the data in relation to distressed property sales. On the whole, Capital Economics estimates there are 5.3 million homes in limbo between foreclosure and the sales market. Standard & Poor's states it could take up to 49 months to clear the shadow inventory books. However, the NAR numbers indicate which states are in better shape to unload these properties based on the respective proportion of distressed sales.

Florida holds the largest shadow inventory across the U.S., with more than 441,000 residential properties caught between foreclosure and the sales market, according to NAR. California is a far second with almost 228,000 residential properties constituting the shadow inventory. Shadow inventory properties are sold as distressed sales.

NAR attributed growing shadow inventories to the ramifications of recent disruptions to foreclosure time lines. Some states are having more trouble than others in moving these properties into foreclosure. For example, a mortgage in Florida is delinquent 638 days on average, the second longest time line in the country. The only state that tops that is New York where the average loan is delinquent 644 days before its cleared through the foreclosure process. New York currently holds the fourth largest shadow inventory of 107,500, according to NAR.

NAR reported that the length of the foreclosure process in Florida and California jumped 156% and 157%, respectively, since 2008.

Still, two states commonly seen as poster children for the foreclosure and housing crisis are faring much better in terms of clearing out shadow inventory. Nevada and Arizona both rank in the top 26 states with the largest shadow inventory. However, among those 26 states, they rank 11th (Arizona) and 16th (Nevada) for their level of shadow inventory, behind many states that are supposed to be in recovery, including Texas.
I am not surprised Nevada is not in the top 10 for shadow inventory. Lenders are processing foreclosures there. Wherever they decided to allow people to squat — like California — shadow inventory dominates the landscape.
"This is largely due to their shadow inventory moving somewhat faster through the pipelines and comprising larger share of existing sales," NAR said. Distressed sales comprised 69% of existing home sales in Nevada in the fourth quarter of 2010 and 55% in Arizona. (Full national stats available by clicking chart below.)

NAR reported early Monday that distressed sales nationwide increased to 39% of all existing purchase transactions in February. The median sale price is hurt by this type of sale, as well as the number of cash transactions that took during the month. The median sale fell 5.2% compared to one year ago to $156,000, NAR said.
Notice the NAr buries that little tidbit at the end of their press release. Perhaps they figured people wouldn't notice prices are falling again.
NAR determined it will take 29 months to clear shadow inventory in Florida, 11 months to clear in California, 34 months to clear in New York, seven months to clear in Nevada and nine months to clear in Arizona.

In Wyoming, the state with the smallest shadow inventory, it will take 13 months to clear the 1,837 homes in limbo. Nevada ties Mississippi for the shortest time frame to clear the shadow inventory at seven months. New Jersey has the longest time line at 51 months, according to NAR.

Write to Christine Ricciardi.

Follow her on Twitter @HWnewbieCR.
Why I believe the NAr is wrong
When the NAr calculates the months of inventory, they divide total inventory by the monthly sales rate to compute the number of months it would take to clear the existing inventory if no new properties were added. They use the same methodology to measure the months of inventory of shadow inventory. This measure is supposed to say something about how long the shadow inventory problem will be with us, but in typical NAr style, they rely on this measure to downplay the real seriousness of the problem.
In the real world, there are only so many buyers, and even if lenders put every distressed property on the market at once, prices could not be lowered enough to absorb that much supply. Lenders must slowly release this inventory or prices crash. Further, in the real world, when the composition of sales is more than 40% distressed properties, prices also fall. Therefore, lenders must manage the flow of properties to be no more than 40% of sales to keep prices stable.
When the total market inventory is around six months, lenders cannot add to total inventory without prices going down. The distressed properties become an additional 40% which pushes months of inventory to double digits where it is now. It has remained elevated for the last four years.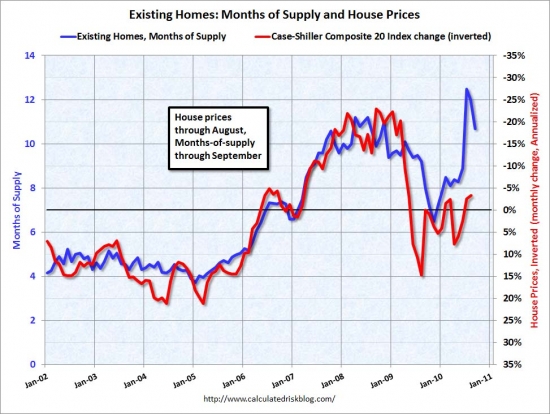 Realistically, shadow inventory can only be liquidated at 40% of the monthly sales rate. If you take the NAr estimate of 11 months of shadow inventory in California — which is a joke — and divide it by 40%, and the months of inventory balloons to 27.5.
The NAr measure of shadow inventory months of supply understates reality by 150%. The Standard and Poor's estimate of 49 months nationally is far more realistic. Four years from now, we will begin liquidating the long tail of distress that will follow this crisis into the later half of this decade.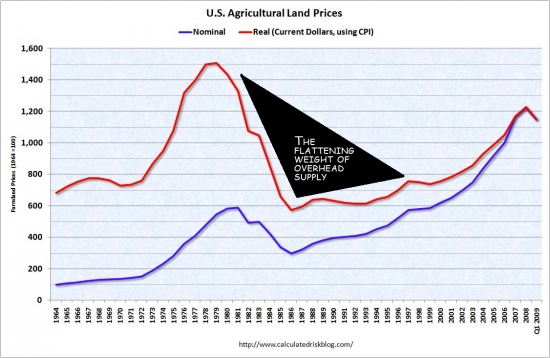 Bankers allow each other to squat
One of the most infuriating facts about shadow inventory is its epicenter: the New York MSA. Boneheads in New York think their market is immune as it is one of the few where properties still routinely trade at peak prices. Little do they know that this price stability is an illusion created by shadow inventory.
by JACOB GAFFNEY — Wednesday, February 2nd, 2011, 3:57 pm
"The shadow inventory in the New York MSA will take the longest to clear — 130 months as of fourth-quarter 2010. That is at least twice as long as it will take in any of the other top 20 MSAs and 2.7 times the average time to clear for the U.S. as a whole," the S&P report states. "This is primarily due to very low liquidation rates in New York."
What the hell is this? Very low liquidation rates? Why is that? Could it be that bankers don't want to hurt their own property values? What other reason could there be? Assholes.
The previous Ponzis
Many Ponzis from the housing bubble left their cash cows to the bagholder to pay off. The previous owners of this property got the better end of the deal.
The bought the property on 4/16/1999 for 265,500. The used a $212,200 first mortgage and a $53,300 down payment.
On 3/21/2001 they obtained a stand-alone second for $100,000. I hope they didn't spend it all in one place.
On 3/20/2002 they went in for their annual cash infusion. The refinanced the first mortgage for $285,000 and added a stand-alone second for $57,000.
On 6/3/2003 the refinanced with a $300,000 first mortgage and a $80,000 HELOC.
On 3/19/2004 they refinanced the $300,000 first mortgage.
On 7/29/2004 they refinanced with a $333,700 first mortgage.
On 3/4/2005 they refinanced with a $380,000 first mortgage. Then it gets weird.
On 6/8/2005 they refinanced with a $380,000 first mortgage.
On 7/13/2005 they refinanced with a $380,000 first mortgage.
On 10/20/2005 they refinanced with a $380,000 first mortgage.
On 2/16/2006 they refinanced with a $380,000 first mortgage. I wonder if one of the owners was a mortgage broker churning their own mortgage for fees? I have never seen four refinances for the same amount before.
Total mortgage equity withdrawal was $167,800.
After riding the equity wave for six years, they sell to the current dreamers for $525,000 on 12/18/2007.
The current dreamers
With aggregate prices in Irvine below $330/SF and falling, how do these owners realistically expect to get $397/SF for a corner lot at a busy intersection?
Based on when these people bought — the market dropped more than 10% in 2008 — they will be lucky to get near their asking price.
Perhaps that special buyer will come along who appreciates the unique attributes of this tract home and offers more than its asking price. ~~ giggles ~~
Irvine Home Address … 1 TRADITION Pl Irvine, CA 92602
Resale Home Price … $595,000
Home Purchase Price … $525,000
Home Purchase Date …. 12/18/2007
Net Gain (Loss) ………. $34,300
Percent Change ………. 6.5%
Annual Appreciation … 3.8%
Cost of Ownership
————————————————-
$595,000 ………. Asking Price
$119,000 ………. 20% Down Conventional
4.79% …………… Mortgage Interest Rate
$476,000 ………. 30-Year Mortgage
$120,272 ………. Income Requirement
$2,495 ………. Monthly Mortgage Payment
$516 ………. Property Tax
$125 ………. Special Taxes and Levies (Mello Roos)
$99 ………. Homeowners Insurance
$0 ………. Homeowners Association Fees
============================================
$3,234 ………. Monthly Cash Outlays
-$423 ………. Tax Savings (% of Interest and Property Tax)
-$594 ………. Equity Hidden in Payment
$218 ………. Lost Income to Down Payment (net of taxes)
$99 ………. Maintenance and Replacement Reserves
============================================
$2,534 ………. Monthly Cost of Ownership
Cash Acquisition Demands
——————————————————————————
$5,950 ………. Furnishing and Move In @1%
$5,950 ………. Closing Costs @1%
$4,760 ………… Interest Points @1% of Loan
$119,000 ………. Down Payment
============================================
$135,660 ………. Total Cash Costs
$36,900 ………… Emergency Cash Reserves
============================================
$172,560 ………. Total Savings Needed
Property Details for 1 TRADITION Pl Irvine, CA 92602
——————————————————————————
Beds: 3
Baths: 3
Sq. Ft.: 1500
$397/SF
Lot Size: 5,162 Sq. Ft.
Property Type: Residential, Single Family
Style: Two Level, Other
Year Built: 1999
Community: West Irvine
County: Orange
MLS#: S652679
Source: SoCalMLS
Status: Active
On Redfin: 1 day
——————————————————————————
UPGRADED Detached 3 bedrooms and 2.5 bathrooms home that is strategically located close to award-winning Myford Elementary & Pioneer Middle School. Cul-De-Sac location. Designer upgrades include elegant hardwood, tile flooring, custom carpet, and recess lightings. Cozy & warm living/family room with a fireplace. Spacious kitchen features 5-burner cooktop range, stainless steel appliances, oak cabinetry, reverse osmosis, instant hot water and granite countertop. A huge master suite with walk-in closet that is big enough to be a bedroom, dual vanities and a shower in the master bathroom. Powder room with pedestal sink, and convenient upstairs laundry. Hardscaped backyard, great for entertaining families & friends. NEW insulated garage door, NEW faucets, NEW mirrors in the upstairs bathrooms. A/C & heating unit were recently serviced. NO HOA & LOW Mello Roos (approx. $1,500/ yr)