Nevada has a great many empty homes, and after my experiences flipping occupied properties, I will be happily focused on the empty ones.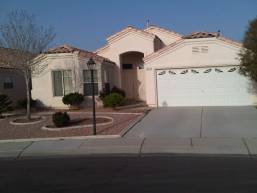 Home Address … 7625 VELVET MIST ST, LAS VEGAS, 89131
Resale Home Price …… $95,900
Don't ask me how, but guess who hit the big time.

Don't look now, but guess who's back in town.

It's so easy, don't even have to try.

You're the winner you can take the prize.

Loverboy — Lucky Ones
In the cleanup phase of the Great Housing Bubble, the lucky ones are those profiting from recycling the dead carcasses from yesteryear. I have been sifting through the debris in Las Vegas for about six months now. For a variety of reasons, I have been mum on my activities, but today I am going to share some anecdotes and lessons learned from my new adventure.
The most important of these lessons relates to the topic of today's featured article. According to the US Census Bureau, there are 167,564 houses in Nevada. That's a lot of empty homes — which is good if you want to survive as a flipper. Occupied homes are troubles magnified. Buying them is harmful to your financial health.
The pros and cons of occupied properties
Buying occupied properties at auction is always riskier because you never know what will happen with the previous occupants. I purchased two occupied houses for investors who were able to enjoy positive cashflow from the first month of ownership, so there are potential advantages. Since occupied properties have more risk, they have appealingly large margins — at least they look like they have large margins. When you factor in the lost time and the potential for litigation or damage by the occupants, houses with people in them are something to be avoided.
Squatters on my dime
I have one property I purchased in November, and the former owners are still squatting there. The former owners pulled an interesting legal move. They had the wife file for bankruptcy in her maiden name a few days after the foreclosure auction, and they put the property into the estate. Well, our search didn't pick up the bankruptcy because it wasn't in the owner's name, so we began foreclosure proceedings. Late in the process, the bankruptcy attorney accuses us of harassment, and we had no idea what he was talking about.
Once we discovered the suit, we had to initiate our own suit to have the property removed from the bankruptcy proceedings. They didn't own the property when they filed, so they can't obtain protection from the bankruptcy court to stay there. If they had filed before the foreclosure, they would have had other rights, but if they had filed before the foreclosure, it would have shown up in a title search, and I wouldn't have bid on the property.
The cost of all this legal maneuvering is expensive. The time to properly evict these people has been costly in two ways. First, the declining market means my resale price is declining while i wait. in addition, I have opportunity cost on money tied up in a non-performing asset. I am not a bank. I can't amend, extend, and pretend I am making money. I either sell quickly for a profit or I don't profit.

Ye ol' crack house
By far the most bizarre story I have is a property I purchased in October.
Back in 2005, a recent Salvadoran immigrant obtains his citizenship. With his workman's salary and a penchant for liar loans, he puts together an empire of 8 properties in Las Vegas from 2005 to 2007. The last of these properties was his crown jewel — the property I bought.
The property is in a older Las Vegas neighborhood called Spring Valley. The neighborhood is dominated by ranch style houses ranging from 1,400 SF to 1,800 SF. It has seen better days, but this is not a bad neighborhood. It is mostly median income middle-class families trying to get by.
My property is the large 5 bedroom home at the end of a cul-de-sac. It is the only one in the area with a large pie shaped lot with an outbuilding and RV parking. Back in 2007 when Vicente the Fox, our recent immigrant, bought this property with his liar loan, it was the finest property on the street.
Vicente the Fox began using his large property as a salvage yard. He put individual locks on all the bedroom doors and leased out the rooms to boarders and skimmed their rent. He tried to convince them to keep paying him even after I bought the house.
The boarders were united by their love for crystal meth. There is no evidence this place was used as a meth lab — thankfully — but when the constables came by to evict the last boarders, they confiscated a cigar box full of used pipes and other paraphernalia. In the two weeks after we took possession, the house was broken into three times.
The amount of junk on this lot is staggering. There are eight automobiles on this property, and none of those are in the garage because the garage was full of stuff. All eight cars are in the back and side yards. There were 4 working refrigerators on the property, a dirt bike, an air conditioner, anything and everything you can imagine, and lots of it.
I call our former owner Vicente the Fox because he carefully avoided us whenever we tried to serve him formal eviction papers. He didn't live at this house, and his former address is an apartment where he skipped out on the rent. However, since I was unable to serve him, I could not fully divest him from the property and the junk sitting on it.
He teams with a local attorney bandito to shake me down for wrongful foreclosure, stealing his property, and so on. Since I couldn't get him served, his weak case was strong enough to tie me up in court for a while. I settled.
Surprisingly enough, it turned out in my favor because when I let him back on the property to get his stuff, he cleared out much of the garbage along with the stuff of value. My worst fear was him picking over the good stuff and leaving me with a $5,000 mess to clean. He took a number of paint cans and other items that would have required me to bring in special disposal teams.

There is no good resolution for this property. I will lose money on the deal, and Vicente the Fox will have a roving pile of garbage scattered at friends and acquaintances houses all over town.
Eventually, this property will get sold. Hopefully, it will be to a good family that restores it as the jewel of the neighborhood. That's the outcome I want.
Flippers are maligned for bringing down the quality of life in neighborhoods. The reality is that the delinquent former owners are the ones who brought down the neighborhood. Flippers like me are the ones taking back the crack houses from rent-skimming former owners and putting families back into them.
After those two experiences, it's easy to see why dealing with vacant properties is much preferred. I'll focus on the empty ones. There are plenty to choose from.
(AP) – 6 days ago
LAS VEGAS (AP) — The promise of palm tree groves and low-priced real estate lured Alan and Katherine Ackerly across the Rocky Mountains from Denver to Nevada in 2004, where thousands of new houses beckoned brightly as any neon sign.

They came to buy their retirement home. But the real estate bust took its toll, with a flood of short sales and foreclosures in the market, and last month the Ackerly's dream home was foreclosed on, too.

"I pretty much gave it back to them," said Alan Ackerly, a 57-year-old electrician who stopped paying his mortgage because he owed more than the house was worth.

The Ackerly's home is now among a swelling number of abandoned houses in Nevada. There were 167,564 empty houses in the state last year, according to newly released U.S. Census data, more than double the number in 2000. The number of vacant homes represents about one out of every seven houses across Nevada.
I haven't looked into the Census Bureau's methodology, but that number sounds a bit too big, doesn't it? There are unquestionably a large number of vacant homes, but that many?
The figures are another striking example of how the housing crisis has pummeled Nevada, casting a new light on the severely weakened market after years of boom.

One result is an increase in code violations. In Clark County, home to Las Vegas, such complaints nearly doubled from 2008 to 2009 and the median price of resale homes dropped to $115,000 in January.
That put's their median somewhere in the late 90s. The Las Vegas market is the apocalypse bubble bloggers predicted would occur in every market. As a reaction to Las Vegas, lenders decided it was wiser to build a huge shadow inventory. The likely have saved themselves a great deal of strategic default.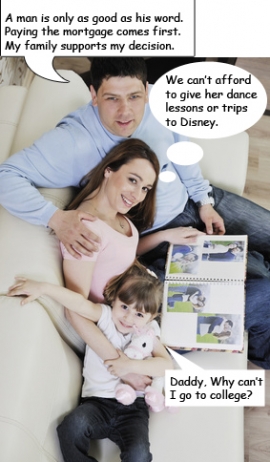 Neighbors call to complain of abandoned houses, stagnant pools, wild yards and unsecured doors, said Joe Boteilho, the county's code enforcement chief. But the neighborhoods of newly constructed homes are not facing the same blatant signs of disrepair seen in other foreclosure-ravaged states such as Florida, Michigan and California.

It has been a deep plunge for Nevada. Once a leader in job creation and construction, the state had the highest foreclosure rate in the country in January. Delinquent mortgages, meanwhile, are on the rise, with Las Vegas, Reno and Carson City all in the top eight cities per capita in a national real estate study published last month.
Strategic default will dominate the Las Vegas housing market for the foreseeable future. With prices stuck 60% below the peak, late buyers have little or no hope of getting back to breakeven in their lifetimes. How many of you are willing to work 20 years to pay off a mistake like that?
More than 16 percent of Nevadans relocated to new residences within the state in 2008 alone, the highest mobility rate in the nation, the Census data shows.

"We were the hottest market in the nation in terms of the shape of the bubble, how fast it went up," said Nasser Daneshvary, director of the Lied Institute for Real Estate Studies at the University of Nevada, Las Vegas. "And, of course, when something goes up, it comes down hard, too."

The growth fueled by tourism and the gaming industry has yielded few winners. Short sales and foreclosures have slashed homes prices, ravaged neighborhoods and fueled unemployment in the construction sector, one of Nevada's primary industries. The jobless rate is 14.2 percent, and the state's estimated budget gap starts at $1.5 billion.

In Fernley, the fastest growing city in Nevada from 2000 to 2010, the only sign of construction in recent months was a new Walgreens and a Catholic church. One in 49 homes is in foreclosure.

"It was just very explosive," said Mayor LeRoy Goodman. "We hit bottom."
The economy had become overly dependent upon construction. This cruel purging has wiped out everyone in real estate and construction. When activity returns, it will feel like a huge resurgence compared to the severe contraction of 2008. The industry will regrow into a smaller economic engine utilizing less of the workforce. Perhaps they will only build one mega-resort at a time for a while.
This in what was once the land of plenty. The expansion of glass towers and sprawling casinos on the Las Vegas Strip saw a 3.8 percent unemployment rate statewide in the beginning of 2000. Over the next decade, Nevada would grow by 35 percent, the fastest rate in the nation.

Men and women in hard hats carved homes into mountainsides, raised superstores from the dust and wedged plush golf courses into the desert. The state's residential properties grew by more than 40 percent to 1.17 million homes during those years, affording Nevada the youngest housing stock in the country in 2009, according to the Census data. In Clark County, the school district saw an average of 10 new schools a year at its peak growth.
The people who are down on Las Vegas forget its phenomenal growth prior to this recession. Las Vegas is not Detroit. Detroit watched the auto industry leave with no replacement to fill the void. The economic engine of Las Vegas is gaming and sin.
My wager is that vice will be popular in the future and people will continue to flock to Las Vegas for its vices. Therefore, Las Vegas will recover, and so will its real estate market. I could be wrong. I could lose my bet on Las Vegas's future.
As houses and condominium towers rose from the ground, so did prices. The median home price went from $150,000 to $300,000 between 2000 and 2007, according to a University of Nevada, Las Vegas study.

"It was a new town," said Dennis Smith, president of Home Builders Research, a Las Vegas real estate firm. "There was money everywhere. Everyone wanted to invest in Vegas."

The state's growing wealth and relaxed lending practices allowed workers with limited incomes to gain home ownership. In many cases, these were the same people who later faced foreclosure. Most Nevadans who lost their homes earned between $24,000 and $72,000, according to a homeowners survey published by the Nevada Association of Realtors in January. Roughly 60 percent said they lost their jobs first, then their homes.
I would like to see that NAr study. I know several who strategically defaulted there because their mortgage was too big relative to the value. Perhaps they are the other 40%? The strategic defaulter's there aren't hiding their faces in shame.
The crash came in 2008, when unemployment passed 7 percent for the first time during the decade.

Even so, nearly 74,000 new homes were built in 2010, according to Census data. Realty companies said there are still buyers who prefer newly-built houses.

A general recovery seems far away. The state's Foreclosure Mediation Program helped more than 4,200 homeowners since its creation in 2009. Nearly 2,000 of those owners were able to keep their properties.

More short sales and foreclosures are projected to further depreciate homes values across Nevada in 2011. Census data to be released starting in June was expected to highlight the state's robust renters' market.
The rental market is strong because many people were booted out in a foreclosure, but they still had jobs, so they stayed in the area and rented. If there were a major exodus from the area — as is happening in Detroit — then rents would decline along with prices.
"This year will be the worst," said Rep. Shelley Berkley, D-Las Vegas, who co-chairs the Democratic Caucus Housing Stabilization Task Force in Washington. "The unemployment rate is not going down. The values of the homes keep going down and the ability to pay your mortgage is just not there."

The Ackerly family moved into a rental house after they defaulted on their mortgage. The value of their $240,000 North Las Vegas home was worth $80,000 by the time they left. Unlike some of their neighbors, they didn't take the new kitchen cabinets, or the palm trees they had planted in the yard, or any of the other improvements they lovingly made to the house after they moved in.

"We were done with it," said Alan Ackerly.
The things people take and leave behind
One of the properties I bought in March had the kitchen stripped out by the former owners. It's an empty room with a pipe-hole in the wall.
For some reason, people like to leave vacuum cleaners behind. Perhaps they don't want the dust from a foreclosure in their new house? I don't know. But I find one left behind in nearly every property.
I had one property where the former owner removed every doorknob in the house, but then they left them in a pile on the floor and didn't take them. In that same house, they took the garbage disposal. What's the resale value of a used garbage disposal?
A few weeks ago I wrote about the losers who left their family pets to die. We saved them, but not before they endured countless days without food or water trapped in the back yard.
The owners of today's featured property left it broom clean. They even left a note on the water softener telling the next owner it needed service. Who does that? Who leaves a maintenance note on a property they are losing in foreclosure? Good people. That's who.
The virtue of quick processing
In early March, with B of A coming off its Nevada moratorium, I had a few properties in escrow, so I decided to deploy the last $200K I had available. The number of properties pushed through the Las Vegas auction site in March to third parties has been remarkable. I picked up five this month. Any rumors of an end to the foreclosure problems in Las Vegas will be dashed when the March foreclosure numbers are announced. Remember you heard that here first.
On March 2nd, I bought two properties, and with a new sense of urgency rivaling a FedEx operation, we got one of the two properties on the market two days later in time for weekend showing.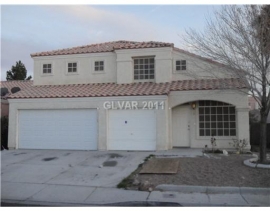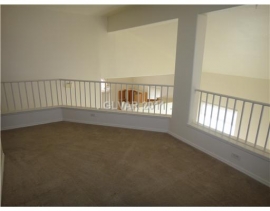 214 Mariposa, Henderson, NV 89015
We still had work to do on this property. Basically, I decided to list the property while we were working on it to see what happened. Worst case is that I turn off some potential buyers who see it before it is ready. I wouldn't do that here in Irvine, but Las Vegas is a different market, so I thought I would try it.
Early the next week, even before Jacki gets crews out to start work, an interested buyer makes an as-is offer within $5,000 of my asking price. Since I was just about to embark on a $5,000 renovation, this offer was a no-brainer, and I took the deal. I was in escrow within eight days of the auction.
That was eye opening.
I realized I had been operating as if I were flipping in Irvine or Orange County. In Las Vegas time-to-market is more important than quality of presentation. The properties in my existing inventory — the stuff that is losing value as it ages — all show very well. We focused a great deal of attention on small details, and likely overspent what we should have to make these properties show well. It hasn't made a difference. Price is what sells in Las Vegas. Get to the market quickly and less expensively than your competition, or you lose money.
As good as good can get
This week as I was patting myself on the back for the quick flip, I took the money from some recent closings and bought three more properties. The featured property below was purchased on Friday, March 18, 2011. That's last Friday.
On Saturday, Jacki has the locks changed, took a few photos, and installed the Supra key. Sunday morning some prospective buyers looked at the property. Monday morning (yesterday) we got a full asking price offer which I have accepted.
Four days from auction purchase to full-price offer. We may open escrow today. It doesn't get better than that.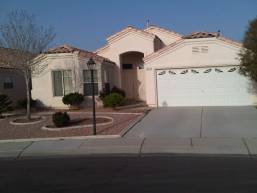 Home Address … 7625 VELVET MIST ST, LAS VEGAS, 89131
Resale Home Price … $95,900
Home Purchase Price … $67,100
Home Purchase Date …. 3/18/2011
Percent Change ………. 34.3%
Annual Appreciation … 515.1%
Cost of Ownership
————————————————-
$95,900 ………. Asking Price
$3,357 ………. 3.5% Down FHA Financing
4.23% …………… Mortgage Interest Rate
$92,544 ………. 30-Year Mortgage
$18,154 ………. Income Requirement
$454 ………. Monthly Mortgage Payment
$83 ………. Property Tax
$8 ………. Homeowners Insurance
$280 ………. Homeowners Association Fees
============================================
$825 ………. Monthly Cash Outlays
-$41 ………. Tax Savings (% of Interest and Property Tax)
-$128 ………. Equity Hidden in Payment
$5 ………. Lost Income to Down Payment (net of taxes)
$12 ………. Maintenance and Replacement Reserves
============================================
$673 ………. Monthly Cost of Ownership
Cash Acquisition Demands
——————————————————————————
$959 ………. Furnishing and Move In @1%
$959 ………. Closing Costs @1%
$925 ………… Interest Points @1% of Loan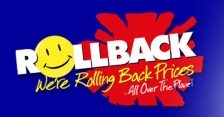 $3,357 ………. Down Payment
============================================
$6,200 ………. Total Cash Costs
$10,300 ………… Emergency Cash Reserves
============================================
$16,500 ………. Total Savings Needed
Property Details for 7625 VELVET MIST ST, LAS VEGAS, 89131
Beds: 3
Baths: 2
Sq. Ft.: 1,241
$/Sq. Ft.: $77
Lot Size: 4,356 Sq. Ft.
Property Type: Single Family Residential, Detached
Year Built: 2003
Community: Lynbrook
County: Clark
MLS#: 1129717
Source: GLVAR
Status: Exclusive Right
On Redfin: 1 day
Cumulative: 2 days
New Listing (24 hours)
————————————————-
MOVE IN READY! Not a Short Sale or REO. Quick Response from Seller. 1-Story Home, 3 Bedroom, 2 Bath in a gated community. Neighborhood near Schools, Shopping, Dining, Parks and Recreation. Charming Open Floor Plan with lots of Natural Light.
Flipping Out
I hope you enjoyed my Las Vegas anecdotes. As you can see, most of my time and energy have been devoted to that end. I don't think I have revealed any trade secrets or given my competitors any valuable information. Perhaps a few may be dissuaded from trying when they know how hard it really is.
It's a hard business, and if you don't know what you're doing, you can quickly lose a lot of money. It requires a lot of time, money, patience, the ability to accurately value property, and a working understanding of real estate law. It can be a lucrative business if you can figure out before the opportunity disappears.
Surviving the turnover of the first group of properties, I feel like I have the team and the systems in place to do well. I am looking forward to the rest of 2011. For those of you interested in my fund, I'm sorry, but it is closed to new investors. Maybe next year….