The Tea Party is a right-wing political movement with some common sense views on foreclosure I can embrace, and some nutty ideas about renters I can't.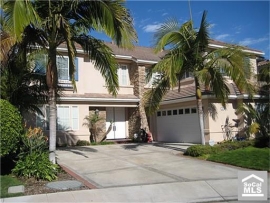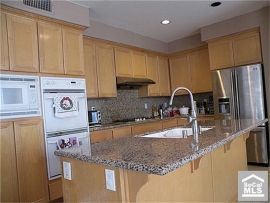 Irvine Home Address … 15 PONTE Irvine, CA 92606
Resale Home Price …… $1,075,000
She said save me

Save me

When there is no truth,

let's end this lie tonight.

This is easy to understand,

without your best eyes.

The Tea Party — Save Me
The political left has consistently been wrong on the foreclosure issue. There is a populist issue for the left to embrace: affordability. instead, they are choosing to pander to distressed homeowners. The robo-signer scandal only gained traction because the political left kept pandering to the false belief that people were wrongly foreclosed upon.
I found today's featured articles interesting because they are articles from the left lampooning the beliefs of the Tea Party. This represents a consistent narrative for the left, yet I find myself totally agreeing with the Tea Party about foreclosures and disagreeing with some stupid comments they made about renters.
By Ilyce Glink — Jan 26, 2011
We already know some Tea Party members don't believe renters should vote.

But how do they feel about foreclosure? And, where does the Tea Party stand on the real estate crisis that has almost brought the American financial system to a standstill?

CNBC's Rick Santelli's now famous rant is credited with kick-started the Tea Party movement, even though Santelli has denied he is a part of the party and that his comment was anything other than spontaneous combustion (i.e., great TV).
Rick Santelli was right: "The government is promoting bad behavior… do we really want to subsidize the losers' mortgages… This is America! How many of you people want to pay for your neighbor's mortgage? President Obama are you listening? How about we all stop paying our mortgage! It's a moral hazard"
Santelli yelled: "Why don't you put up a website to have people vote on the Internet as a referendum to see if we really want to subsidize the losers' mortgages. Or would we like to at least buy cars and buy houses in foreclosure and give them to people that might have a chance to actually prosper down the road, and reward people that could carry the water instead of drink the water?"

But it turns out that kicking folks out of their homes is a core tenet of the Tea Party movement. In an exchange with Stephen Colbert, Freedomworks leader Brendan Steinhauser admitted that bailing out anybody, from banks to homeowners with bad mortgages is unfair. He also believes that most folks facing foreclosure bought homes they couldn't afford.
Good for him. Mr. Steinhauser is right. Bailing out anybody is a bad idea because it is unfair to those who are not being bailed out.
(What about folks who could afford their homes with the jobs they had at the time, only to lose them in the worst recession since the Great Depression?)
Well, those people received unemployment benefits and ample opportunities to obtain a loan modification. Responsible homeowners are not losing their homes. And while we are all shedding tears for unemployed homeowners, what about unemployed renters?
She writes as if we have a national homeowner entitlement to subsidized housing in a recession. If we are going to subsidize loan owners with squatting privileges, why don't we do the same for renters? Where is the renter's Bill of Rights (and free handouts)? In my opinion, the political left would be wiser to pander to renters and side with affordability advocates, traditional supporters of the left.
It looks like 2011 is going to be the worst year on record for foreclosures, according to Rick Sharga, of RealtyTrac (I'll post the latest numbers tomorrow).

TeaParty.org cares enough about foreclosures to run the press release on its website. With 5 million homeowners behind in their mortgage payments, foreclosures have hit just about every community in this country, with near-misses for millions more, including Tea Party candidate Christine O'Donnell.
With that daily does of sensationalism, we will leave behind the intelligent ideas of the Tea Party on go on to some foolish comments made by one of its leaders.
By Ilyce Glink — Dec 1, 2010
What to know what the Tea Party says about foreclosures and the housing crisis?

Nearly two years to go until the next Presdential Election and already the Tea Party is deciding how to slice and dice voters.

Here's a new Tea Party plank: Don't let renters vote.

Gawker reported that Judson Phillips, president of prominent Tea Party group Tea Party Nation, has a terrific idea: "The Founding Fathers… put certain restrictions on… the right to vote… you had to be a property owner. And that makes a lot of sense."
Beyond the inflammatory nature of that remark it is also completely thoughtless.
First, what exactly is a property owner? As I noted in Money Rentership: Housing and the New American Dream, the founding fathers didn't have encumbrances on their land. If you worked the land, it was yours. Once a property is encumbered with a mortgage, the person on title isn't really an owner any longer in many ways that matter.
Second, if we are excluding renters, do we also exclude loan owners with no equity? The don't really own anything despite being on title. Are we limiting the right to vote to only those landowners who have fee-simple title with no encumbrances?
What stops someone from forming a corporation, buying property in that corporation, and selling shares to anyone who wanted to vote? If you owned shares in the corporation, you owned land.
Here's the full quote, from Tea Party Nation Radio:

"The Founding Fathers originally said, they put certain restrictions on who gets the right to vote. It wasn't you were just a citizen and you got to vote. Some of the restrictions, you know, you obviously would not think about today. But one of those was you had to be a property owner. And that makes a lot of sense, because if you're a property owner you actually have a vested stake in the community. If you're not a property owner, you know, I'm sorry but property owners have a little bit more of a vested interest in the community than non-property owners."

Republicans have always had a fondness for the past. But, do we really want to jump right back to the Middle Ages?
The notion that only owners can have a vested interest in the community is nonsense. Many renters don't bother to get involved, and many homeowners don't either. Many renters do take an active role in the communities in which they live. Ownership does not define belonging.
The HELOC was too much debt
Yesterday i wrote about the need for a home equity lockbox. Today is another example of Ponzi owners who consistently used their house as an ATM only to lose it in foreclosure.
This property was purchased on 2/20/2003 for $695,000. The owners used a $556,000 first mortgage and a $139,000 down payment.
On 2/6/2003 they refinanced with a $550,000 first mortgage, and repeated this refinancing three times over the next 6 months moving from lender to lender.
On 4/9/2004 they refinanced with a $556,000 first mortgage.
On 6/21/2004 they opened a $120,000 HELOC.
On 8/23/2004 they obtained a $199,500 HELOC.
On 12/14/2004 they refinanced with a $750,000 first mortgage.
On 1/6/2005 they obtained a stand-alone second for $28,518.
On 1/18/2005 they got a HELOC for $120,000.
On 6/7/2005 they obtained a $200,000 HELOC.
On 1/23/2006 they obtained a $257,000 HELOC.
Total property debt is $1,007,000.
Total mortgage equity withdrawal is $457,000 including their down payment.
They quit paying the first mortgage sometime last year.
Foreclosure Record
Recording Date: 01/26/2011
Document Type: Notice of Default
One of these days, I will run out of HELOC abuse posts. We haven't had any mortgage equity withdrawal for the last several years, so eventually, I should run out of Ponzis.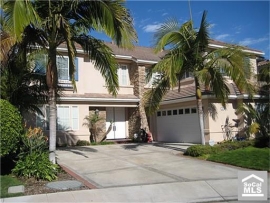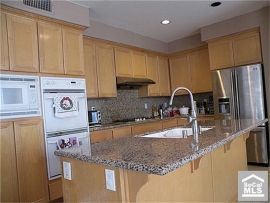 Irvine Home Address … 15 PONTE Irvine, CA 92606
Resale Home Price … $1,075,000
Home Purchase Price … $695,000
Home Purchase Date …. 9/27/02
Net Gain (Loss) ………. $315,500
Percent Change ………. 45.4%
Annual Appreciation … 5.2%
Cost of Ownership
————————————————-
$1,075,000 ………. Asking Price
$215,000 ………. 20% Down Conventional
4.88% …………… Mortgage Interest Rate
$860,000 ………. 30-Year Mortgage
$219,558 ………. Income Requirement
$4,554 ………. Monthly Mortgage Payment
$932 ………. Property Tax
$240 ………. Special Taxes and Levies (Mello Roos)
$179 ………. Homeowners Insurance
$47 ………. Homeowners Association Fees
============================================
$5,952 ………. Monthly Cash Outlays
-$1240 ………. Tax Savings (% of Interest and Property Tax)
-$1056 ………. Equity Hidden in Payment
$404 ………. Lost Income to Down Payment (net of taxes)
$134 ………. Maintenance and Replacement Reserves
============================================
$4,193 ………. Monthly Cost of Ownership
Cash Acquisition Demands
——————————————————————————
$10,750 ………. Furnishing and Move In @1%
$10,750 ………. Closing Costs @1%
$8,600 ………… Interest Points @1% of Loan
$215,000 ………. Down Payment
============================================
$245,100 ………. Total Cash Costs
$59,900 ………… Emergency Cash Reserves
============================================
$305,000 ………. Total Savings Needed
Property Details for 15 PONTE Irvine, CA 92606
——————————————————————————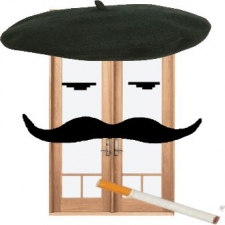 Beds: 4
Baths: 3
Sq. Ft.: 3000
$358/SF
Lot Size: 5,435 Sq. Ft.
Property Type: Residential, Single Family
Style: Two Level, Mediterranean
Year Built: 1997
Community: Westpark
County: Orange
MLS#: S648056
Source: SoCalMLS
Status: Backup Offers Accepted
On Redfin: 14 days
——————————————————————————
Trieste Plan A in a quiet cul de sac location. Upgraded marble, maple wood and cherry wood laminate flooring all thru out. Remodeled bathrooms with granite/marble/mosaic tiles and walk-in closet. Maple kitchen cabinets w/ granite counter/island/full backsplash and breakfast nook. French doors, high cathedral ceiling, inside laundry and full size driveway. Main floor suite w/ one bedroom, full bath and retreat/den. Large backyard w/ covered patio, brick planters and hardscaped front yard w/ Palm trees. Upstairs loft area and bonus room. Walk to Plaza Vista school, pools, tennis and parks.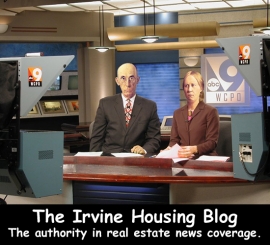 Thank you for reading the Irvine Housing Blog.
Astutely observing the housing market and combating California Kool-Aid since 2006.
Have a great weekend,
Irvine Renter