The era of sprawling McMansions is over. The beast is extinct. Austerity is the newest fashion in real estate. Welcome to the dawning of the age of the tiny house.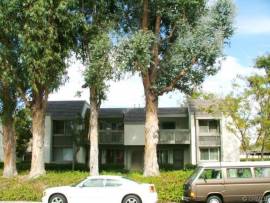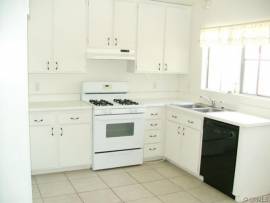 Irvine Home Address … 187 BRIARWOOD Irvine, CA 92604
Resale Home Price …… $249,900
When the moon is in the Seventh House

And Jupiter aligns with Mars

Then peace will guide the planets

And love will steer the stars

This is the dawning of the Age of Aquarius

The Age of Aquarius

Aquarius! Aquarius!

Harmony and understanding

Sympathy and trust abounding

No more falsehoods or derisions

Golden living dreams of visions

Mystic crystal revelation

And the mind's true liberation

Aquarius! Aquarius!

5th Dimension — Aquarius / Let The Sunshine In
There is a simple truth that underlies our overly complex existence. The clutter of our daily lives weighs on us like layers of heavy emotion and pressing attachments.
There is a purity to living simply: daily exercise and meditation and surroundings free from clutter and distraction. Monastics have known this for centuries.
Now, with the collapse of the housing bubble and the upheaval to families caused by foreclosure, many are seeking an alternate way of life. A life with a much cozier house….
Associated Press — 11/29/2010
GRATON, Calif. (AP) — As Americans downsize in the aftermath of a colossal real estate bust, at least one tiny corner of the housing market appears to be thriving.

To save money or simplify their lives, a small but growing number of Americans are buying or building homes that could fit inside many people's living rooms, according to entrepreneurs in the small house industry.

Some put these wheeled homes in their backyards to use as offices, studios or extra bedrooms. Others use them as mobile vacation homes they can park in the woods. But the most intrepid of the tiny house owners live in them full-time, paring down their possessions and often living off the grid.

"It's very un-American in the sense that living small means consuming less," said Jay Shafer, 46, co-founder of the Small House Society, sitting on the porch of his wooden cabin in California wine country. "Living in a small house like this really entails knowing what you need to be happy and getting rid of everything else."
Why Do Buddhists Avoid Attachment? "In nonattachment, on the other hand, there's unity. There's unity because there's nothing to attach to. If you have unified with the whole universe, there's nothing outside of you, so the notion of attachment becomes absurd. Who will attach to what?"
Because we think we have intrinsic existence within our skin, and what's outside our skin is "everything else," that we go through life grabbing for one thing after another to make us feel safe, or to make us happy."
Shafer, author of "The Small House Book," built the 89-square-foot house himself a decade ago and lived in it full-time until his son was born last year. Inside a space the size of an ice cream truck, he has a kitchen with gas stove and sink, bathroom with shower, two-seater porch, bedroom loft and a "great room" where he can work and entertain — as long as he doesn't invite more than a couple guests.

He and his family now live in relatively sprawling 500-square foot home next to the tiny one.

Shafer, co-owner of the Tumbleweed Tiny House Company, designs and builds miniature homes with a minimalist style that prizes quality over quantity and makes sure no cubic inch goes to waste. Most can be hooked up to public utilities. The houses, which pack a range of amenities in spaces smaller than some people's closets, are sold for $40,000 to $50,000 ready-made, but cost half as much if you build it yourself.
It sounds like a cross between a mobile home, a motor home, and a log cabin.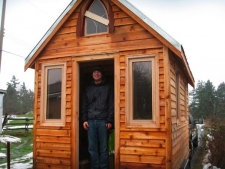 Tumbleweed's business has grown significantly since the housing crisis began, Shafer said. He now sells about 50 blueprints, which cost $400 to $1,000 each, a year, up from 10 five years ago. The eight workshops he teaches around the country each year attract 40 participants on average, he said.

"People's reasons for living small vary a lot, but there seems to be a common thread of sustainability," Shafer said. "A lot of people don't want to use many more resources or put out more emissions than they have to."

Compared to trailers, these little houses are built with higher-quality materials, better insulation and eye-catching design. But they still have wheels that make them portable — and allow owners to get around housing regulations for stationary homes.

Since the housing crisis and recession began, interest in tiny homes has grown dramatically among young people and retiring Baby Boomers, said Kent Griswold, who runs the Tiny House Blog, which attracts 5,000 to 7,000 visitors a day.

"In the last couple years, the idea's really taken off," Griswold said. "There's been a huge interest in people downsizing and there are a lot of young people who don't want to be tied down with a huge mortgage and want to build their own space."
Everyone here in Irvine still wants to be tied down to a huge mortgage.
Gregory Johnson, who co-founded the Small House Society with Shafer, said the online community now has about 1,800 subscribers, up from about 300 five years ago. Most of them live in their small houses full-time and swap tips on living simple and small.

Johnson, 46, who works as a computer consultant at the University of Iowa, said dozens of companies specializing small houses have popped up around the country over the past few years.

Before he got married, Johnson lived for six years in a small cabin he built himself and he wrote a book called "Put Your Life on a Diet: Lessons Learned from Living in 140 Square Feet."
Austerity is one thing, but I think these people take it a bit too far.
"You start to peel away the things that are unnecessary," said Johnson, who now lives in a studio apartment with his wife. "It helps you define your priorities with regard to your material things."

Northern California's Sonoma County has become a mini-mecca for the tiny house industry, with an assortment of new businesses launching over the last few years.

Stephen Marshall, 63, worked as a building contractor for three decades before the real estate market tanked three years ago. That's when he jumped into the tiny house business, starting Petaluma-based Little House On The Trailer.
I enjoy reading about entrepreneurs who found a way to make a new living in real estate. Kudos to Mr. Marshall.
His company builds and sells small houses that can serve as stand-alone homes equipped with bathrooms and kitchens, and others he calls "A Room of One's Own" that can be used as a home office or extra bedroom. Many of his customers are looking for extra space to accommodate an aging parent or adult children who are returning home, he said.
The adult children coming home to a 150 SF detached house ought to motivate them to get a job and rent a nicer place. It must be quite a fall from entitlement to downsize that much.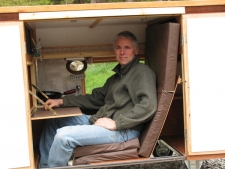 He said his small houses, which sell for $20,000 to $50,000, are much cheaper than building a home addition and can be resold when the extra space is no longer needed. His company has sold 16 houses this year and aims to sell 20 next year.

"The business is growing as the public becomes aware of this possibility," Marshall said. "A lot of families are moving in with one another. A lot of young people can't afford to move out. There's just a lot of economic pressure to find an alternative way to provide for people's housing needs."
by Kent Griswold on November 30th, 2010
A couple of months ago Terence Chea from the Associated Press contacted me wanting to do a story about the tiny house movement. Terence wanted some local examples of tiny house builders so I put him in contact with Jay Shafer and Stephen Marshall. I also gave him Gregory Johnson of Small House Society contact information. Terence than arranged to come out and interview and video tape us at different locations.

Yesterday the Associated Press published the story with Jay Shafer and Tumbleweed as the top story. He than went on to quote Gregory and myself and closed with Stephen Marshall and Little House on the Trailer. The article went live yesterday and than spread almost virally across the web. Below you will see the story highlighted on Yahoo.com.

The good news is that there has been a huge spike in interest and traffic to our websites and blogs. I had triple the traffic yesterday and if you tried to get to the blog you found it extremely slow. Many more people have discovered the idea of tiny houses. I have been asked to be interviewed on two radio broadcasts and more requests are coming in. You can read the Associated Press article here.
Congratulations, Kent, on your 15 minutes of fame. If you write well about something people find compelling, the word gets out. Nice job.
Demand for McMansions is eternal
Despite the high hopes of tree huggers everywhere, there will always be a demand for McMansions. If they become scarce, demand will be more intense and prices will be higher as the highest wage earners bid up prices with available financing terms.
The simple truth is that people want to live in big detached homes. I want to live in a big detached home. I will settle for whatever I can afford, but I will always prefer a big detached home to a small condo at a transit stop. And so does everyone else. The green movement can't change human nature.
For those who are looking for the simple life in Irvine, today's featured property is about as close as you can get.
Zero down equity surfer
Once the housing market became a blatant and obvious Ponzi Scheme, many posers bought properties with no money down and extracted and spent appreciation as it appeared. Why not? Banks were giving out free money — actually they were more than giving it away, they pushing money on people. All the neighbors were taking it — as illustrated here daily — so it shouldn't be surprising that taking free money became a component of their lifestyle spending. Today we have one such equity surfer. He got as much equity as he could, and now he is discarding the empty shell.
This property was purchased on 5/15/2003 for $240,000. The owner used a $192,000 first mortgage, a $48,000 second mortgage, and a $0 down payment.
On 3/15/2004 he obtained a $25,000 HELOC.
On 4/1/2004 he refinanced with a $243,500 first mortgage.
On 4/29/2005 he obtained a $40,000 HELOC.
On 7/12/2005 he refinanced with a $285,639 first mortgage.
On 8/6/2006 he obtained a $122,000 HELOC.
Total property debt (assuming maxed out HELOC) is $407,639.
Total mortgage equity withdrawal was $167,639.
The return on investment is infinite when there is no investment.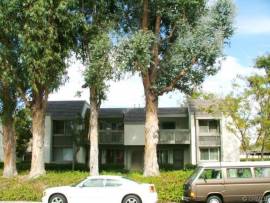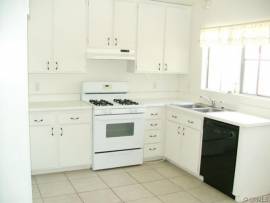 Irvine Home Address … 187 BRIARWOOD Irvine, CA 92604
Resale Home Price … $249,900
Home Purchase Price … $240,000
Home Purchase Date …. 5/15/2003
Net Gain (Loss) ………. $(5,094)
Percent Change ………. -2.1%
Annual Appreciation … 0.5%
Cost of Ownership
————————————————-
$249,900 ………. Asking Price
$8,747 ………. 3.5% Down FHA Financing
4.55% …………… Mortgage Interest Rate
$241,154 ………. 30-Year Mortgage
$49,126 ………. Income Requirement
$1,229 ………. Monthly Mortgage Payment
$217 ………. Property Tax
$0 ………. Special Taxes and Levies (Mello Roos)
$42 ………. Homeowners Insurance
$385 ………. Homeowners Association Fees
============================================
$1,872 ………. Monthly Cash Outlays
-$113 ………. Tax Savings (% of Interest and Property Tax)
-$315 ………. Equity Hidden in Payment
$15 ………. Lost Income to Down Payment (net of taxes)
$31 ………. Maintenance and Replacement Reserves
============================================
$1,491 ………. Monthly Cost of Ownership
Cash Acquisition Demands
——————————————————————————
$2,499 ………. Furnishing and Move In @1%
$2,499 ………. Closing Costs @1%
$2,412 ………… Interest Points @1% of Loan
$8,747 ………. Down Payment
============================================
$16,156 ………. Total Cash Costs
$22,800 ………… Emergency Cash Reserves
============================================
$38,956 ………. Total Savings Needed
Property Details for 187 BRIARWOOD Irvine, CA 92604
——————————————————————————
Beds: 2
Baths: 1 bath
Home size: 921 sq ft
($271 / sq ft)
Lot Size: n/a
Year Built: 1978
Days on Market: 93
Listing Updated: 40499
MLS Number: K10096853
Property Type: Condominium, Residential
Community: West Irvine
Tract: Cc
——————————————————————————
According to the listing agent, this listing may be a pre-foreclosure or short sale.
WHAT A DEAL, WOW!!!! NICE LOCATION!!!!ONLY ONE LENDER TO WORK WITH, BANK SAYS BRING YOUR OFFER! BEAUTIFUL AND SPACIOUS UPSTAIRS UNIT CONDO WITH LARGE BALCONY. THIS CONDO OFFERS 2 SPACIOUS BEDROOMS AND 1 BATH. LARGE SIZE KITCHEN WITH FORMAL DINING AREA AND FORMAL LIVING ROOM. LOTS OF CABINETS AND STORAGE THROUGHOUT THE CONDO, LARGE LINEN CLOSET NEXT TO LANDUARY AND STORAGE CLOSET IN BALCONY. THIS WONDERFUL CONDO IS IN PRIME LOCATION, CLOSER TO ALL WOODBRIDE AMENITIES AROUND THE CORNER. VERY CLOSE TO ALL THE MAJOR FREEWAYS 405/I-5/55/241. IF YOU LOVE TO SHOP AND ENJOY WEEKEND AT THE PARK WITH FRIENDS AND FAMILY, THEN YOU'LL LOVE TO LIVE HERE. THIS CONDO IS SURROUNDED BY PARKS, LAKES, AND SHOPPING CENTERS, ALSO AROUND THE CORNER YOU WILL FIND, "IRVINE VALLEY COLLEGE" AND IF YOU LOVE TO GOLF THEN YOU ARE NOT TOO FAR FROM "OAK CREEK GOLF CLUB." THIS CONDO IS VERY CLEAN AND READY TO MOVE IN CONDITION. HURRY BEFORE IT'S TOO LATE!!
WOW!!!!
NICE LOCATION!!!!
BANK SAYS BRING YOUR OFFER!
HURRY BEFORE IT'S TOO LATE!!