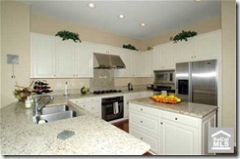 Address: 18 Oroville, Irvine, CA 92602 (Northpark)
Plan: 2402 sq ft – 4bd/3ba
MLS: S476394 DOM: 8
Sale History: 8/1/2005: $1,039,000
12/2/2002?: $660,000
3/19/2002: $539,500
Current Price: $1,089,000
This Plan 2 in the Mendocino North tract built by Lennar Homes in Northpark was most recently purchased on 8/1/2005. It's been about a year and a half and now the home is back on the market. From the pictures, the home looks pretty sweet but almost $1.1 mil for a 2400 sq ft house??
It looks like it was purchased with almost 35% down. Can anyone confirm or deny that? If so, these sellers definitely have room to negotiate. If sold at the current asking price and assuming 6% in selling costs, there'll be a $15,000 loss for the seller.
The latest sale I've found for this plan just closed escrow on 2/14/2007:
19 Vacaville – Mendocino North Plan 2 – Sold for $1,050,000
$1,050,000 puts us back around the prices in summer 2005. We'll have to wait and see what 18 Oroville ends up selling at.