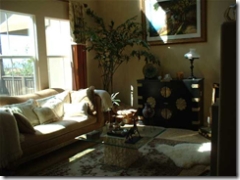 Address: 108 Coral Rose, Irvine, CA 92603 (Turtle Ridge)
Plan: 1398 sq ft – 2/2.5
MLS: S445098 DOM: 150
Sale History: 3/31/2005: $619,990 ??
Price Reduced: 08/23/06 — $750,000 to $725,000
Price Reduced: 10/06/06 — $725,000 to $689,000
Price Reduced: 10/13/06 — $689,000 to $669,000
Price Reduced: 11/03/06 — $669,000 to $595,000
Current Price: $595,000
MLS Description: CONDO GIVEAWAY! THAT'S RIGHT $595,000. GORGEOUS MODEL HOME BY SHEA BUILDERS. 2 BD, 2.5 BA. ALL THE GOODIES AND HAS A VIEW. WAS PRICED AT $750,000, AT $669,000—-AND NOW YOU NAME THE PRICE!
This is a Plan 7 in the Ashton Green tract in the village of Turtle Ridge. So what's going on here? Your guess is as good as mine! Let me tell you what I've found so far:
No prior sales history in Zillow or the Title database
The last plan 7 (actually a 7A which had 1426 sq ft) sold for $815,000 on 5/24/2006 – an all time high for this tract
Property taxes are listed as UNPAID
Title lists the owner as "SHEA HOMES LTD PARTNERSHIP" and thus no loan information
I actually found an old listing in MLS (P422498) that shows the property listed by Shea Homes and sold to a buyer for $619,990 on 3/31/2005. The agent representing the buyer in that transaction is the same agent that is listing the property now. **IF** we assume the MLS info for the purchase is correct, then this flipper will lose $60,690 (assuming 6% in selling costs) if they sell at $595,000! They are selling for LESS than what they bought the property for FROM THE BUILDER!
Could Shea possibly still own this home or is the title information just not accurate? Is the seller in default? Why are the prior year's taxes still unpaid? Is the 'low' price an attempt to generate offers after probably receiving none for the last 5 months?