Inventory on 06/01/2013: 348.
This January, when the market started bubbling up, the inventory flirted with 200s. We wondered if the inventory will go to 150s, and then calculated the real inventory with the new homes The Irvine Company released. It was a confusing market. People are buying new houses and lapping up the resales for all cash deals as soon as they debuted on the market. I still remember the open house in the neighborhood that felt like Korean culture festival. There were so many people, it created a traffic jam of sorts for the residents in this little cul-de-sac.
But with inventory at 348 and rising, will the summer bring in a change? Have people realized that this is a short burst of unusual appreciation that will settle down? Here is West Irvine, making the most of the changing economic scenery. During the downturn, West Irvine prices suffered a lot, and being one of the neighborhoods bordering Tustin the prices ended up being confused like the teenage of the house- they didn't know where they could fit in, Irvine prices or Tustin regular prices or Tustin Ranch. Many got great deals, one of the Talk Irvine Realtors and a family close to us included.
Usually when I see West Irvine pictures on Redfin, the only thing exciting about them is the presence of a backyard and the prices. The design details, the floor plans, the exterior design- the condominiums of West Irvine have an edge on the Single Family Residences. But the price is right and the village is almost right for two thousand square feet home with a backyard. Here is 35 Boulder Creek, the house with the owner's touch, and 7900 SF of backyard.
35 Boulder Creek Way, Irvine CA 92602
Listing Price: $779,900
Beds/ bath: 4 Bedrooms/ 2.5 baths
Year Built: 1998
Lot Size: 7900 SF
Price/ SF: $390
HOA Dues: $0
Estimated mortgage: $3631/ month
Builder's Tract Code: Heritage – Rushmore A
Compared to other properties in the market in West Irvine, this is a good deal. A backyard that size is something un-Irvine. Price/SF is in line with the rest of the listings. The property has posted a $20,000 drop in listing price since it was listed- was it because the owners want to get a competitive edge and sell faster, or is it the changing market- it's hard to tell at this point. Many people are holding back their buying plans given the sudden market surge. Many are moving to surrounding areas feeling outpriced in Irvine. Million dollar homes with views and vistas, and almost good school district are luring new buyers. But Irvine still is the unicorn, almost mythical-magical with fairy dust sprinkled even at its borders. Bragging rights do come with a price tag.
Speaking of bragging rights, how many people have tried to convince you that their detached condo is in fact a Single Family Residence, and their Realtor told them so? My count is two. Both were in North Park, both owners of San Simeons.
Here is one listing I very much suspect is a detached condo like other San Simeons.
59 Meadow Valley, Irvine CA 92602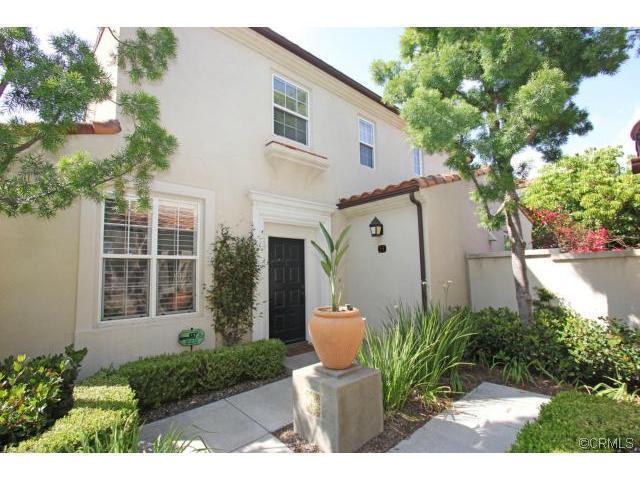 But 55 Meadow Valley (sold $10,000 above list price) was also listed by the same realtor, and was listed as a single family residence. Recently in one of the Talk Irvine discussions, people were questioning the ethical aspect of listing wrong schools and telling buyers that the kids can be sent to IUSD schools even though the schools for the property are TUSD with open enrollment. In my opinion listing a detached condominium as a single family residence is also unethical. I haven't verified if the San Simeons on Meadow Valley are single family residences are not, but usually two HOA dues are for condominiums.
We will discuss that on Talk Irvine!