In January, Orchard Hills held a grand opening for The Vistas, their newest enclave. Built by Toll Brothers, Bella Vista and Alta Vista are high-end luxury residences located in the hills high above the existing Orchard Hills homes.  While some homes will have views of the surrounding avocado orchards, others will have views that stretch all the way to Catalina, which was even visible on the hazy day when I visited. Residents will be part of the Orchard Hills Neighborhood Association, with full access to all of its amenities.
The back of the future Bella Vista models, as seen from the community lawn below: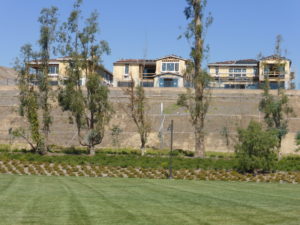 The Vistas are part of the Tustin Unified School District. Students in grades K – 4 will attend Hicks Canyon Elementary School, located approximately three miles from the neighborhood. Students in grades 5 – 8 will attend Orchard Hills School, located at the entrance to Orchard Hills, approximately one mile below the Vistas. Eventually, Orchard Hills School should accommodate grades K – 8, though I don't believe there is a timeline set for the expansion. Beckman High School will serve students in grades 9 – 12.
There are two home collections in the Vistas, both featuring very large homes and generous lots. Although the homes are already selling, construction on the models won't be complete until this summer. Potential homeowners can visit the sales offices for more information and to schedule a hard hat tour of the framework. Once the models open this summer, I will review them in detail.
| | | | | | |
| --- | --- | --- | --- | --- | --- |
| Collection | Square Feet | Beds | Baths | Garages | Base Price |
| Bella Vista | 4,698 – 5,508 | 5 – 6 | 5.5 – 6.5 | 2 – 4 cars | Low 2,000,000s |
| Alta Vista | 4,558 – 7,197 | 4 – 9 | 4.5 – 9.5 | 3 – 4 cars | Mid 2,000,000s |
Bella Vista Overview
Bella Vista will have five unique floorplans, but only three will have models.  The first several phases of homes will have views of the avocado orchards, giving them a very private and secluded feeling. Future phases will have city views, with Catalina visible in the distance. Those phases are expected to be built in about four years and will have lot premiums estimated around $1,000,000. By then, the base price will likely have risen as well. Homeowners dues is $280 per month. The current tax rate is approximately 1.4% including Mello Roos.
Plan
Sq. Ft.
Beds
Baths
Garages
Base Price
Modeled/Similar To:
Altura
4,698
5 – 6
5.5 – 6.5
2 – 3
$2,029,995
Modeled
Similar to Redondo at Capri (Hidden Canyon)
Bellino
4,849
5
5.5
3 (tandem)
$2,099,995
N/A
Cielo
5,038
5
5.5
3 (tandem)
$2,109,995 – $2,229,995
Modeled
Similar to Capri at Capri (Hidden Canyon)
Lusso
5,282
5 – 6
5.5 – 6.5
4
$2,264,995 – $2,334,995
Modeled
Similar to Cassis at Marbella (Hidden Canyon)
Tacara
5.508
5
5.5
4
$2,359,995
Similar to Santa Monica at Marbella
(Hidden Canyon)
Additional features include huge master bedrooms (some with retreats), outdoor living rooms, high ceilings, expansive kitchens, and a separate casita in the backyard of Bellino homes. Lot sizes in the first few phases of Bella Vista range from 7,235 – 15,270 square feet.
Alta Vista Overview
Alta Vista will have six different floorplans, though again, only three will have models, which are projected to open in late June. These homes are carved into the hills, stretching above and around the Bella Vista homes. As in Bella Vista, the HOA dues will be $280 per month and the current tax rate is approximately 1.4% including Mello Roos.
Plan
Sq. Ft.
Beds
Baths
Garages
Base Price
Modeled/Similar To:
Lucido
(single story)
4,558 – 5,824
4 – 6
4.5 – 6.5
4
$2,414,995 – $2,434,995
Modeled
Similar to La Morra (Masters at Moorpark)
Acacia
5,578 – 7,134
5 – 7
5.5 – 7.5
3
$2,459,995 – $2,669,995
N/A
Castello
5,795 – 6,813
5 – 6
5.5 – 6.5
4
$2,759,995
Similar to Cassero (Enclave at Yorba Linda)
Savona
5,939 – 7,129
5 – 7
5.5 – 7.5
4
$2,664,995
Modeled
Similar to Santa Rosa (Enclave at Yorba Linda)
Collina
5,883 – 6,901
5 – 7
5.5 – 7.5
4
$2,584,995 – $2,594,995
Similar to Capistrano (Enclave at Yorba Linda)
Oceano
6,213 – 7,197
5 – 9
55 – 9.5
4
$2,679,995
Modeled
Similar to Santa Barbara (Masters at Moorpark)
There will be a total of 168 homes in Alta Vista with an average lot size of 11,400 square feet.  Like Bella Vista, these homes have bonus rooms on the second floor, large bedrooms, expansive kitchens, and high ceilings. Some plans also include offices on the first floor and/or a private a casita.
Meadow at the Groves
In addition to the existing amenities in Orchard Hills, there is a new resort at the base of the Vistas.  Meadow at the Groves features a lap pool, spa, fireplace terrace, community lawn, view terrace, shade structures, tot lot, barbecues, and picnic areas.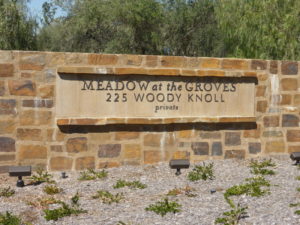 The entrance to the pool area has a patio and drought-friendly landscaping. Inside, palm trees and numerous umbrellas offer shade. There is also a shade structure running the length of one side with tables and barbecues underneath. One end of the pool deck has a large fireplace with chairs and small tables for socializing, as well as picnic tables for bigger groups. The opposite end has the spa, with a fountain flowing into it.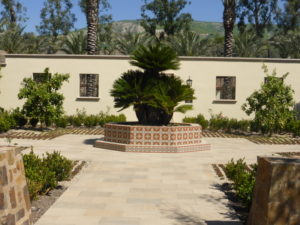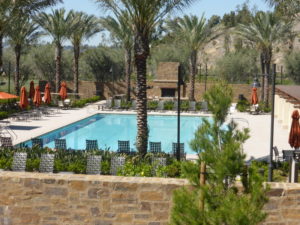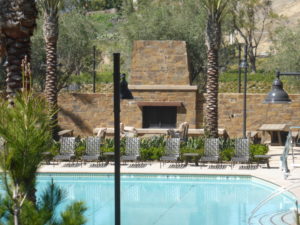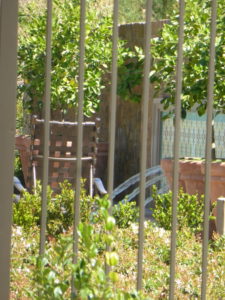 The community lawn is huge and would be a great spot for community events.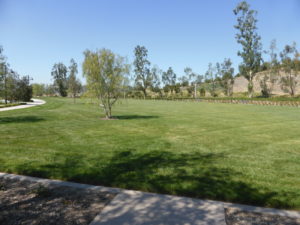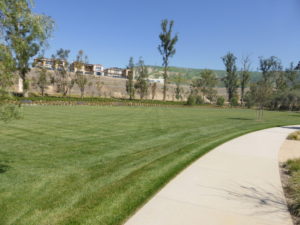 The playground has two sand areas, each with diggers.  The play structures are made of wood, so they blend in nicely with the surrounding hills and don't stand out like the brightly colored structures found at many other parks. There are two sets of climbing blocks with varying heights.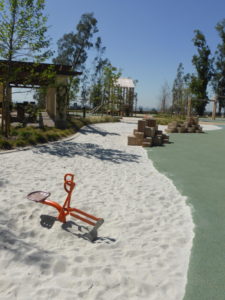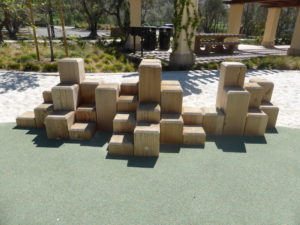 The larger play structure has monkey bars a few different ladders and climbing walls and one twisty slide coming down. A map on the side highlights Orange County's former ranches and key landmarks.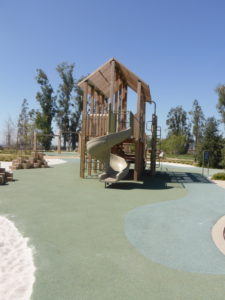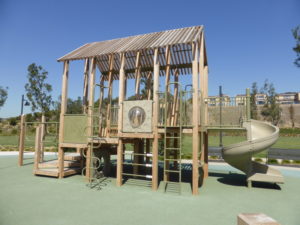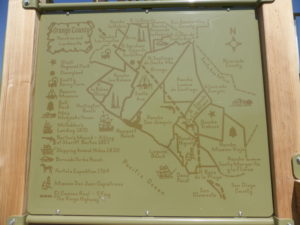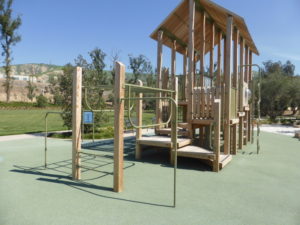 The smaller structure also has various ways to climb up and a single, slightly curved slide coming down.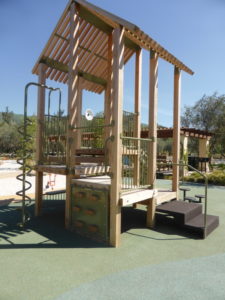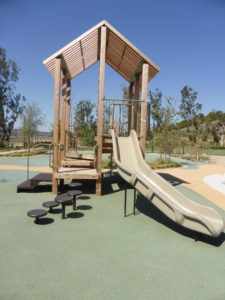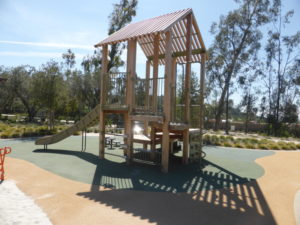 There is a swing set with two bucket swings and four regular swings.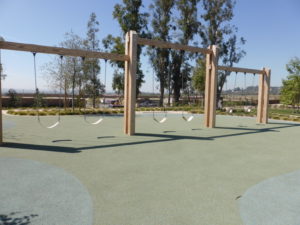 Throughout the park, there are signs showing silhouettes and footprints of different animals that live (or lived) in the foothills.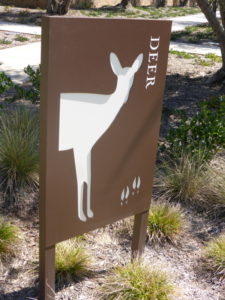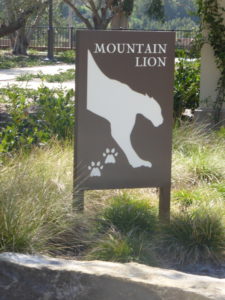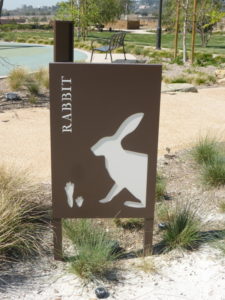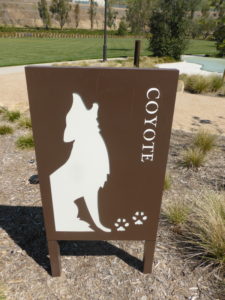 Finally, there is a shade structure with two picnic tables and four small barbecues. While this area is shaded, the play areas and surrounding benches are not.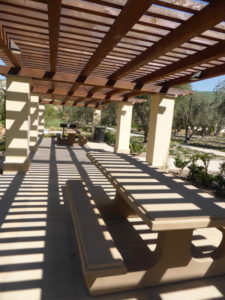 The Vistas is an exclusive community for homeowners seeking luxurious homes, amazing views, and some seclusion from the busier parts of the city. The homes are customizable to suit each owner's needs. While the models won't open for a few months, you can buy a home now or get on the VIP wait list, which will give you priority in selecting your home site as future phases are released. There will be a high demand for the sites with the best views and the largest lots, so visit soon if you think the Vistas is the place for you.