Some of my recent posts have highlighted features that make Irvine Irvine: innovation, well-maintained streets and public spaces, and a safe environment. Today I am going to highlight an annual Irvine event that displays another quintessential Irvine characteristic, which is its diversity.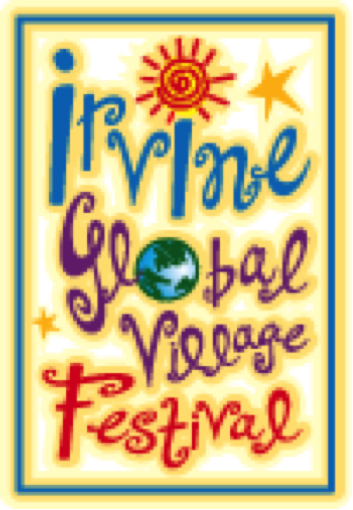 The Irvine Global Village Festival is the city's annual multicultural festival featuring international cuisine, live entertainment, a kids' village with crafts and activities, cultural and religious exhibits and an international marketplace.
In addition to highlighting Irvine's diversity, the Irvine Global Village Festival also highlights Irvine's habit of being on the cutting edge of innovation. This information from Irvine's Global Village website tells this story:
"Creating a Sustainable Festival
The Irvine Global Village Festival strives to reduce, reuse and recycle as many resources as possible. Our goal is to eventually be a zero waste festival. Through the exploration of new technologies, environmentally responsible initiatives and encouraging new ways of thinking, we are moving closer to this goal each year.
Below are some of our eco-friendly initiatives:
Green Transportation – Festival shuttles are powered by natural gas and provide lower emissions when transporting guests to and from the event. Shuttle services are provided by the City's iShuttle transportation program. For more information, visit irvineshuttle.net.
Zero waste stations, which promote recycling and composting, in conjunction with compostable products, help inform guests about recycling options and divert garbage from local landfills.
Event signage, banners, staff and volunteer shirts are designed with reuse in mind. One-time use banners are made with biodegradable material.
Event programs are printed on recycled paper utilizing soy-based inks and are also available for download to mobile phones.
Every plate, fork, spoon, knife, cup, bowl and napkin is either recyclable or compostable.
o Greenwave Paper Plates – Primarily composed of annually-renewable plants, sugar cane, and reeds.
o Eco-Products Cold Cups – Made from PLA, (polylactic acid), plastic derived from corn. PLA plastic is a compostable material that when placed in a commercial environment will naturally decompose back to organic elements. Unlike regular cold cups that are made using petroleum, PLA plastic products are made using US-grown corn!
o Eco-Products Utensils – Biodegradable cutlery is made from non-GMO (genetically modified organism) vegetable starch. It not only exhibits superior performance over other biodegradable utensils, but is OK Compost certified. These biodegradable utensils break down under commercial composting conditions in about 95 days.
o Napkins – 100% recyclable paper products
What You Can Do:
Bring reusable items such as coffee mugs, water bottles and plastic cups for beverages.
Reduce carbon emissions by carpooling or taking public transportation to the event. Ride your bike and take advantage of the Festival's free "Bike Valet" area – it's great exercise and the perfect way to avoid parking congestion.
Utilize recycling and composting bins at event to help divert garbage from landfills.
Bring your own reusable shopping bag if you are thinking of purchasing items."
Here are the details for attending this event that is "Celebrating Irvine's Cultural Diversity" as well as displays the city's innovation:
What: Irvine Global Village
When: September 28, 2013; 10 am-6 pm
Where: Bill Barber Park, 4 Civic Center Plaza, Irvine, CA