"Over the past five years, imported water costs have increased approximately 65%."—Orange County 2011 Community Indicators Report (http://www.ocsd.org/vgnfiles/ocgov/Community%20Investment/Docs/OCWIB/Calendar_Documents/2011CommunityIndicatorsB.pdf)
"Water is heavy (62.4 pounds per cubic foot) and tends to resist moving uphill. It takes a lot of energy to move water, but also to treat it, and then treat it again after we use it."—"19 Percent: The Great Water-Power Wake-Up Call," KQED (http://blogs.kqed.org/climatewatch/2012/06/10/19-percent-californias-great-water-power-wake-up-call/)
"We're also developing alternate waste supply strategies to further reduce the need for costly imported water."—Beth Beeman, IRWD Director of Public Affairs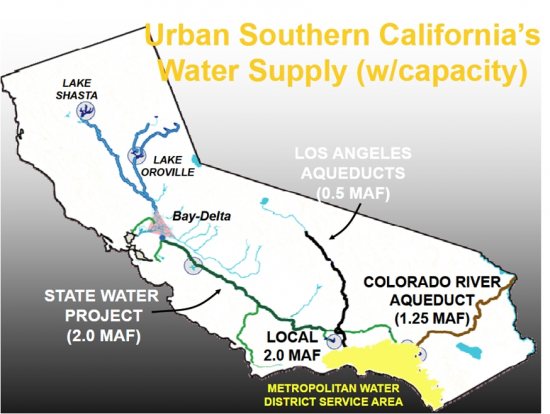 Starting July 1, rates for customers of the Irvine Ranch Water District (IRWD) will increase by .02cents per one hundred cubic feet of water. In addition, the service charge will increase by 55 cents. You might think that this is due to the recent snow pack level which was only 40% of normal. However, reports are stating that this year's water supply is adequate since last year's snow pack was well above normal.
So, if water supply is adequate, why are the water rates increasing? Approximately, two-thirds of the IRWD water is from local sources such as ground water wells, reservoirs, and recycled runoff. However, the other third is imported water that IRWD purchases from the Municipal Water District of Orange County (MWDOC). MWDOC purchases this water from Metropolitan Water District of Southern Californian (MWD). The infrastructure cost associated with this imported water is the primary reason given for the need to increase IRWD water bills.
MWD gets it water from the Colorado River or the State Water Project. The Colorado River aqueduct, which is needed to transport the Colorado River water to southern California, was built in 1939, and the State Water Project system, which transports water from the northern California delta and the Sierra snowmelt by means of the California aqueduct, is out of date. Both these systems are in need of infrastructure updating. For example, the bay delta system, which is just a portion of the State Water Project system, is anticipated to need an estimated $27.8 billion in retrofits.
In addition, IRWD is responsible for maintaining 1,500 miles of pipelines, 53 reservoirs, and two wastewater treatment plants. Over 40% of MWD facilities are over 60 years old and need repair or replacement. For example, Yorba Linda's Diemer water treatment plant, built in 1963, and La Verne's Weymouth treatment plant, completed in 1940, are scheduled for $143 million in retrofits in the next two years.
IRWD was criticized by a recent grand jury for holding too much money in reserves ($225 million). However, Beth Beeman, IRWD director of public affairs, said, "These are not reserves." Beeman also said, "That money is designated for infrastructure maintenance and improvements that will be needed in the future. It's like putting money away for your kid's college. It's there when you need it."
Sources:
"Water rate hikes could be worst," Tina Richards, Foothills Sentry (http://www.foothillssentry.com/)
Irvine Ranch Water District (IRWD) (http://www.irwd.com/)
Metropolitan Water District of Southern California (http://www.mwdh2o.com/mwdh2o/pages/yourwater/plants/weymouth01.html)
The Metropolitan Water District of Southern California, Robert B. Diemer Water Treatment Plant Update (http://www.mwdh2o.com/mwdh2o/pages/news/at_a_glance/New_DiemerFS.pdf)
Discuss below or on Talk Irvine.