Condo Contrasts on Quail Hill 243 Terra Cotta, $769,000
As I exited the San Diego Freeway and made my way up Quail Hill my first impression was how remarkable the contrasts are in this community. Moving off the packed lanes of the San Diego Freeway, I drove past rolling open fields, and then approached the door of a sleek condominium at the end of a quiet cul de sac.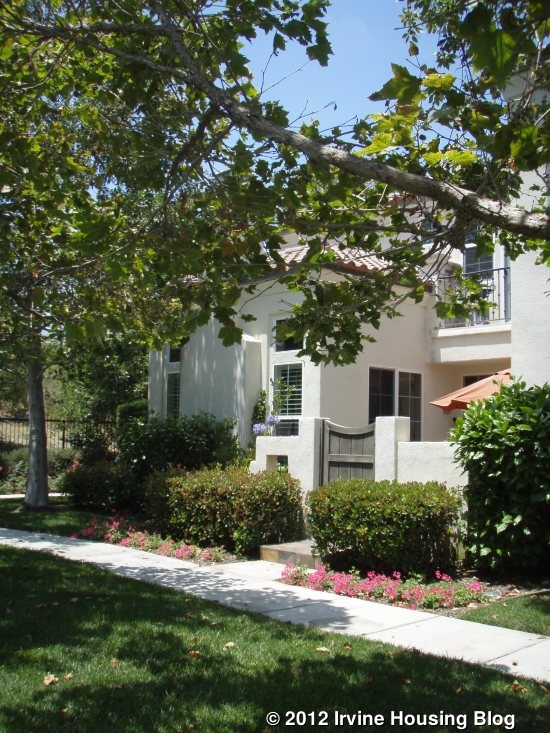 For some this could be the best of several worlds. Quail Hill offers access to 600 acres of permanent open space with first rate hiking trails, the convenience and ease of upscale condos or homes, and quick freeway access to work, entertainment and other nature and art communities like Laguna Canyon.
Quail Hill has over 1,650 homes and condos in a secluded community with pools, shopping, outdoor fireplaces, tennis courts, playgrounds and Irvine's quality schools. At the foot of Quail Hill, the 2.8-acre Quail Hill Trailhead connects to southern Irvine's extensive trail network. Located at the end of Sand Canyon Road it marks the beginning of the Quail Hill Loop Trail, an easy two-mile natural surface trail open to the public from dawn to dusk. Check the Irvine Natural Landmarks website for more nature trail information.
Inside 243 Terra Cotta I found all the flair and function of a well planned condo. This detached and dramatic condo is a nice contrast to its rustic surroundings. As you enter, to the left there is a small but impressive formal dining room. To the right the living room is contained but quite dramatic. The high ceilings, designer draperies and rich colors all work well with plantation shutters, ceramic tile, wood and carpet floor areas. The multiple window and balcony views are beautifully treated with faux draperies.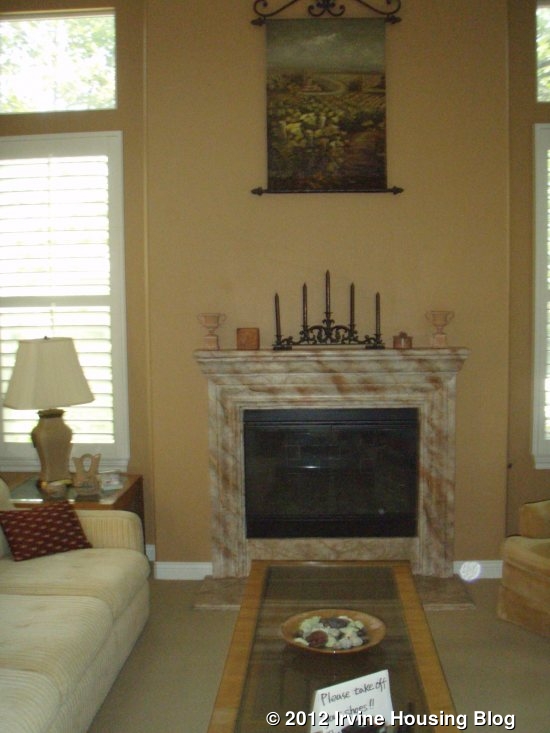 Over $86K in custom upgrades by the previous owner have resulted in a sparkling gourmet kitchen with granite counters, island, and walk-in pantry, plus a remodeled master and guest baths with dual granite vanities and stone sinks.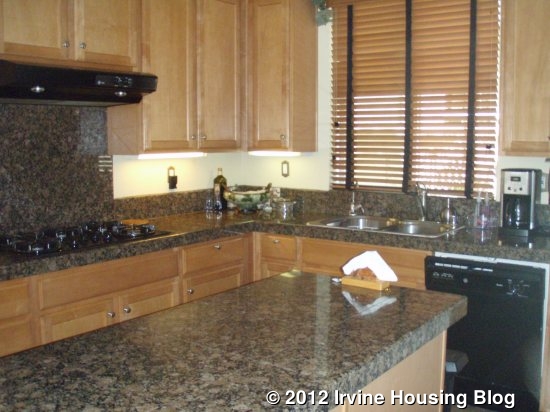 Moving down the main hall. which really serves as the spine of the house, the kitchen is on the left with a small family room on the right. Upstairs the master bedroom and bath echo the downstairs theme with designer draperies and rich colors. There are three bedrooms and two baths with a loft, optional for a fourth bedroom, and laundry room upstairs.
Private outside space is snug, but the closeness to the rolling fields beyond is a particular delight on the patio at the end entrance. One has the feeling some morning as you sit there and sip your coffee you might look up to find a jackrabbit watching your every move. Just a few feet from the patio, the open grillwork fence frames the green fields. The front patio is equally inviting, small but comfortable, nice for relaxing, great for summer suppers, or late night astronomy sessions.
There is a double garage with an epoxy floor, and 2 more parking spaces are available.
Specifics for this 2 Level Modern Condo:
Beds: 3
Baths: 2.5
Sq.Ft: 2,100
$/Sq.Ft: $366
Common Walls Detached/No Common Walls
Cooling: Central A/C
Wood Fire Place/Gas
Garage Spaces Total 2, 2 parking spaces
Heating Type: Forced Air
Association Pool
Roofing: Spanish Clay Tile
HOA Dues: $220
Mello Roos Tax: Yes
Considerations and Comparisons: The floor plan is efficient and functional, but for some the space may feel a bit confined. Outdoor private space is limited, but nicely balanced with the closeness of the open rolling fields and the quiet end position in the cul de sac. On June 4 the price was reduced $5,900. In 2008 the property sold for $843.000. Nearby properties for sale: 127 Tall Oak condo is listed at $669,000 with 3 bedrooms and 2.25 baths, 91 Canopy is listed at $749,000 with 3 bedrooms and 2.5 baths.
Who will be the next occupant? A small family who likes to hike and explore nature and values quality schools could be happy here. A professional couple or an individual who spends weekends outdoors and wants quick access to work, entertainment, and dining spots will find this condo very workable. Another couple or family who works or spends time in Laguna Canyon and other coastal spots might be comfortable here.
Discuss below or on Talk Irvine.